The Temples of Angkor in Siem Reap – Part 1
Hi all,
I'm relaxing in a swanky high end electronic hotel here Kuala Lumpur as I write this latest entry. I'm staying at the Sama Sama KL Hotel connected to the airport as I'll be flying out tomorrow morning to Penang. I thought I'd treat myself to some extra comforts during my last leg of my 7-week SE Asia trip. It's a little eerie as all the news vans are parked outside as they continue to find out more news on MH370. This hotel seems to be the media hub as more news is discovered. My continued thoughts and prayers to the families and friends affected by this.
As you see in the title, I'll be posting some info on our visit to the temples in Angkor. I'm going to split these up since we saw a lot of temples. 😉 So look out for more tomorrow.
Since I was recovering from a stomach bug in Phnom Penh, I didn't tour but Betty did go to tour the Royal Palace along with the the Tuol Sieng Museum and the Killing Fields of Choeung Ek. She said it was a pretty heavy visit that it was probably best that I didn't tour with me feeling the way I was as there were many parts during her visit that she herself got a bit quesy. I'll have to return here sometime and hopefully not have any funky ailments.
The next day we were back on the Mekong Express to Siem Reap. It was a 7-hour bus ride on some pretty bumpy roads but both of us made sure not to eat anything too suspicious for either of our tummies at our lunch stop. Much of the reason that the bus ride is a trek is simply because much of the infrastructure in the country is still being formalized and constructed. There was a lot of road construction and there aren't any freeways or highways to really get you to cities any faster. Though that's the perks of traveling as you venture through unknown territory right?
Once we arrived we took a tuk-tuk to our hotel and we also ended up hiring the driver, Gia to be our driver for the next 2 days to the temples.
We stayed at The Villa Siem Reap, centered in the heart of Siem Reap near the city centre and it had a pool. 🙂 With 31-35 C, or 90+ degree weather, it was awesome to have a pool here after a long day of touring and walking through the temples.
The next day, Gia (sp?) picked us up around 9:30am and we headed to Angkor. We bought a 2-day pass for $40/person. (A note for those that might want to travel to Cambodia – they gladly accept US dollars and many if not all ATMs spit out US moolah. The Riel is kind of non-existent there and many of the merchants prefer US monies, but you can also pay in both Riel and US dollars. Just a handy tip for you.)
We started touring when the sun was at it's highest and hottest. My bandana became my best friend this day as I kept dousing it in water and placing it on my head to cool down. Regardless, the temples we visited were amazing and even though we felt our electrolytes depleting each time we took another step up the temple stairs we had to remind ourselves where we were.
That first day we visited many of the smaller temples starting with Pre Rup.
The name of this temple means "turn the body," it's here that many Cambodians believe that funerals were conducted here and the ashes of the body were rotated during the service. It was built as the state temple for Kind Rajendravarman around 961-962.
We were in awe and this is a small temple. I took many photos through both days but I can't inundate you with all of them, so I'll do my best to give you the highlight photos.
The next one was Eastern Mebon. This is a 10th century temple built during the reign of King Rajendravarman. It was dedicated to the Hindu god Shiva and honors the parents of the king (thanks Wikipedia for the info ;))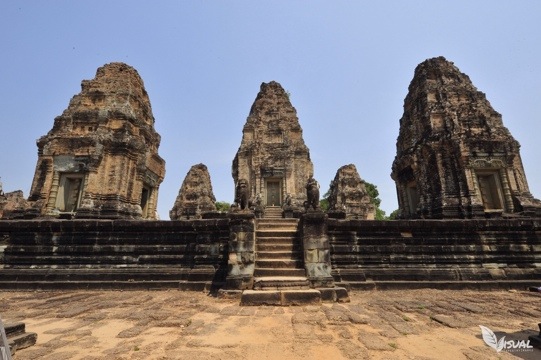 This then was the start of our continuous coconut water consumption as we perspired profusely. LOL But no matter what, it was amazing to know the age of these temples and we continued to think at how cool it would have been to see them in their full glory. It's quite a site to take in and seeing these smaller temples really got us excited for what was to come with Angkor Thom and Angkor Wat.
Our next temple was a site of relief as it was surrounded by shade and trees. Phew! Ta Som was built at the end of the 12th century for King Jayavarman VII. This was built in dedication to the king's father. It's not restored as the two earlier temples we visited but I found that it was cooler to see it in it's natural dilapidated state. There is a spot in the back of the temple that is held up by a tree which is a site to see. There were trees so tall that they made you look like a speck. They are continuing to restore these temples to a point so that it's safe for visitors.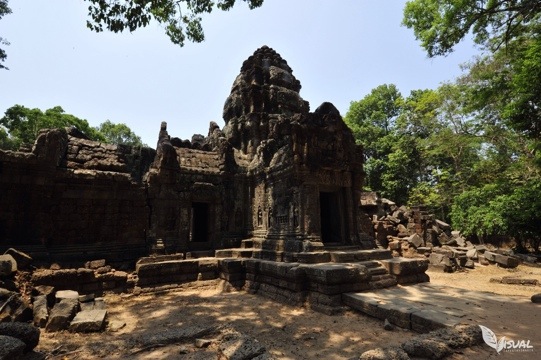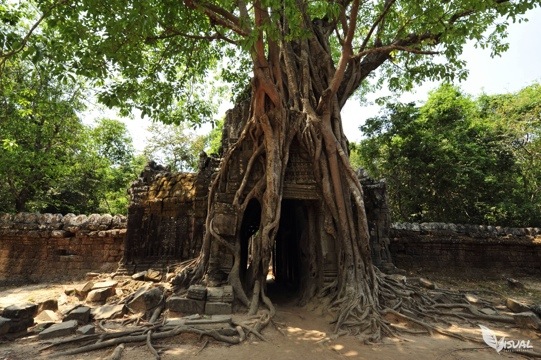 We then visited Neak Poan, which is a water temple. They are still doing excavations and so we weren't able to walk around the entire temple, but the way to the temple had a very Indiana Jones feel with murky and creepy swamps. Once inside there is a large square pool and 4 smaller ones with an 'island' in the middle.
Preah Khan was next, this also was built by Jayavarman VII that may have been a Buddhist university. It's much bigger than we expected and there are many vaulted ceilings, beautiful stonework and we came across one vaulted area with many bats. Eww!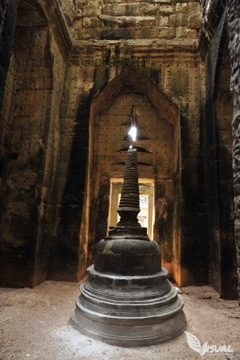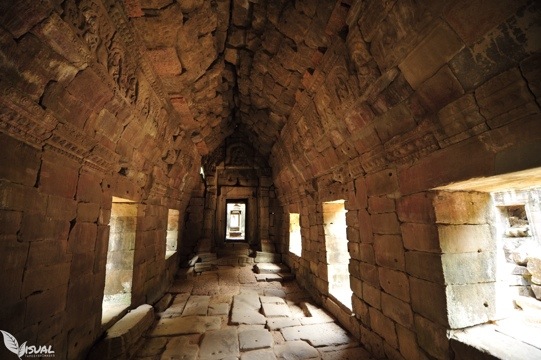 Our last visit during the sunset hour was Angkor Thom. We certainly were getting templed out and we were dragging our feet but the reward at the end for me was worth it.
Angkor Thom's area is bigger than Angkor Wat, as it encompasses multiple structures. The gates are the same on all four sides and they certainly pull you in. Angkor Thom is known as Great Angkor or Great City and great it is. The faces you are greeted with are the faces of Bodhisattva Avalokiteshvara (this is the enlightenment being that embodies the compassion of all Buddhas) looking out over the kingdom. This was the last great capital of the Khmer empire.
In the center of Angkor Thom is Bayon, which was a welcome site of beauty as we ended the day. There are 54 towers that are decorated with Avalokiteshvara's faces. These towers contain 4 faces on each of them which the same one and no matter where you turn, you can't hide from a face.
www.blog.visualtapestryimages.com/wp-content/uploads/2014/03/20140319-233910.jpg">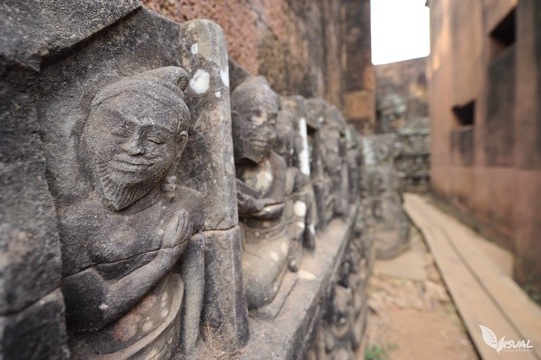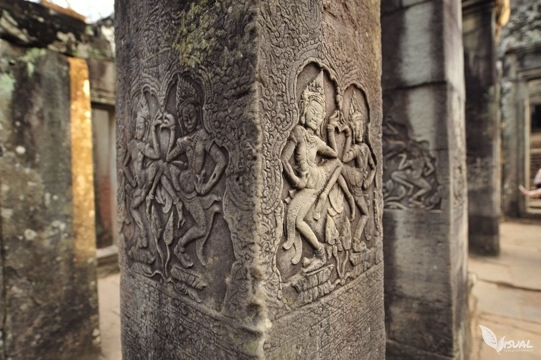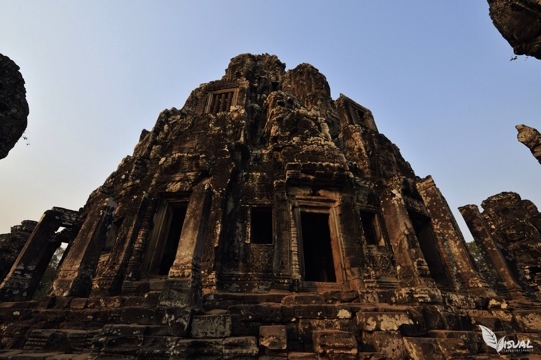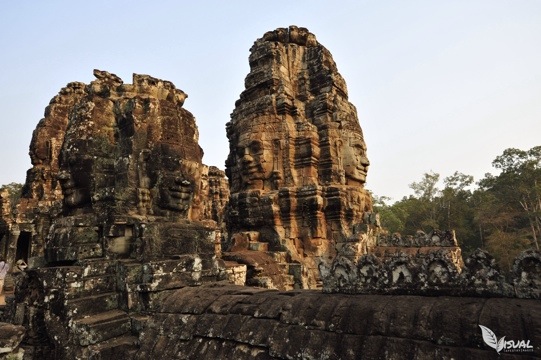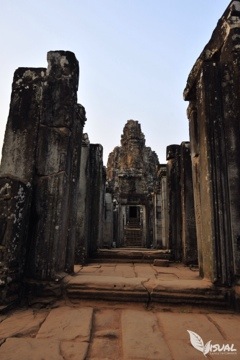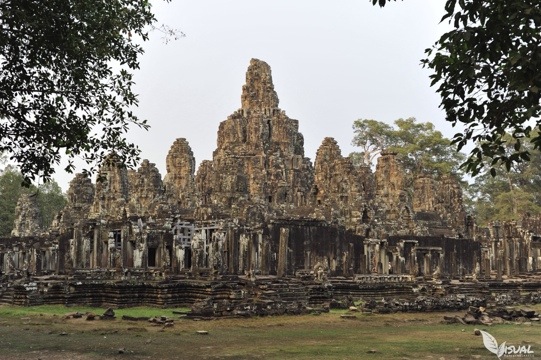 Even though our bodies felt defeated it was a great day of touring the temples. It's definitely a place I would return to as I'm sure you find new details that you never caught before. Our next day would start at dawn at Angkor Wat. Stay tuned for that blog tomorrow. It's time for me to clean up and crash out for night as I head to Penang.
Many thanks again for reading and following.