Hey all —
My friend Betty got in safely last Saturday and we had another 2 full days in Hanoi. We spent it walking around the Old Quarter and the French Quarter along with tasting a bunch of delicious food here in Vietnam. Here are a few highlights:
If you are a foodie like me and Betty than definitely go on the Hanoi Street Food Tour (http://www.hanoistreetfoodtour.com) We had two guides, Phuoc and Linh, and we were part of a group of 9. We visited a total of 10 places, 8 food and 2 drink spots. We went through the Old Quarter which is where all the best food seems to reside and right they were. Because Hanoi traffic is so crazy I made sure not to walk and take pictures upon risk of being hit by a motorbike or car. 🙂 Our guide, Phuoc had a great way of keeping us all together by referring to us as "Sticky Rice," so that we would remain close especially when crossing streets.
Off we went on our tour and I'll just write about our favorite dishes. Despite the number of places we visited all the portions were just right. We started off with a delicious noodle soup called Bun Cha – it's comprised of noodles of course, fresh veggies and pork.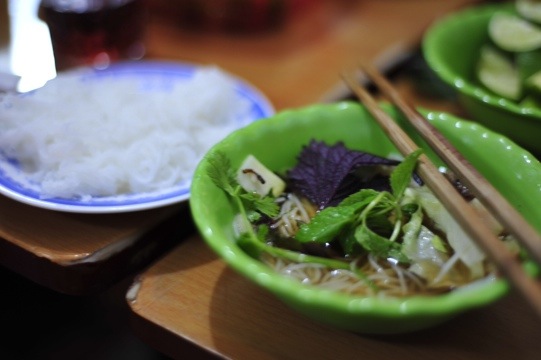 So flavorful and it's something you should add fresh mint to and of course some hot sauce. Next up was some dessert. 🙂 We had seen a line earlier at this place when walking around Hoan Kiem Lake and turns out it was one of our stops. The ice cream company's name is Thuy Ta Kem and they make an ice cream called Sticky Green Rice. It might sound weird but it's really sweet and tasty.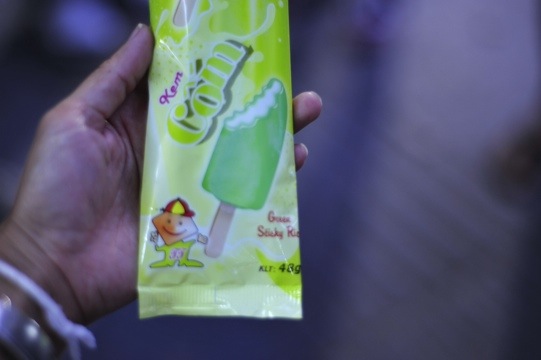 Next was something like a spring roll but the wrap wasn't fried. It's made of rice and the contents inside was chopped up mushroom. The garnish on top was like fried onions. They called this Bahn Coun. This was my favorite dipped in a bit of fish sauce and chili sauce. Ono!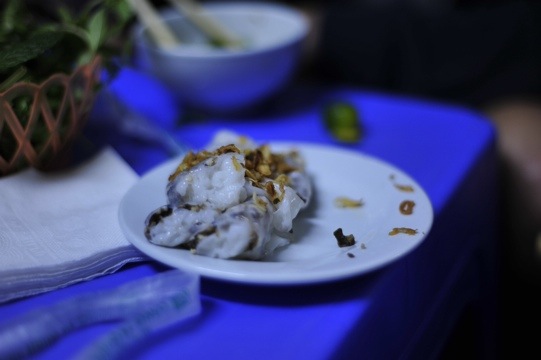 We then visited a place that just made spring rolls and what they called pillow cakes, which were kind of like empenadas.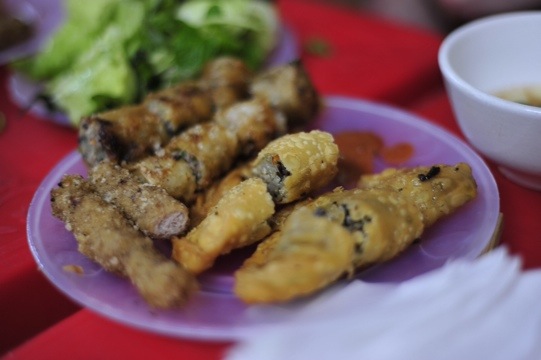 We enjoyed the last few stops at that were just drinks. Hanoi's Old Quarter literally has streets that just sell specific things like a shoe street, fish sauce street and in the evening there is a place called Bia Alley (Beer Alley) This place was packed and people were spilling onto the street even with traffic passing through. Our group literally sat in the street while having a glass of Bia Hoi. By day the place we had our beer is a photolab – ha! We ended the night with some coffee or technically it's egg coffee. It's coffee mixed with an egg custard which when first described to us, they said it's coffee mixed with egg and we all made this funny face and adverse reaction. LOL but when it arrived it was one of the most delicious cups of coffee I had and I'm not a coffee drinker. They also make egg chocolate which is equally good.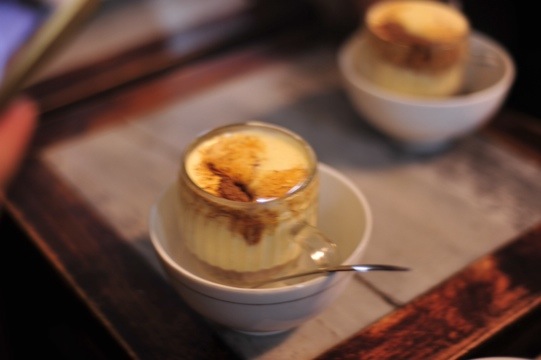 The next day we walked around the French Quarter which has much wider streets and traffic isn't nearly as busy. Nearby is where the Hoa Lo Prison is, the place where many US Pilots that were shot down during the Vietnam War were kept including John McCain. It's usually referred to as the Hanoi Hilton. They've kept part of it as a museum and the other part are now the Hanoi Towers. It was an interesting walkthrough and the prison was used by the French in Vietnam for political prisoners. There were definitely parts that were a bit eerie to go through.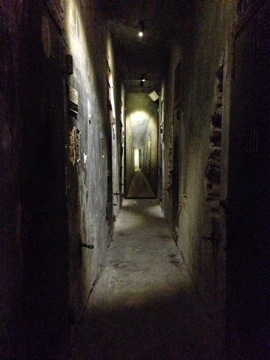 Corridor of cells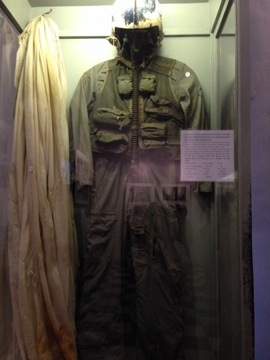 John McCain's Flight Suit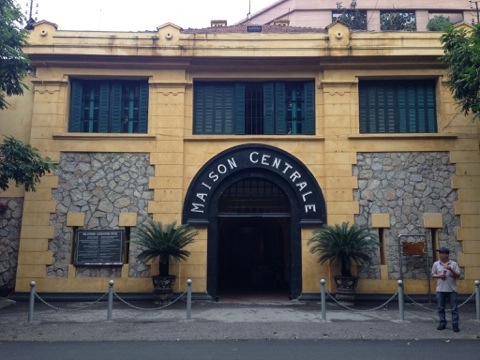 Main Entrance of Hoa Lo Prison
After our walk through we then met our tour guides Rose and Duc from Hanoi Kids (www.hanoikids.org) This is a great organization of kids that want to practice their English. There are fixed itineraries but you can also modify it per your wants and tastes. We did a half day but the kids say that if they are having fun they usually go longer and we had a great time with them both. Also the only costs you have to incur are any transportation or entrance fees for places you visit, along with taking care of meals should that be something you decide to do as well.
We started off our tour at the Ho Chi Minh Mausoleum Complex. This is a very holy place for the Vietnamese as this is the final resting place of Ho Chi Minh. The actual building that holds his body was closed at the time but the complex itself is massive. He was the liberator of the Vietnamese people from colonialism and is often referred to as Uncle Ho. It's quite impressive. Behind the mausoleum is the Presidential Palace and also his stilt house that is beautifully made. He was a modest man that lived very simply for having such a great role.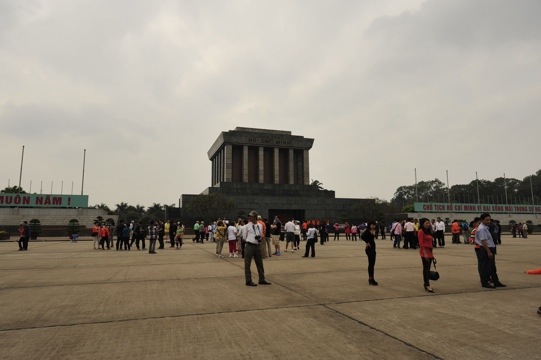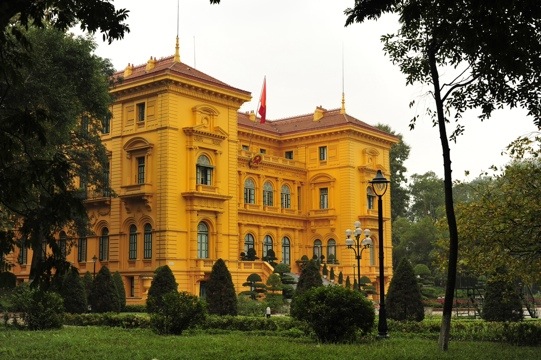 After we toured the complex, Betty and I were pretty hungry so we asked Duc and Rose for a great place to eat. They took us to a restaurant called New Day and we enjoyed a great meal and conversation. Along with discovering that there is something called egg beer, which many of you saw pics of me on FB. We had a fun time with them and I would highly suggest doing a tour with Hanoi Kids whenever you visit here.
The next morning we were off to Bai Tu Long Bay which is a little further north of the famed Halong Bay. It's not as crowded and it's just as beautiful.
That'll be my next entry. Still much to catch up on! Thanks again for following!
Good morning to most of you. It's about 9pm here in Chiang Mai, Thailand and I've had a full touring day of temples.
I arrived late afternoon yesterday and I'm staying in a great guesthouse near the Warorot Market, called Rustic Guesthouse. Nan greeted me and gave me the first official impression of the Thai people here. She was extremely gracious with great curiosity and everything with a smile. My room is on the "2nd floor" but be wary it's technically on the 3rd. There's no elevator so prepare to climb. The handy thing about a backpack it fits in narrow staircases. 😉 Beds are comfy and they have AC – yay! Good thing because during the days it's about 96 degrees F or about 35 C, at night it's about 70 F.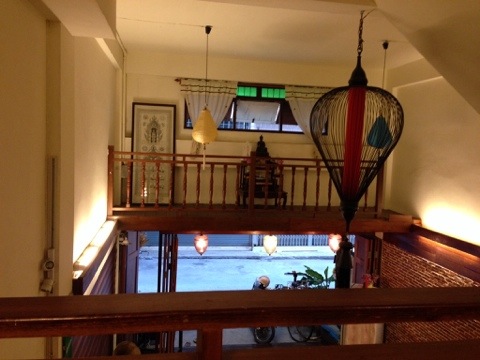 View from the kitchen at Rustic
Nick the owner came in after I settled in and squared away some tours with Nan. He was great, very sweet and took me on a quick tour of the sights nearby. We took a few of the bicycles they had and we rode around the markets and headed into the night bazaar and over the bridges of the Ping River. We crossed both the Iron Bridge and Nawarat bridge before returning to the guesthouse. After the intro tour I ventured out to the market and got some street food. I admit that I was safe this time around as I got some spring rolls, some awesome spicy pad thai and I bought some fruit as well. I hope to get more pics hopefully tomorrow evening but I have to make sure to ask as many vendors don't want pics. I had hoped to arrange a photography tour with a talented photographer here in Chiang Mai. He's an ex-pat that has been living here for some time but when I contacted him, his workshops were closed for the season and won't start up until September. 🙁 Bummer but gives me all the more reason to return.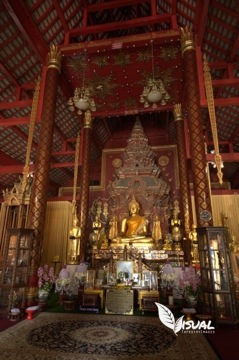 Temple Wat Chiang Man
Today I did a tour of the city temples located in the Old City and then ended the day by seeing one of the biggest attractions here the Wat Phra That Doi Suthep.
In the morning we toured about 4-5 temples, the first being Wat Chiang Man, which is said to be the oldest temple within the city walls built in 1296. All the temples here have been well kept and continue to be. They are all vibrant with color and have ornate designs but it was never gaudy to me. Perhaps the essence of Buddha is what makes it peaceful and calm. We saw many monks who were as young as 10 years old and also saw wax monks for those that have passed. Believe me the wax ones freaked some of us out on the tour because they looked so real, but it is all done so in reverence and respect.
Offerings placed at one of the pagodas
The next we visited was Wat Chedi Luang, which was believed to house the tallest structure in Chiang Mai but according to our guide, an earthquake in 1545 destroyed the top of it and to this day the pagoda still hasn't been reconstructed.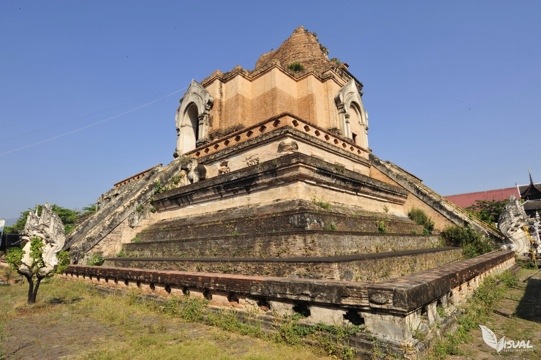 Inside some of the temples you can make an offering and get some of these banners to place inside. They are placed on strings across the interior of the temple and it's supposed to provide you with good luck. These in particular below had the animals just like in the Chinese horoscope.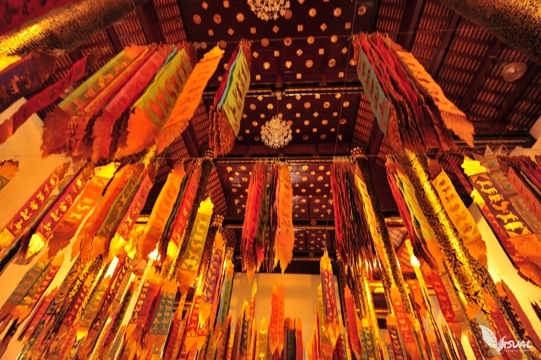 We also visited Wat Phan Tao and ended our 1/2 day tour by visiting Wat Phra Sing. The latter is the highlight with it's tall ceilings and open air temple and of course with a massive Buddha. It is here that the Thai people bring in the New Year (Songkran).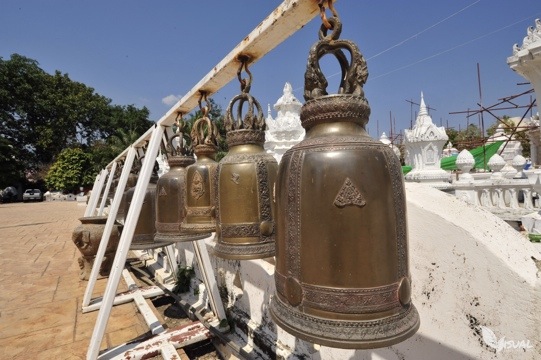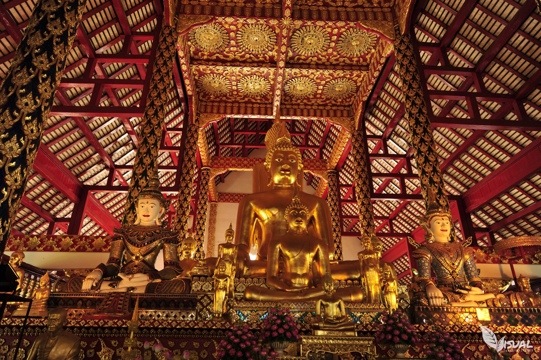 After my morning tour, I took in a quick lunch of shrimp with ginger and veggies and ended it with an ice cream cone from the famous McDonald's 😉 It was here I met my tour group to visit Wat Phra That Doi Suthep.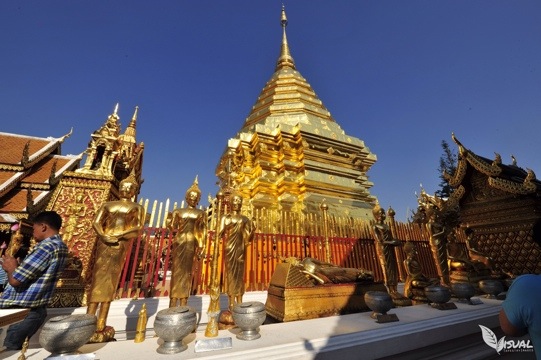 It's located up in the hills about 30-40 min away from Chiang Mai proper. The gold shimmered in the sun once we arrived and it thrived with many tourists and monks giving blessings. I received one earlier from a monk in Wat Chedi Luang and they bless you with holy water and give you a white string on your wrist. It's said that this will bring you luck, you keep the string on your wrist for a minimum of 3 days before you cut it off. We received another blessing at Wat Phra That Doi Suthep.
I've always been intrigued by Buddism and after learning more here in Thailand, I can understand why many convert to it. There's something peaceful and nurturing about this religion and all in all, they seem to have a calmer outlook on life with a lot of simplicity which is what I like about it. I have to have more conversations with Fr. Jim Fredericks when I get back to LA. 🙂
I wrote my name on the orange fabric as they will wrap this around the pagoda. Much of what you do at the temples seem to be all of good luck and fortune. I also kept hearing these shaking sounds and they were sticks in a bamboo cup. You must shake it until 1 comes out, once one does there is a number and you select the proper paper and it gives you a fortune or outlook on your future. Mine said I had enough luck – ha! Should you shake it and 2 come out than you must do it again.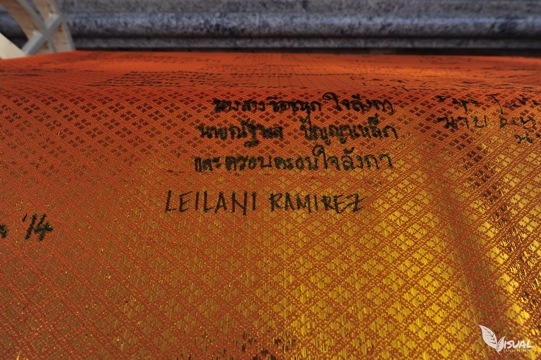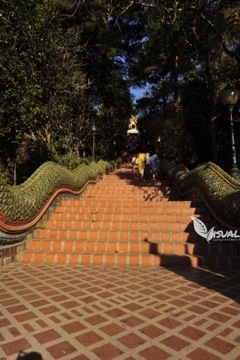 We then walked down the 307 steps. The legend of this temple is that a white elephant climbed up here from Chiang Mai and there was a Buddha relic on its back. The elephant walked up and went around 3 times until it died and therefore it became the the relic's new home. Many people will walk around the pagoda 3x just like the white elephant out of respect and for the sacredness of the temple.
My day then ended with a meal at a place called The Kitchen in the night bazaar with a bean sprout and tofu dish complete with a small Chang beer and rice shaped like a bear. Ha! I also bought some fresh lychee that I'm about to dig into now.
Tomorrow I head to a Thai cooking class and I'm also hoping to join a street food tour on Thursday night. I may end up just browsing the many markets here on Thursday during the day but we'll see what pops up. Till then hope everyone is well and good night!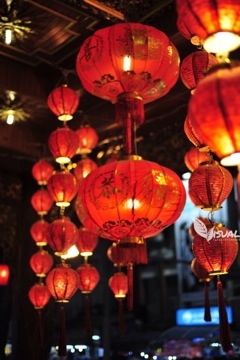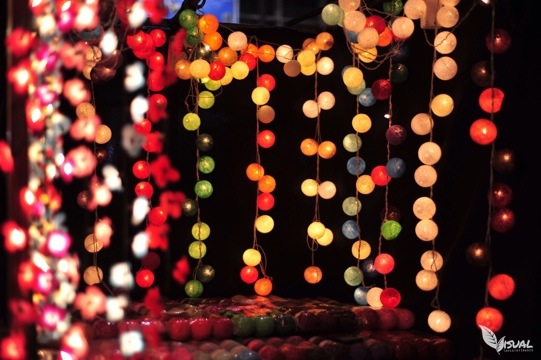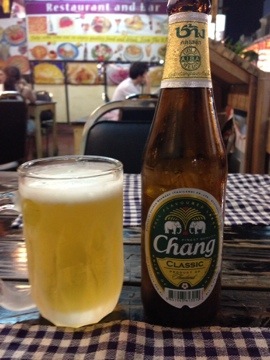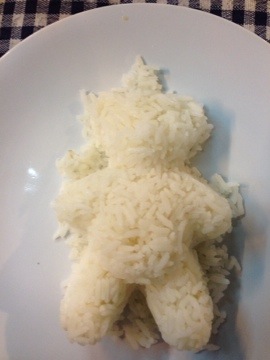 The picture above is just a glimmer into what Batanes had to offer. Batanes is the northern most province of the Philippines and it's where my maternal grandmother was born and raised. It's a land of untouched beauty that reminded me of what Hawaii must have been like before tourism got a stronghold on it and it also gave me an insight to where my beloved Paga came from. Paga was our family nickname for my grandmother Matilde Alamillo, whose roots began in 1909 in the small, quiet, rural town of Basco.
It all started with a few key names that my Auntie Rose provided me when I mentioned to her that I was planning a trip to Batanes. She asked that maybe I could look into some of the civil records and also the churches to see if they had further information on her mother's family. All it took was for me to mention that my grandma was born in Basco and was from the Abengana and Librero family and within 4 days, I had discovered and had been embraced by both families as if I was born there myself. This place is so small everyone knows each other and my guide Danny was key in helping me put the pieces of the puzzle together on my maternal grandmother's side. By the end of the first day, I had met multiple aunts on the Abengana side and met the current matriarch of the Librero family. The native group in Batanes are the Ivatan and it was funny because as I met new people and family, they would look at me and say, "You look Ivatan." Turns out that my family has a strong foundation back in Batanes and with the beauty of it's landscapes meeting my new found family on this island definitely makes me want to come back.
Batanes is starting to get more attention from tourists, primarily local Filipinos with 90% being from the Philippines and about 10% of foreigners. They're promoting eco-tourism and I'm a huge supporter of it because now that I know I have family here that live and enjoy this beautiful part of the earth, I certainly do not want it to be exploited in any way.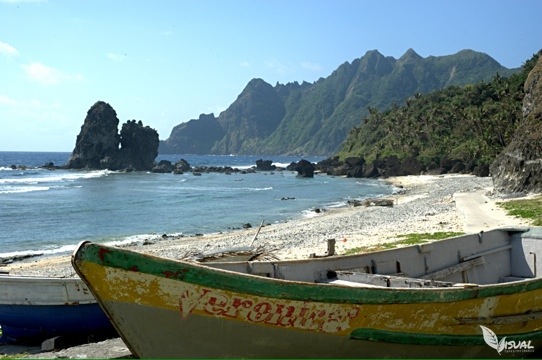 Life here is slow and simple where the living is made from farming and fishing. The airport is literally walking distance to downtown with no traffic and transportation is either a van for tours, motorbikes, a few jeepneys and by boat. The people here are so laid back more so than Hawaii I think and there's no rush even when there are blackouts and water can't be pumped. My last night in Batanes was spent with my Tita Petra and the Amboy family and as we were arriving at our host's house, there was a total blackout. Back home people would be in a bit of a panic because so much of our world thrives on electricity, the family here just simply kicked back, continued on preparing dinner with flashlights and candles and offered me some beer to pass the time. It's a world where disconnecting isn't a factor because they're still trying to solidly connect with the rest of the world. Cellphone usage and texts are easily attainable but internet and wifi is very spotty. Though as my days were spent, I loved disconnecting and just taking it all in. I could come back here annually to just get away from it all for a few weeks.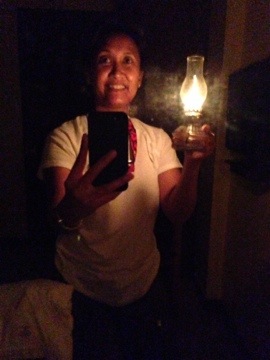 (Yep that's me with a kerosene lamp!)
In terms of the family I discovered, once they found out I was in town to trace my grandmother's roots and we were able to square away the connection between us, they took me in with open hearts and many dinners. 🙂 The closest relation I found was my Tita Petra Abengana Lizardo. She is the daughter of my great-grandfather's brother, Juan who was the youngest of the family. She is an absolute sweetheart and have been told that when I return to not bother renting a room but to stay with her. She has 4 daughters and 2 sons, one of which is a tour guide on the island.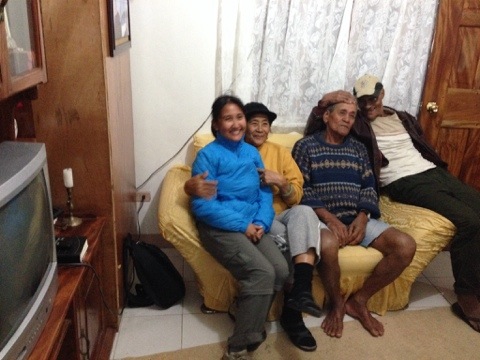 (me with Tita Petra)
She's a great cook too who made sure I had a bunch of food when I left the island to take back to Manila. I also connected with the Librero family where my great-great grandmother was from. I met my Aunt Leo and her husband Jose and I also met the matriarch of their family, Lola Valentina Enciso Librero who was married to Graciano Librero. Aunt Leo has a brother Ike and Rocopio. They invited me dinner on Wednesday night for authentic Ivatan cuisine and I have to say my meals in Batanes were the best since I've been here in the PI. Everything is organic, nothing processed, all fresh fish, vegetables and organic meats. For a girl from CA, this was awesome. 🙂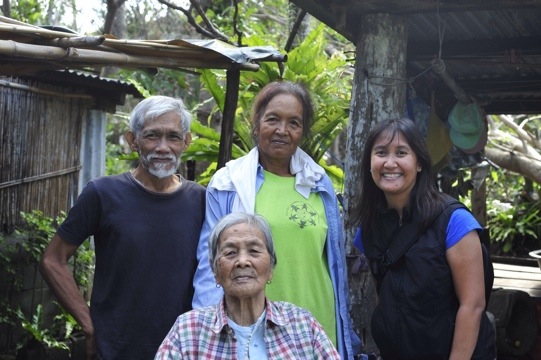 (Lola Valentina, Tita Leo, Tito Jose and Me)
Aside from meeting family, of course I took in the sites. I toured the northern part of Batan Island, the first and last days, which also included an excursion into an old Japanese tunnel from WWII. I have a gopro video that I'll post when I return.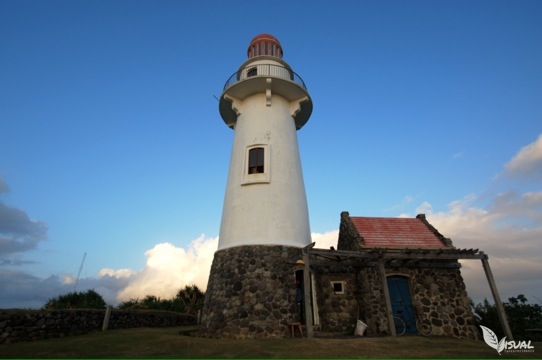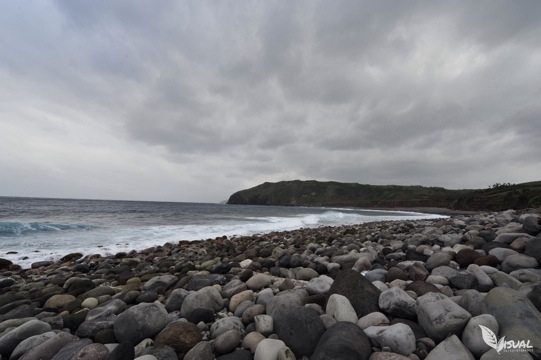 The second day I took a boat ride to the nearby island of Sabtang which is even more rural that Batan. My cousin Malia would have probably freaked out that I rode on this boat but hey that's traveling right? 😉 It's just as beautiful with amazing beaches, ridiculously clear water and lush rolling hills.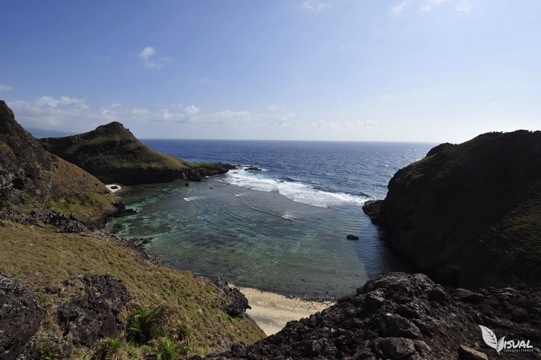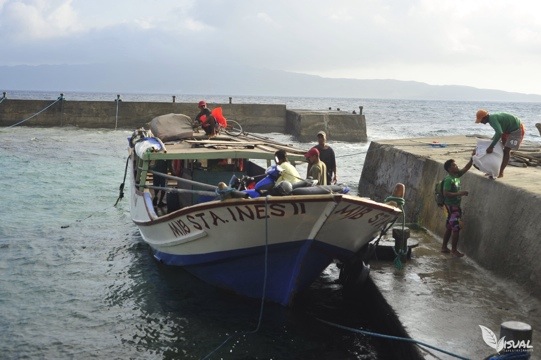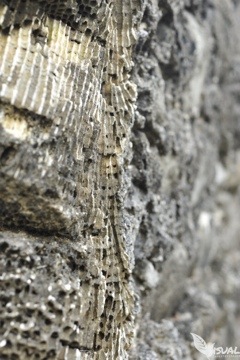 Many of the homes in Batanes are made of stone as they are prone to typhoons. Here on Sabtang, most if not all homes are made of a combination of stone, coral and cement. Winds here on an average day can gust up to 20-30mph and at times hinders trips for boats and the few flights that come into Basco. My own flight was delayed about 3 hours because of winds.
My third day touring was of the southern part of Batan Island. The landscapes seemed more dramatic with the rock formations and outcrops of Alapat to the rolling, pasture lands of Malboro county. Batanes has been compared to New Zealand in many ways but I feel that Batanes will give NZ a run for it's money in terms of untouched lands.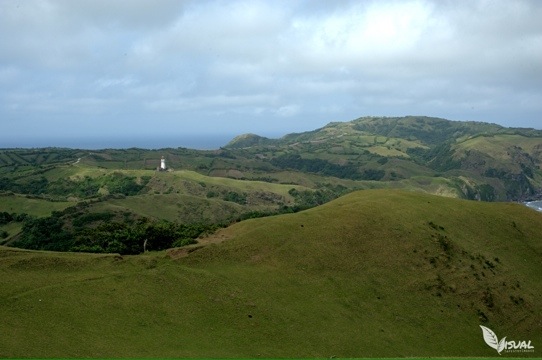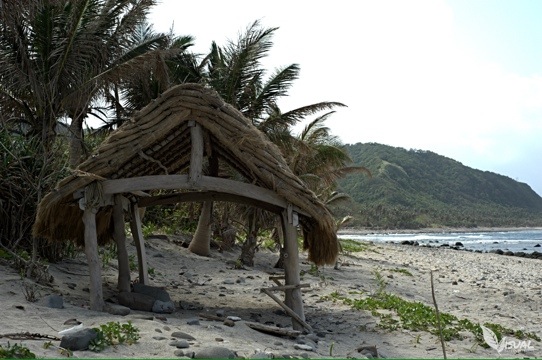 I plan to return here for sure and hopefully bring some family members to join me to not only enjoy scenery but to especially meet our new family. It's totally worth it and also worth disconnecting for a few weeks and get down to simply living. Just take it from this dog I saw napping on the beach. 😉 I'm back in Manila for the weekend but my next blog will be from Chiang Mai Thailand next week. Mahalo for following and have a great weekend everyone!