Bai Tu Long Bay and First Day in Hue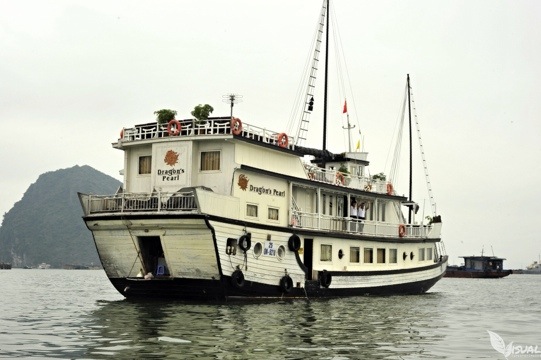 Hi Friends and Family,
It's my last night in Hue before we head down to Hoi An tomorrow. Here's a post of our time in Halong Bay, particularly Bai Tu Long Bay or Baby Dragon to the locals. It's located northeast of the famed Halong Bay. Betty and I decided to head up here as it's not as crowded with other tourist junks (boats) that Halong is and I'm glad we did.
Since we've arrived in Vietnam we've had overcast and rainy weather and when we looked at the forecast we thought it was going to be sunny, turns out it was overcast – ha! But regardless this part of the world is breathtaking.
Betty squared away the arrangements with a company called Indochina Junk (http://www.indochina-junk.com/?page_id=1763) , who are one of the few companies that can travel through this bay.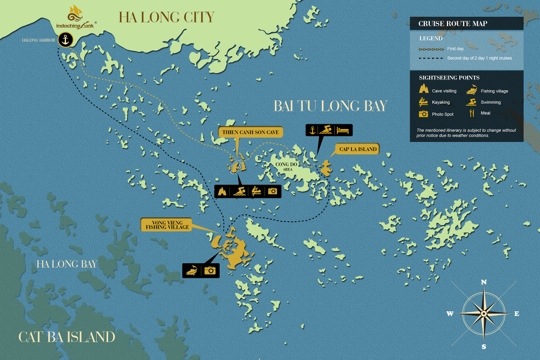 Bai Tu Long Bay is definitely more laid back and we heard from our guide, Happy that in Halong as many as 100 boats can be near each other and it can be loud and even more touristy. We were blessed with absolute peacefulness and serenity and I would return here in a heartbeat especially when the sun is shining. Our boat the Dragon Pearl III could bring 20 passengers and the funny thing is that me and Betty were the only English-speaking tourists, everyone else was French. LOL They were a nice group and our guide spoke Vietnamese, French and English well. Though we got stuck on the French senior citizen boat. Ha!
We had great accommodations and the food served was delicious. They served really yummy seafood and had good service. Our first day we stopped at one of the karsts that had a cave with stalagmites and stalagtites, called Thien Cahn Son Cave. Since this bay is younger the formations within the cave aren't as dramatic yet but it's still impressive, plus it was nice not having to fight another 200-300 people in the few caves of Halong Bay.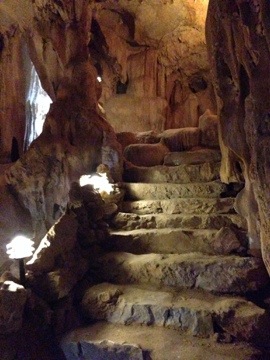 Betty and I then kayaked around the bay that I have GoPro footage of which I'll try to post later on. It was awesome and the echoes were really cool too. 🙂 Pictures are hard to describe the magnitude of these karsts as you see them from the boat and up-close. I was definitely bummed that it was so overcast but it gives me all the more reason to return here. Below are a few pics to share. For the night, we were docked in an area where we were completely surrounded and it was quite amazing to wake up to.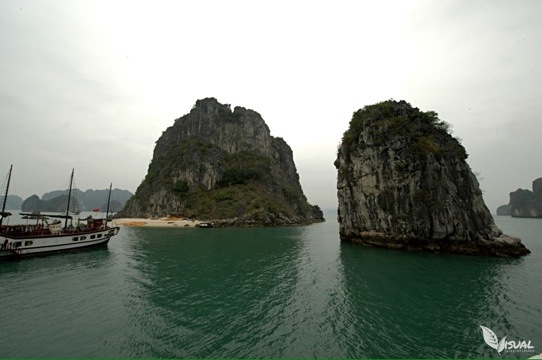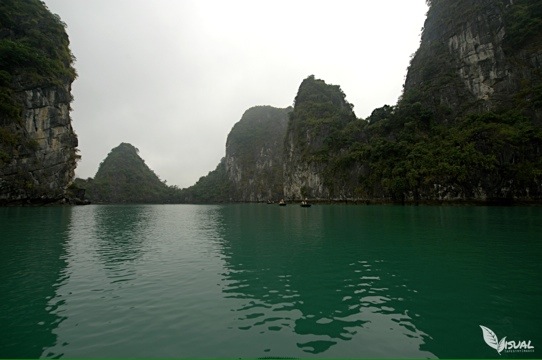 The next morning started early with breakfast and a visit to a fishing village named Vong Vieng. Not only do they fish but the people here in particular also are employed by a private company in Japan to grow pearls. We visited a few of the schools and it's awesome because this whole village is floating on the emerald green water of the bay and the kids that go to school have their little boats to row themselves to class. Sweet! 😉 It's a simple life and the surroundings are so peaceful. I could sleep in this bay for many nights, with the constantly calm waters and sounds of peace.
Sooner rather than later, it was time for us to return and head back to Hanoi for us to catch our flight out to Hue in Central Vietnam.
We arrived in the evening and Wednesday was our day of touring Hue City. Hue is known for being the heart of Vietnam, spiritually, culturally and intellectually. Hue is filled with royal tombs and the Citadel.
The latter was once the former Imperial City on the Perfume River (Song Huong) and it's expanse is huge. Unfortunately, the US heavily bombed it during the war and there is much to be restored. Betty and I ventured here last after touring the tombs and we were a bit disappointed because there was still much to be fixed and it was a lot of empty space. It could've been too that we were getting tired and it was starting to drizzle more and more. We began looking like the stupid American tourists who didn't bother taking the umbrellas offered us. 😉 But it's one of those places that you have to return to because you know that in 5 years there will be more improvements made here. I think we were both expecting too much.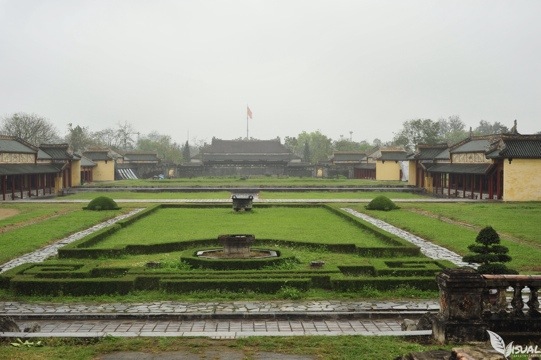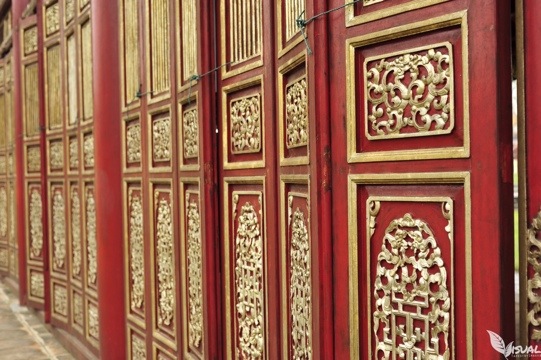 Prior to the Citadel, we visited 3 Royal Tombs, Tomb of Tu Doc, the Tomb of Minh Mang, and our favorite was the Tomb of Khai Dinh. It's situated on a hilltop with a wonderful view and it has a more elaborate design. It's also the most recent and the last of the tombs ever made for an emperor here in Vietnam.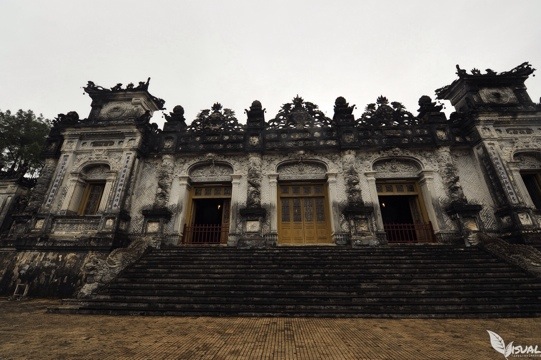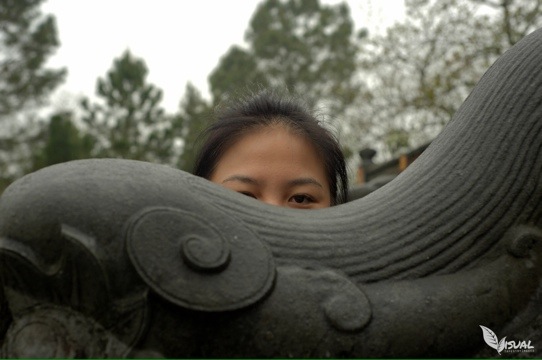 You should definitely visit Hue for at least 1-2 days. The traffic isn't nearly as hectic as Hanoi and the food here is also a bit different. We continue to eat great food and the hospitality of the people here continues to be wonderful. Though I think we're confusing the Asian's here because they ask me and Betty where we're from and when we say, California USA they all give us this funny look. LOL
My next post will be about our visit to Phong Nha-Ke Bang National Park, another UNESCO World Heritage site. This is just another place I have to return to to explore longer as there are lush landscapes and amazing caves, with more stalagmites and stalactites.
We're off to Hoi An tomorrow and we're hoping we'll finally get some sun. Till then good night from Hue!