Caves, Stalagmites and Stalactites Oh My!
On our second day in Hue, we decided to venture out of the main city and head northeast to Phong Nha-Ke Bang National Park. It's another UNESCO World Heritage site and when you first enter these caves you can see why.
It was an early start for us at a 6:45am pickup time. After a few stops, our tour guide got on. There were about 5-6 of us that were non-Vietnamese tourists, but this guide just starting speaking Vietnamese for about 15-20 minutes into our journey. Those of us that didn't understand were looking at each other wondering if the travel company forgot to tell him that many of us didn't speak the native language. LOL There was a tourist from Belarus that put up his hand while our guide was speaking and said, "Excuse me," to let him take a small break to inform us that he could at least speak English. Well that didn't work as the guide just stared at him and kept on talking. Ha!
After another 10 minutes, he finally broke into English and introduced himself and gave us a breakdown of our tour. We were grateful to know that we were at least going to the same national park. The ride to the Phong Nha is a 3-4 hour journey but we made a few toilet stops and a lunch break before we finally arrived.
We did actually stop at a Catholic Church named Our Lady of La Vang. This too unfortunately was destroyed by US bombing and what stands today is just the steeple. The rest of the church is literally just simple steel framing and glass windows. At one end is the shrine and reverence to the Holy Mother.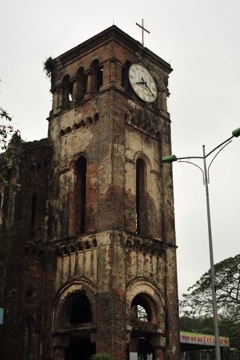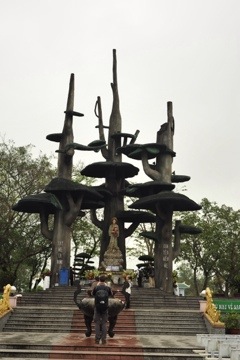 After our visit we continued on for another 2-3 hours. We ate at a local restaurant once we arrived in the central city of the park. Already I could tell this was a place I'd want to return to and trek around further. As we drove through, I saw various places to stay upon my return. We finally arrived and boarded a boat that had two drivers and we slowly went down the Son River. On the sides were these beautiful, lush mountains peppered with small villages of the locals.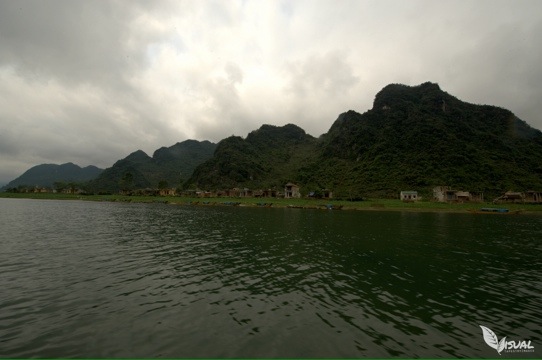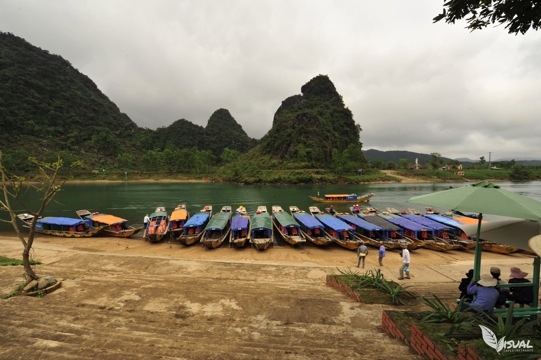 It was a 30-minute boat ride until we reached the mouth of the cave. Many of you have seen the photo I posted on FB or Instagram.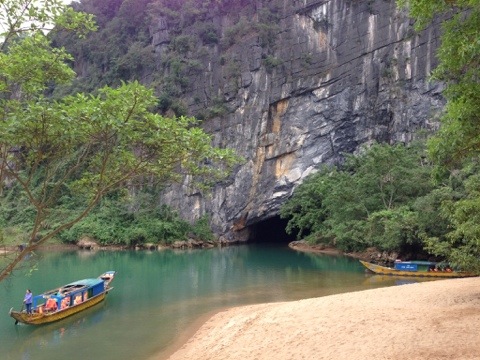 They then took the tarp off the top of the boat and we entered this amazing marvel of natural beauty. My photos posted here can't really describe how wide and big this cave is. I have a few GoPro videos that I need to edit that kind of gives you the scope of this one cave but this is something I've only seen in shows on National Geographic or Discovery; to see it in person is priceless. This cave, the Phong Nha is only one of 150 that have been discovered here in this park. Some people in our group visited the Paradise Cave, which is another one to come back to and there's another visitors can now visit that was recently discovered called Son Doong which was founded by the British in 2009 but it apparently costs about $1000-$3000/US dollars to visit this cave as it has been marked as the world's largest and you can camp here.
Phong Nha Cave is 7,729km long but tourists are only allowed to view 1500km. Regardless we were transported into a different world and yes Betty and I being the dorks we are felt like we were in Lord of the Rings. 🙂 Once we were in the cave, they shut the engine of the boat off and paddled us into and around the various grottos in this karst. The gravity and size of the stalagmites and stalactites were obvious indicators of how old this natural wonder was. These karsts were created 465 to 250 million years ago and entering this cave through the underground river is absolutely captivating. It's beautifully lit and each time you turn around your mouth just drops.
Towards the end, we were able to get out of the boat and walk around to the mouth of the cave that we entered. I can't wait to come back here and discover the other amazing caves out here. I think it's a must see for anyone that visits Vietnam.
Till then enjoy some of the pics I was able to capture. I'm so glad I brought a wide-angle lens and I hope that it gives you some insight to the size of this amazing place.
We safely arrived in Hoi An today after a cool drive down from Hue. I'll post another entry hopefully in the morning, if not definitely in the evening.
Till then, "Good night from Hoi An, Vietnam!