My Son & Ho Chi Minh City
Hi all,
I'm writing from Phnom Penh, Cambodia and catching up on my blog. I caught a stomach bug from a lunch stop on our bus ride into Cambodia, so unfortunately I wasn't able to tour the capitol city today. My friend Betty went out to tour while I recovered so hopefully she's having a fun time.
I'm thankfully feeling much better but yesterday afternoon was no fun for sure. Today's blog will cover our visit to My Son and our time in Ho Chi Minh City aka Saigon.
On our second day in Hoi An, we took a tour out to a place called My Son. These are ruins from from the ancient Cham empire and is another Unesco World Heritage Site.
It kind of gave us a glimmer into what Angkor Wat will be like. Unfortunately much of this was heavily bombed by US forces during the war and many craters still remain on this sacred site. The architecture and artwork is amazing and it's so sad to see much of it destroyed. They are doing much to restore some of it to what it once was.
We then left Hoi An flew into Saigon on Sunday night and our hotel was smack dab in the middle of a bustling District 1. When we arrived there were numerous food stands and people sitting on the sidewalk having a beer and grabbing some food. It's a bustling city for sure and we started to really dig the vibe there.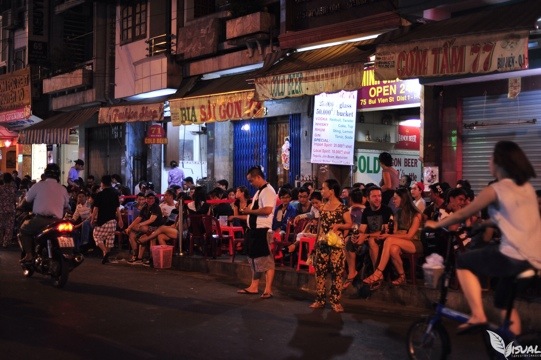 The next day we ventured out in the heat to walk around and see some of the sights. That first day we went to the War Remembrance Museum which focuses on the victims of war, with a strong focus on the American/Vietnam war. They have collections of US military vehicles and artillery used and a very powerful collection of photographs, one in particular that I found very impressive and heart-rendering were those that they featured from war correspondents and photographers. Many of whom were also killed in action during the Vietnam war. It was a heavy experience but I'm glad we visited here to see the affects war had on the country and in which they are still recovering from.
We then walked over to see the Notre Dame Cathedral. It's quite impressive and one of our tour guides said there are about 7 million Catholics here in Vietnam.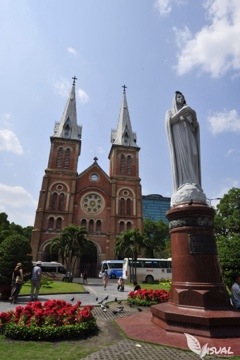 We didn't have the chance to go inside as they were closed during the time we got there but we saw many couples getting photographed for their wedding and even in the middle of the chaotic traffic. I thought Hanoi had a significant amount of motorbikes but try crossing the traffic circles with cars and bikes that are double that amount. Betty and I crossed a traffic circle and purposely followed a local couple as they braved the crossing. We took the idea of sticky rice from our food guide in Hanoi. 🙂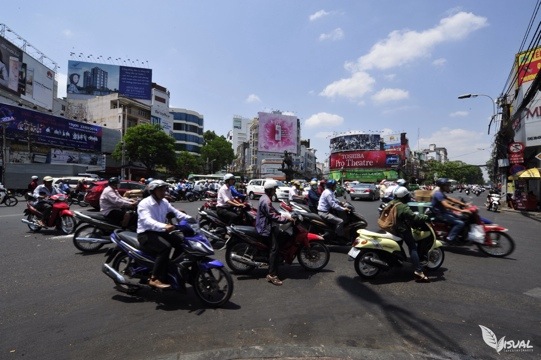 After the cathedral, across the way is the post office which is another impressive piece of architecture. It still had old school phone booths that were filled with phones that didn't work – ha, and the other side were filled with ATMs. It wasn't only a post office but they also had gift shops in there.
We then ended our day by finding a local bahn mi stand and also had a dinner at a great place called Five Oysters near our hotel.
The next day we decided to tour the Cao Dai temple and the Cu Chi Tunnels. It was a long day but it was well worth it. The Cao Dai Temple is quite unique and we got there during their noontime prayer ritual. It's a combination of secular and religious philosophies from both the east and west and they have a weird affinity to Victor Hugo. It's a beautiful temple and I was able to record some of the music and singing. It's was an interesting ritual and they apparently pray 4 times a day. It's a very elaborately decorated building with the left eye being a pinnacle symbol that is represented all around the temple.
We then made our way to the Cu Chi Tunnels after lunch. This was a fascinating place and I'm bummed that I didn't have my GoPro camera with me this day. This is an elaborate tunnel network that the Viet Cong used famously during the American war. Our guide Ne was very good at describing the use of these tunnels and was also very proud of his people in using these networks to try and outsmart the enemy. You gathered a new found respect for those that lived down here. We had the ability to go through 2 of them in which they've been widened. I could only imagine how narrow the actual tunnels were as the widened ones are not that much bigger. I unfortunately don't have pictures of us going through as it was so narrow and points where you needed to be on all fours and use your hands to get through. Again bummed that I didn't have my GoPro as it would have been a perfect way to capture our experience.
There are still a number of secret doors that are in the area and they are extremely small. We had the chance to go into a tourist secret door and that's small enough, they actual ones are smaller than the average man's shoe size. If you're in Ho Chi Minh City, this is definitely a worthy visit if you're into this.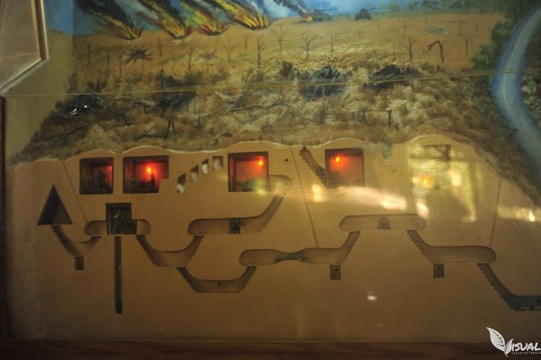 A diagram of what some of the tunnels contained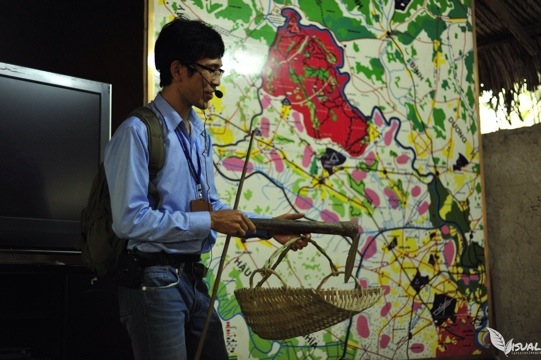 Our guide Ne and him showing us the tools they used to dig the tunnels.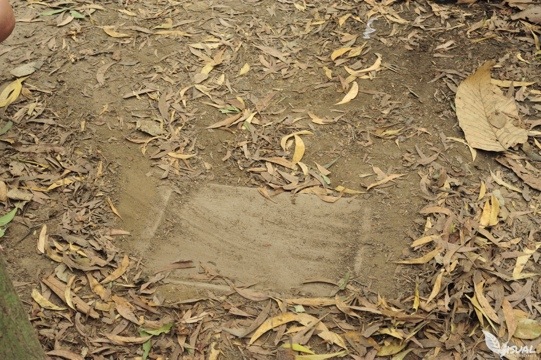 Size of a secret door.
I won't be able to share much of Phnom Penh since it was mostly spent in the room recovering but tomorrow were heading off to Siem Reap to finally explore Angkor Wat. I'll be sticking to bread, crackers and some bananas tomorrow. Thankfully I'm on the mend so that's a good sign. I'll catch you all later and thanks again for reading.