The Temples in Angkor – Part II and Bangkok
Hi all,
It's early morning for most of you but it's a warm, balmy evening here in Penang, Malaysia. I'm staying at a really cute guesthouse called Mango Tree Place about 20-30 walking minutes from Georgetown, which is another UNESCO World Heritage Site. (I see what my theme has been this trip) 😉
I just got back from exploring some of the famous hawker stalls tonight which features street foods from all the various cultures that have settled here, dominated by the Chinese. I visited Gurney Drive which features a good variety of foods. Per my Lonely Planet guide, I ate at stall 11 to eat some Asam Laksa. It's a noodle dish that was ranked 7th on CNN's "World's Most Delicious Foods," in 2011 and it has a fish-based broth. They add it with garnishes of ginger flower buds, onions, lettuce, chilis, mint leaves and mine had slices of pineapple in it, along with fish balls – fish cake balls that is. 😉 It was quite delicious. I'll be going on a food tour tomorrow morning and get introduced to more foods.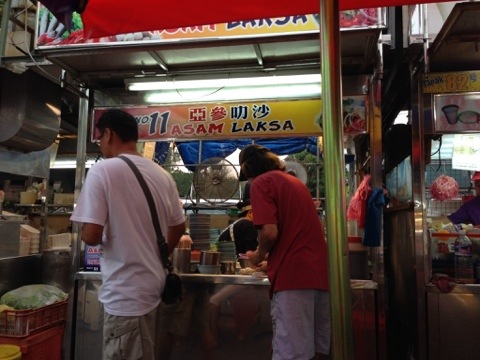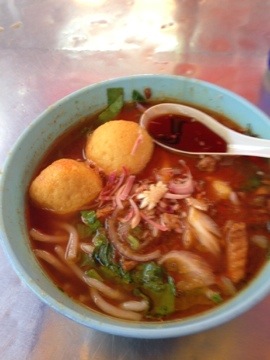 Anyway, I'm here to finish up blogging about the temples at Angkor and my stay in Bangkok.
As I stated in my last entry we woke up really early for sunrise at Angkor Wat. The temples of all temples at Angkor. I brought my tripod in hopes of some cool shots as the sun rose, unfortunately the clouds covered most of it and I wasn't the only one with a tripod. Plus there were the annoying tourists that would stand in front of your position and then knock your tripod, of course many not apologizing. AARGH! Needless to say I had to really practice my patience without wanting to trip a tourist or two. 😉
The shots I have here of Angkor Wat aren't HDR, but hopefully it'll give you a gist of our morning at one of the most amazing and oldest temples in the world. If you only have 1 day to visit the temples than this is definitely the one to see. (Correction: We bought a 3-day pass and there's also a 1-week pass. You don't have to use it consecutively, there is a timeframe that you can enter within. If you only have 1-day than then the single day pass is $20)
By 7:30am many tourists were already passing through and part of the reason is because it's a tad bit cooler. I would highly suggest either coming early and then leaving mid-day for lunch or explore elsewhere and then return later in the day.
The details and carvings of Angkor Wat are astounding. The artwork and the architecture blows your mind for the time period that it was built. This temple is the Khmer's national symbol and they have a right to take such pride in it. This temple was built by Suryavarman II, who according to the words of the LP Guide was 'the key person to unify the Cambodian and Khmer influence across much of SE Asia. He was also different from other kings as he worshipped the Hindu diety, Vishnu.' This is a must see and should be on your bucket list if you haven't already seen it. You can wander around here for some time finding new things you didn't see before. As the sun eventually peeked out behind the clouds there was some great light that came through parts of the temple.
To have seen it in it's full splendor would have been awesome, but even though it has aged there is still a timeless beauty about it. No doubt it'll forever be etched in my mind.
After exploring Angkor Wat for almost 3 hours, we headed to a few more temples before we ended our tour. The next temple was Ta Prohm, which is nicknamed the Tomb Raider temple but it is a little more Indiana Jones. 😉 There are huge tree roots that have established themselves in this temple and literally are holding things up or smothering them. This is a 12th-century Buddhist temple built by Jayavarman VII. Nature has taken hold of this temple but it was certainly one of my favorites. As some of you saw the video my friend Betty took, we got a little carried away with trying to be action stars in the temple. I know so wrong! But the surroundings are hard to not do a few action shots. 😉 It's nicknamed Tomb Raider because the movie was actually shot on a few locations in Angkor. Regardless of that, the temple is still impressive amidst the towering trees and roots, with moss covering many parts and still many fallen stones or those being unearthered.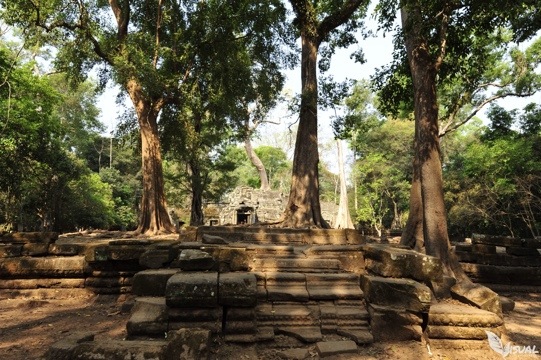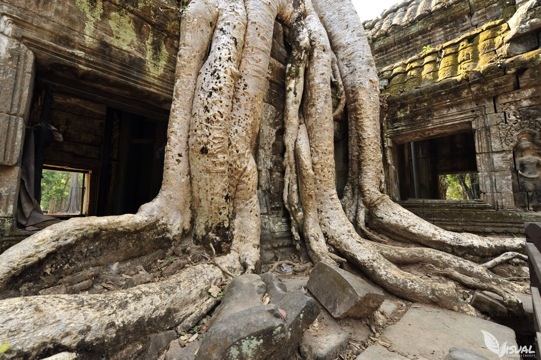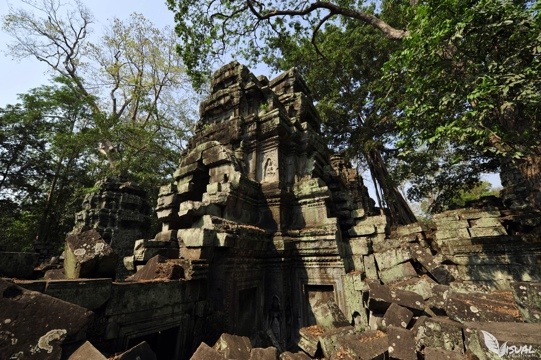 Our last stop was Banteay Kdei that then leads out to Sra Srang, the Royal Baths. The name of this temple means "A Citadel of Chambers," but is also known as "Citadel of Monks' Cells." This temple was also built during the reign of Jayavarman VII and is just outside of Ta Prohm. Still just as equally impressive as Ta Prohm despite it's smaller size.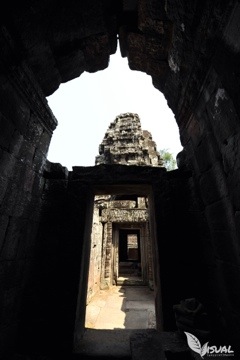 We walked out to Sra Srang and were immediately hounded by the young women at the stalls trying to sell you drinks and food. They have no problem with asking you questions, telling you the capitol of your country and then trying to give you bracelets and telling you to visit their stall. Both me and and Betty were accosted by two separate girls. There really was no way to avoid them on our way back to our tuk-tuk. You tell them, 'Maybe, I'll stop by,' 'No I'm not thirsty,' etc. On our walk back, mine ran out when I was already more than half way and her stall was at the back. She said, "Come back to my stall," I replied with silence, to which I'm sure she cursed me in Khmer. The tone of one's voice is very universal when you're pissed. I then gladly left her bracelet she gave me on the side as I didn't want her bad juju. 😉
We successfully made it back to our tuk-tuk and ended the day of temple touring. We ventured off to the famed Pub Street and got a foot massage and some good 'ol Western food of potato skins and beer. Later that evening after relaxing at the pool we tried some Cambodian BBQ and then went to a bar called "Angkor What?" LOL We just had to. We opted to stick with beer rather than the buckets of alcohol they were serving that would really make you ask that question, "Angkor what?" Just think of Sharkey's when I say bucket as I'm sure many of you have encountered that drink back in the day.
It was then off to Bangkok. We took a direct bus from Siem Reap to Bangkok through a company called Nattakan. It's a Thai-based company and the perk with this one was that you didn't have to change from one bus to the other once you crossed the border. It wasn't as organized as the Mekong Express but we got there in one piece and on the same bus. It's a little more than the average bus ride at $28/person but it was nice to be in a bigger bus with AC and not have to switch to a mini-bus after being in a bigger one. They do serve you refreshments and some snacks and lunch, but be sure to bring your own goodies too. The total travel time for us that day was about 8-9 hours as there were a few kids that held us up as we crossed the border, along with traffic. Also note that you have to take your luggage out and cross them over the border on your own. It wasn't fluid like crossing from Vietnam to Cambodia and part of the reason I think is because you have to pay for your visa on arrival in Cambodia, so the ME has a system down pat. Whereas with this crossing, since you don't have to pay and depending on what country you're from things vary as you enter Thailand. The bus will only stay and wait for a max of 2 hours. We probably got through within an hour and that includes departing Cambodia, walking through to the Thailand border and getting through immigration and having your bags scanned. Yay for backpacks because rolling luggage would be a pain in the ass going through those streets, as several of our passengers realized.
We were dropped off at Mo Chi Station and took a cab that couldn't bring us to our hotel. LOL Thankfully he dropped us off at the BTS or skytrain. With the little English he spoke, he apologized for not being able to drive us to our destination, which we're still not sure why. Ha! Though with the help of our map we were able to figure our way around and after a couple hops on the very efficient public transportation system and taking out a few locals in the train while we exited with our big packs, we made it to our hotel via the hotel boat that traveled back and forth on the Chao Phraya River. We were welcomed with luxury for a mere $80/night with a room at the Chatrium Riverside Hotel, that was the biggest of our travels in the last 3 weeks. We soaked it in. 😉
The following day we took it easy with our touring. We took a boat up to the Grand Palace that the royal family still uses to this day. They don't reside here but it's used for important functions. The complex is well-maintained and the gold plated stupas shine brightly as you come off the boats. Within this complex is also Wat Phra Kaew which houses the Emerald Buddha. We weren't allowed to take photos inside but I was able to snatch a distant one. The inside was just as opulent as the outside. Extremely fine details and very ornate decorations adorned this complex. It's a site to behold for sure.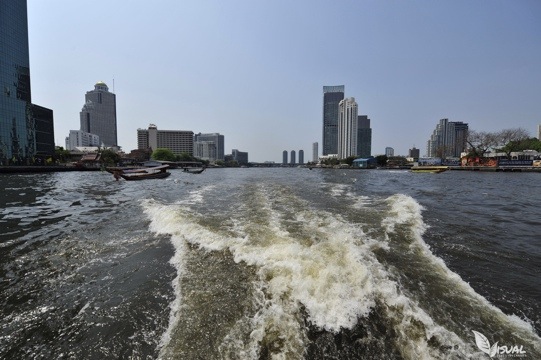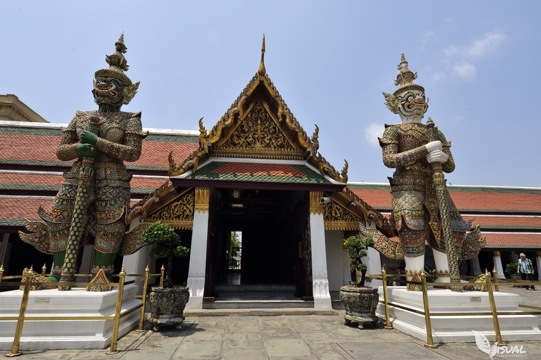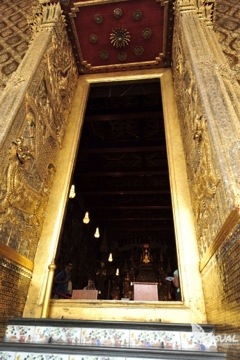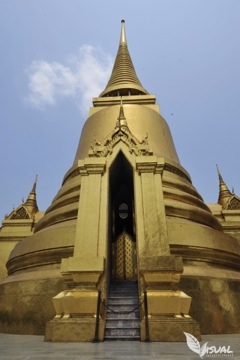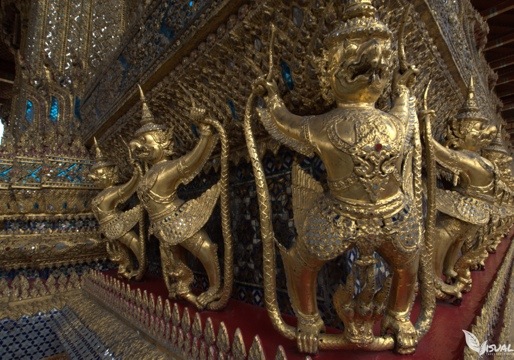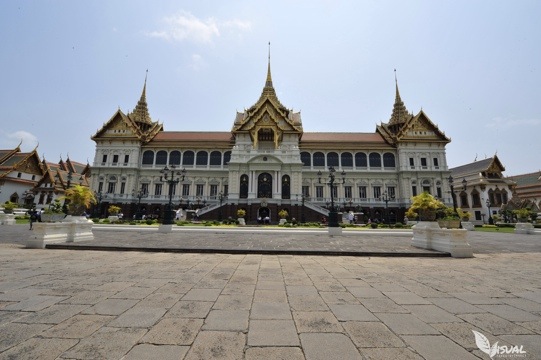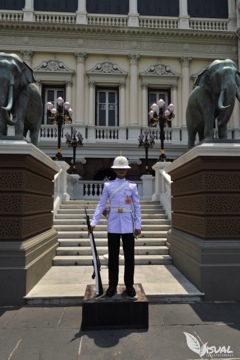 We wandered around here for a good 2 hours, each turn our jaws-dropped at some of the grandeur you encountered. From there, we walked through the amulet market to Wat Pho. This is the oldest and largest temple in Bangkok and of which holds the awesome 'Reclining Buddha.' I've seen pictures of this but to see it in person is mind-boggling. As you walk through you hear people giving coin offerings in the bowls. I took my recorder as I walked through and as I gave my own offering. It sounds pretty cool. 😉 There are 108 bronze bowls in total.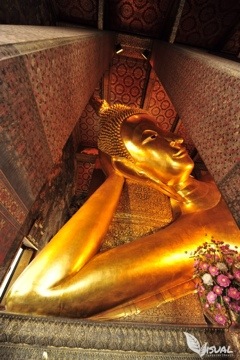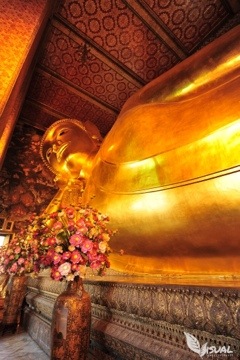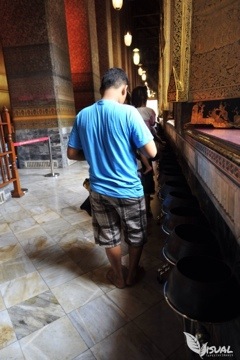 From there we took a costly tuk-tuk ride to the Gold Buddha in Chinatown. My negotiating skills weren't great. Ha! I was only able to get him down 50 Baht from 250 for a 15-20 minute ride. But we got there safely and got to see the Gold Buddha at Wat Traimit. We only paid to see the Buddha itself and it's was worth it. This Buddha is solid gold weighing 5.5 tons and is 3m tall. It certainly shines and is housed in a very nice temple.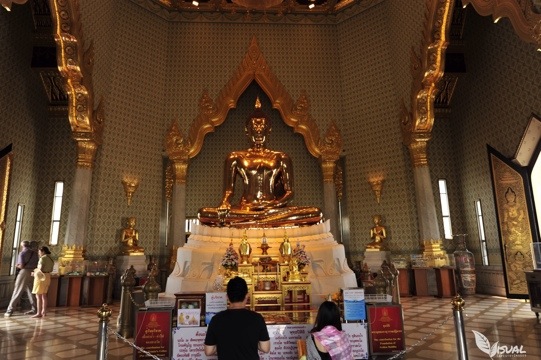 We only had 1 full day in Bangkok and kind of regret not staying another 1 or 2 as there is still much to see in the city. Thailand in general is a country I'll certainly plan on returning to. The people, food and culture I really enjoyed and I could see why people would want to live here. Anyone hiring in Thailand? 😉
Alright all it's time for bed here but thanks again for reading and I hope to post again hopefully tomorrow evening.
Aloha!