Hey all,
I'm getting ready to head back tomorrow afternoon to LA. It's been an amazing 7 weeks here in SE Asia and I hope to return sooner rather than later. This part of the world has opened my eyes even further and I can't wait to explore more. I was telling my tour guide Melissa yesterday that I realized that I didn't explore too many beaches here and when I return I have to go and checkout the coastal areas more. But Betty and I talked about this being a highlight tour of SE Asia and it certainly was.
Many people asked me as I was planning my travels why I would go to Malaysia and I say, "Why not?" This country is filled with an eclectic vibe of a vast array of cultures, from the Malays, to Chinese, Indian and even a Western influence. It is a Muslim country but regardless of that, the people, culture and overall feeling here is very modernized and to see the different ethnicities and religions fused together here is quite fascinating.
I started my excursions in Malaysia in Penang. It's an island off the coast of mainland Malaysia specifically known for it's food. Mostly Chinese settled here and it's referred to as the 'Pearl of the Orient.' Though the mixture of cultures are still strongly prevalent especially on the well-known Street of Harmony where it begins or ends with the Anglican Church of St. George, then the Chinese Goddess of Mercy Temple, to the Hindu temple of Mahamariamman, next the Teochew Temple to end or start with the Kapitan Keling Mosque. Quite a site to see all of these places of worship on one street, but what perfectly describes the culture and people of Malaysia.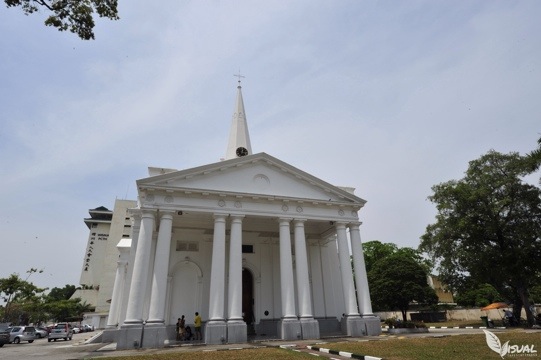 I had the pleasure of doing a food tour in Penang with Mark Ng, who runs Simply Enak in Penang. He and a friend originally began this in Kuala Lumpur but he decided to move back home to Penang and establish his food tour here. I was lucky enough to get a personalized tour with Mark as I was his only guest and so he brought me around to places where he grew up. We started off eating char kway teow which is a noodle dish with egg, veggies, and shrimp – really yummy stuff and he also got us a dish of fried pork and deep fried shrimp. All quite delicious and this was for breakfast. 😉 Mark said what's great about Asia in general is that you basically can eat whatever you want. You want noodle soup? You'll find a stall for that. Pancakes? Yep you find that to or how about some spring rolls. There are no rules when it comes to food here.
Mark if you're reading this, my apologies for not remembering the names of the foods you got me. Ha! Oy!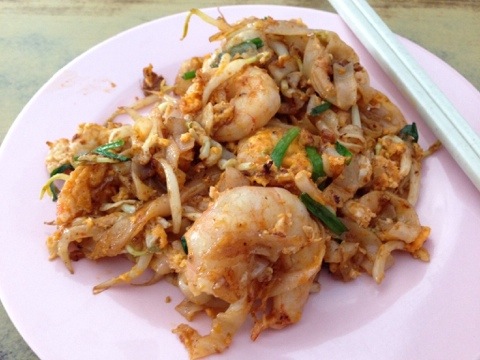 We then walked through Little Armenian street that was filled with some great street art. Reminded me of Banksy in many ways. At times there were queue's of people waiting to take pictures with them.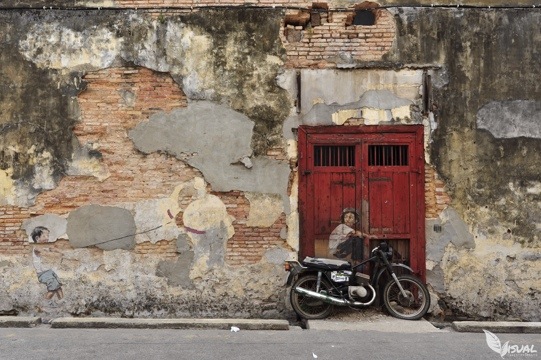 We then walked to a morning market filled with more food, fresh veggies, iphone covers to underwear. Ha! You need it, it was there. As we walked through, Mark got me a few more goodies to try along the way. He bought me a yummy custard pastery, to a pancake filled with peanuts and corn (yes an odd combination but it was really sweet), then another peanut snack like peanut brittle wrapped in a fresh lumpia like wrap, and then I can't forget another bite that reminded me a little bit like malasadas except it was sprinkled with sesame seeds. I was getting full so Mark was holding them in a bag for me as we toured more. Needless to say I had a lot of good snacks for the rest of the day.
Before we went to lunch we walked through the Street of Harmony along with exploring the Clan Jetties, which are homes to families of fisherman, traders and dock workers. The homes are built on stilts and are all connected by wooden walkways.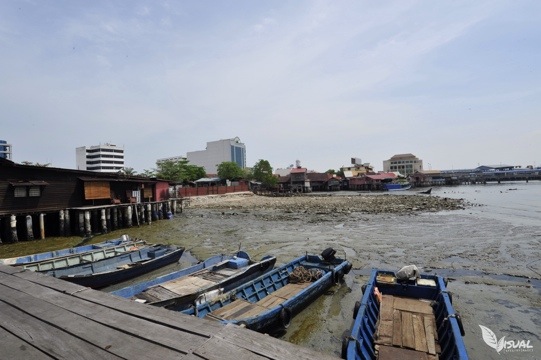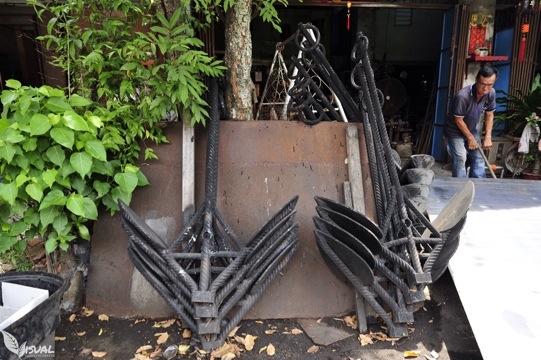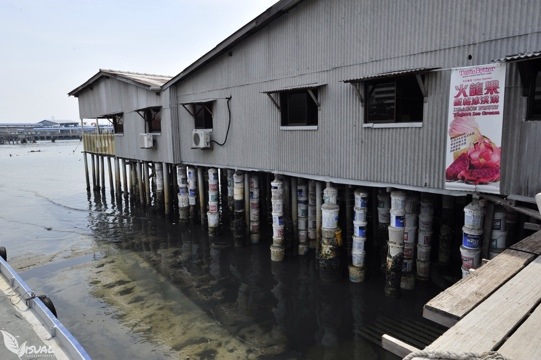 We then finally made our way to Little India for some authentic Indian food. We ended up eating a banana leaf rice meal which was really delicious. It was served on a banana leaf with rice and 3 different types of curries and he also ordered chicken masala. It was accompanied by a thirst quenching lemon tea and I also tried a yummy ginger chai tea.
Mark successfully made me full for the rest of the day that I actually opted to return back to my B&B and take a nap. Ha! It was a great tour and should you find yourself in Penang, please contact Mark for a tour. (www.simplyenak.com) They also do tours in Kuala Lumpur as well.
They next day I ventured back to Georgetown to check out a few of the main sites. I started off by visiting the Pinang Peranakan Mansion. It's been used for film locations but more importantly it's a wonderful showcase of the melding of culture and success that the Chinese obtained in Penang. The details in this home is stunning. Many things painted in gold leaf to intricate carvings, as well as Scottish ironwork.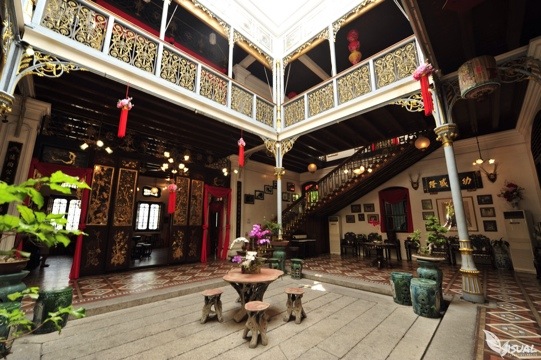 I then walked over to the Khoo (ku) Kongsi, which is the temple that belongs to the Khoo Kongsi clan. This too is very well-detailed in design and it's probably the most well-restored and maintained clan house in Penang.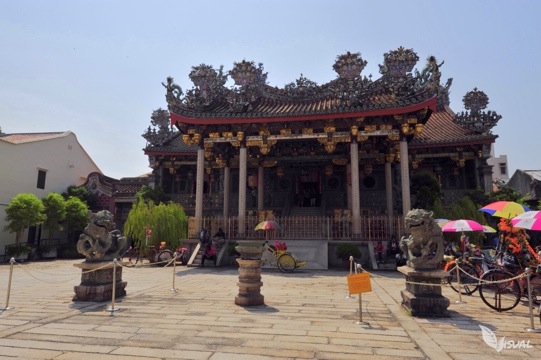 Next on the list was The Blue Mansion, formally known as Cheong Fatt Tze Mansion. He was known as the 'Rockefeller of the East,' and rightly so as he built a prosperous business empire. This was a home that was thankfully saved and restored to it's original grandeur by 2 architects. You're also able to stay here as a guest. On the tour we were able to view the main living areas and even that is quite stunning.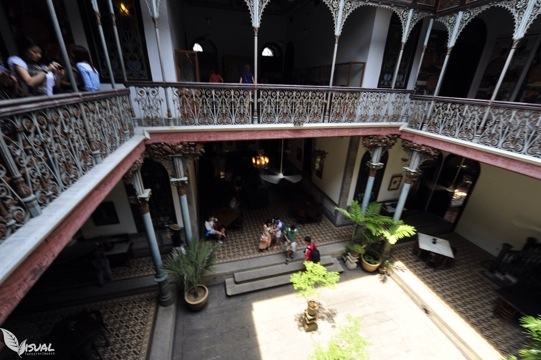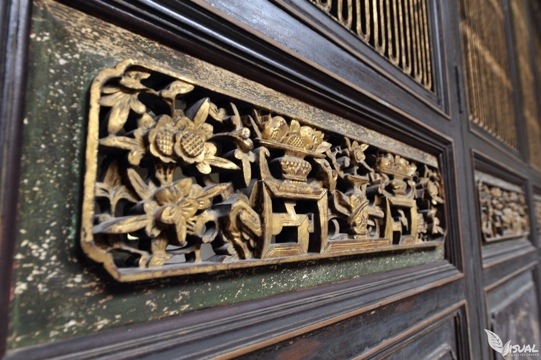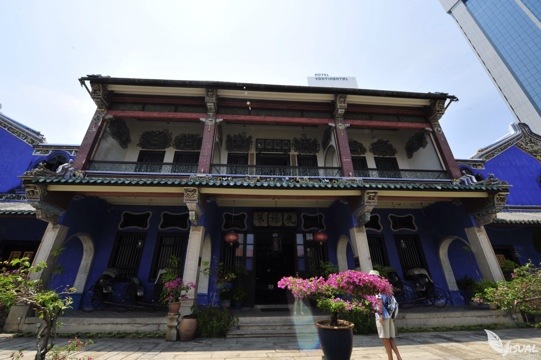 I wasn't done yet for the day as I decided to take a taxi and head up to Kek Lok Si Temple. It's the largest Buddhist temple in Malaysia. There is a 7-story pagoda and a huge bronze statue of Kuan Yin. I decided to climb the 7-stories and was greeted with a great view of Penang.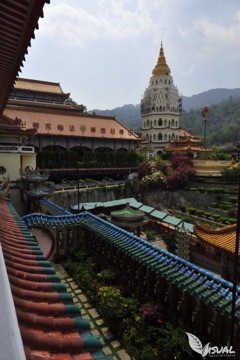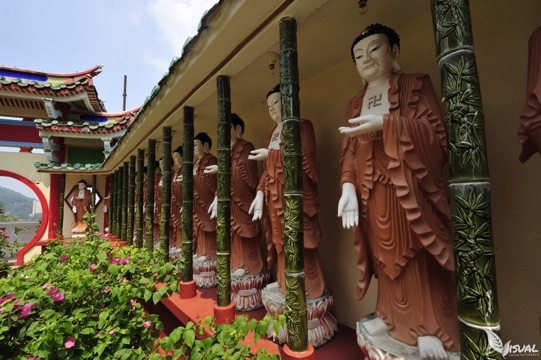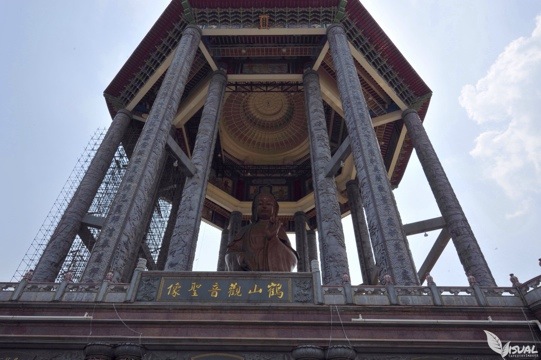 I then ended the day at Penang Hill to catch another view of the city. I think I was spoiled at the temple because even though the view is nice I thought the temple provided the best one. Perhaps I was tired and hot too but the best thing of my time in Penang Hill was the funicular train ride coming down. ha!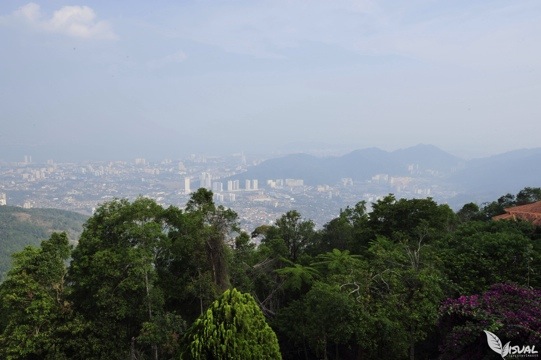 The next day I was heading back to Kuala Lumpur and I decided to stay at Aloft Hotel right next door to KL Sentral Station. It was an easy train ride from the airport KLIA to here, simply take the KLIA Express and it's a direct route to KL Sentral which is a hub for their public transportation.
I scheduled a tour with Melissa Lua through Tours by Locals. We did a heritage walk that covered various religious landmarks, wet markets, Chinatown and Independence square to name a few. Melissa is a great guide with a lot of knowledge of her country and city. She provided me a wonderful background of how Kuala Lumpur came to be and where it's moving now and to the future.
We started our tour by visiting the Hindu temple, Sri Mahamariamman, which is the oldest in Malaysia. I thoroughly enjoyed her description of the history and stories that the Hindu religion is based on. Many things that I never knew and I still would love to learn more. There are many similarities amongst our religions, I just wish we learned to blur the lines amongst one another despite our beliefs.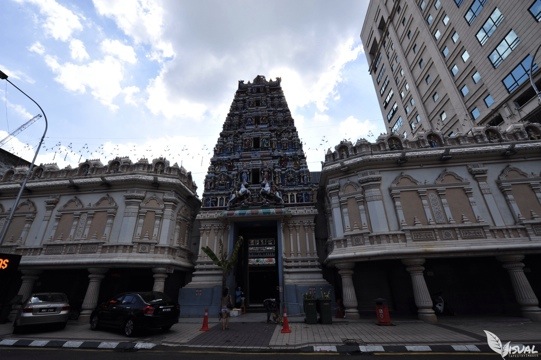 We then walked through a wet market, where chickens and fresh meats are usually sold. It was technically closed for the day but the chickens were in their cages alive ready to be sold fresh the next day. We then walked out to an open market selling all types of goods, the usual souvenirs to local snacks and fruits. Melissa had me try a warm yummy chestnut and a masos teen. It looked like a plum but it had the skin of a thick orange but depending on how you open it it could turn you hands purple. Inside was a sweet, white core.
From there we walked through the Central Market and headed to the Sze Ya Temple which is a Chinese Taoist temple. It was closed so we weren't able to go inside but it's nestled between modern buildings.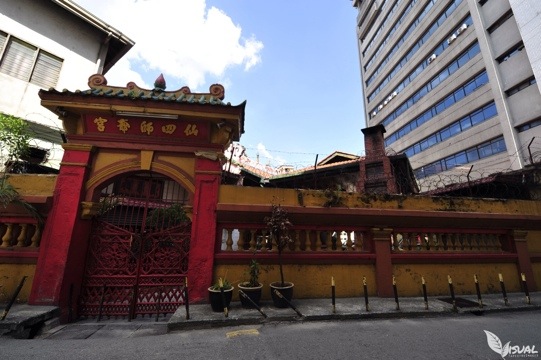 We continued our tour to Independence Square where Malaysia claimed their independence in 1957. It's situated in the side of the river where the British settled and you can clearly see it though the architecture. Though there is a mix of Islamic influence in the buildings.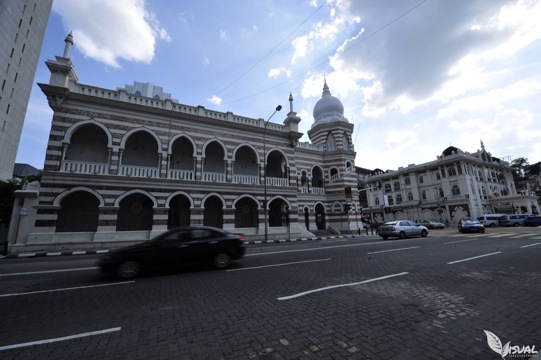 Melissa took me through the gallery and explained and showed me in depth the history and progress of Kuala Lumpur. There are great pictures and maps of the city from the past to present and there is a cool model of the city that they do a fancy light show on. We eventually made our way around into Old Chinatown and to the Old Market Square. In between we stop at the Jamek Mosque.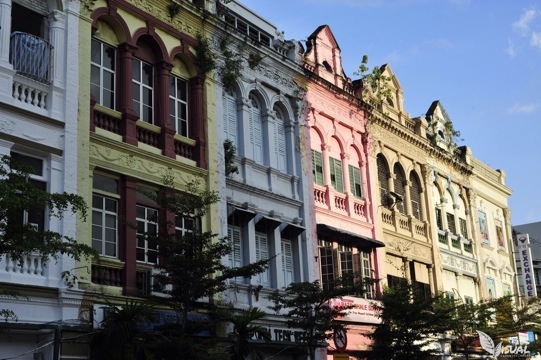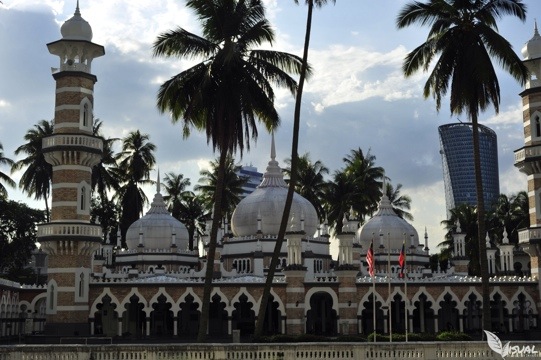 Our tour ended with a stop at a cafe and chatting about our travels. I really enjoyed this tour and hearing an intimate perspective of Malaysia. If you're not in the mood to join a bigger group and having a more personal experience than definitely look into sites like Tours by Locals and Vayable.
Today I relaxed a bit at the pool and then took the LRT to KL Tower and the Petronas towers. The skyline of this city is really beautiful and when lit at night, it's stunning. Their malls here are also massive but I was happy to find a Uniqlo. 🙂
The pictures will give you the inside details but this is my last entry for SE Asia. I fly back tomorrow to LA and as much as I love to travel, it's time to check back in to home. Thanks all for following and reading. It's been another great trip of a lifetime for me. Mahalo!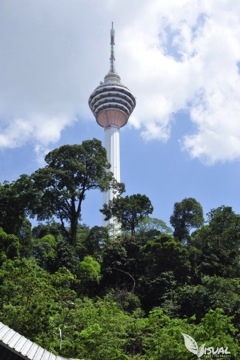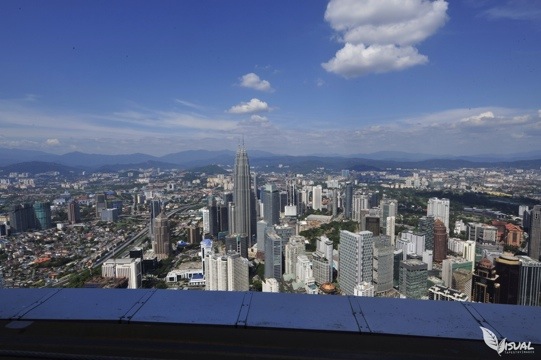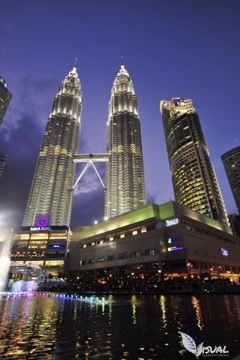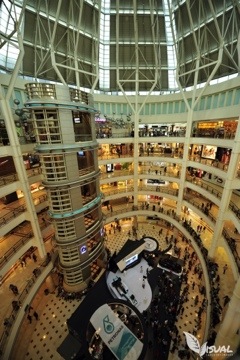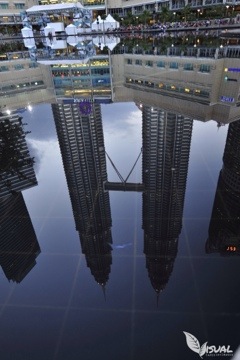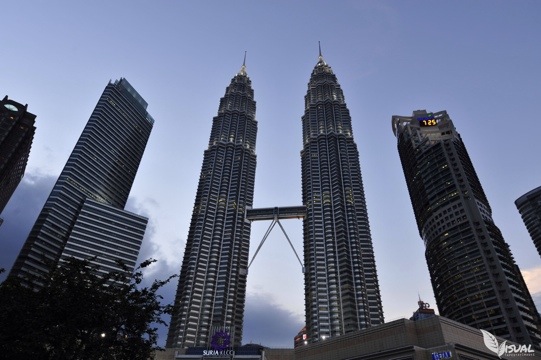 Hey all —
My friend Betty got in safely last Saturday and we had another 2 full days in Hanoi. We spent it walking around the Old Quarter and the French Quarter along with tasting a bunch of delicious food here in Vietnam. Here are a few highlights:
If you are a foodie like me and Betty than definitely go on the Hanoi Street Food Tour (http://www.hanoistreetfoodtour.com) We had two guides, Phuoc and Linh, and we were part of a group of 9. We visited a total of 10 places, 8 food and 2 drink spots. We went through the Old Quarter which is where all the best food seems to reside and right they were. Because Hanoi traffic is so crazy I made sure not to walk and take pictures upon risk of being hit by a motorbike or car. 🙂 Our guide, Phuoc had a great way of keeping us all together by referring to us as "Sticky Rice," so that we would remain close especially when crossing streets.
Off we went on our tour and I'll just write about our favorite dishes. Despite the number of places we visited all the portions were just right. We started off with a delicious noodle soup called Bun Cha – it's comprised of noodles of course, fresh veggies and pork.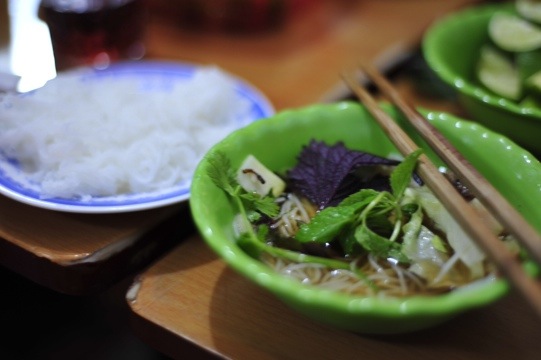 So flavorful and it's something you should add fresh mint to and of course some hot sauce. Next up was some dessert. 🙂 We had seen a line earlier at this place when walking around Hoan Kiem Lake and turns out it was one of our stops. The ice cream company's name is Thuy Ta Kem and they make an ice cream called Sticky Green Rice. It might sound weird but it's really sweet and tasty.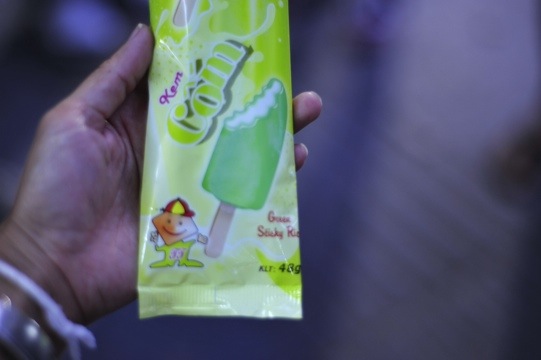 Next was something like a spring roll but the wrap wasn't fried. It's made of rice and the contents inside was chopped up mushroom. The garnish on top was like fried onions. They called this Bahn Coun. This was my favorite dipped in a bit of fish sauce and chili sauce. Ono!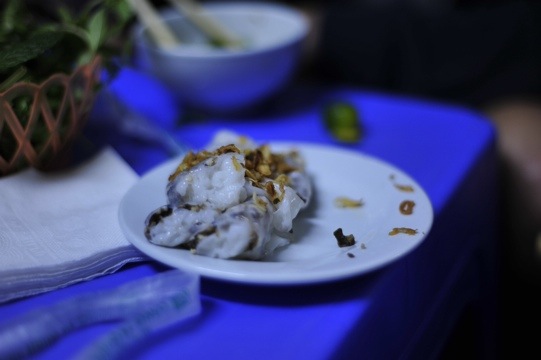 We then visited a place that just made spring rolls and what they called pillow cakes, which were kind of like empenadas.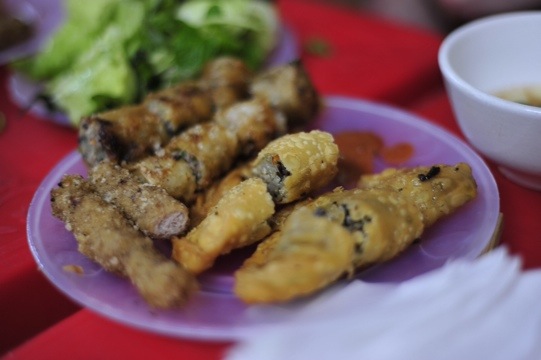 We enjoyed the last few stops at that were just drinks. Hanoi's Old Quarter literally has streets that just sell specific things like a shoe street, fish sauce street and in the evening there is a place called Bia Alley (Beer Alley) This place was packed and people were spilling onto the street even with traffic passing through. Our group literally sat in the street while having a glass of Bia Hoi. By day the place we had our beer is a photolab – ha! We ended the night with some coffee or technically it's egg coffee. It's coffee mixed with an egg custard which when first described to us, they said it's coffee mixed with egg and we all made this funny face and adverse reaction. LOL but when it arrived it was one of the most delicious cups of coffee I had and I'm not a coffee drinker. They also make egg chocolate which is equally good.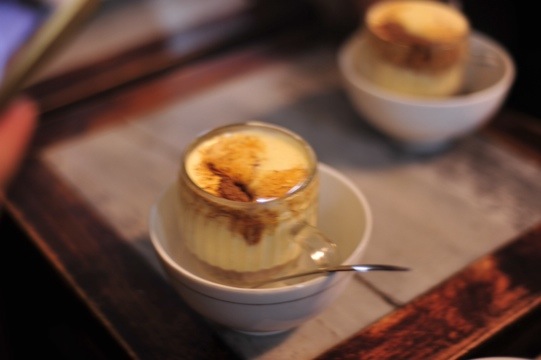 The next day we walked around the French Quarter which has much wider streets and traffic isn't nearly as busy. Nearby is where the Hoa Lo Prison is, the place where many US Pilots that were shot down during the Vietnam War were kept including John McCain. It's usually referred to as the Hanoi Hilton. They've kept part of it as a museum and the other part are now the Hanoi Towers. It was an interesting walkthrough and the prison was used by the French in Vietnam for political prisoners. There were definitely parts that were a bit eerie to go through.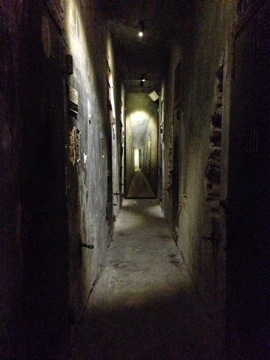 Corridor of cells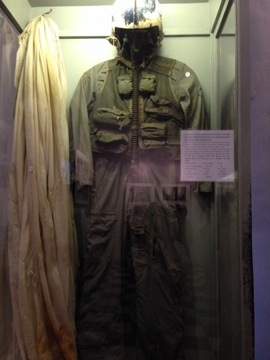 John McCain's Flight Suit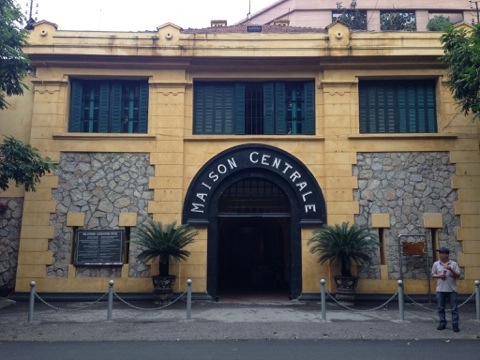 Main Entrance of Hoa Lo Prison
After our walk through we then met our tour guides Rose and Duc from Hanoi Kids (www.hanoikids.org) This is a great organization of kids that want to practice their English. There are fixed itineraries but you can also modify it per your wants and tastes. We did a half day but the kids say that if they are having fun they usually go longer and we had a great time with them both. Also the only costs you have to incur are any transportation or entrance fees for places you visit, along with taking care of meals should that be something you decide to do as well.
We started off our tour at the Ho Chi Minh Mausoleum Complex. This is a very holy place for the Vietnamese as this is the final resting place of Ho Chi Minh. The actual building that holds his body was closed at the time but the complex itself is massive. He was the liberator of the Vietnamese people from colonialism and is often referred to as Uncle Ho. It's quite impressive. Behind the mausoleum is the Presidential Palace and also his stilt house that is beautifully made. He was a modest man that lived very simply for having such a great role.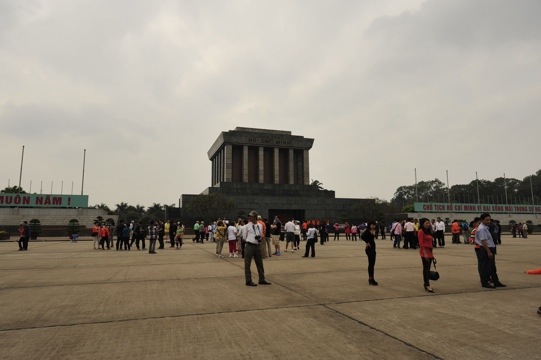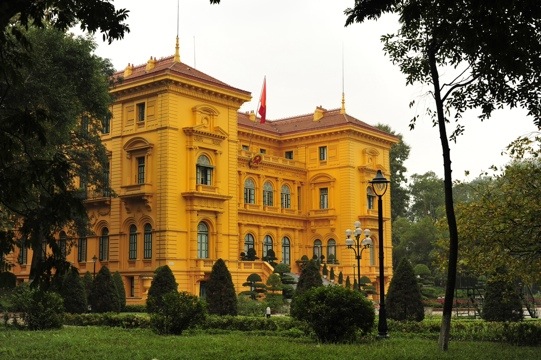 After we toured the complex, Betty and I were pretty hungry so we asked Duc and Rose for a great place to eat. They took us to a restaurant called New Day and we enjoyed a great meal and conversation. Along with discovering that there is something called egg beer, which many of you saw pics of me on FB. We had a fun time with them and I would highly suggest doing a tour with Hanoi Kids whenever you visit here.
The next morning we were off to Bai Tu Long Bay which is a little further north of the famed Halong Bay. It's not as crowded and it's just as beautiful.
That'll be my next entry. Still much to catch up on! Thanks again for following!
Happy Wednesday to you all! I spent my 2nd full day in Chiang Mai at a cooking school run by a lovely chef named Neung, which actually means 1 in Thai. Though she said in her family she's child number 10. ha! But in my book, she was number 1 in personality, patience and overall teacher. The name of her school is Best Trip Cooking School (www.bestripcookingschool.com)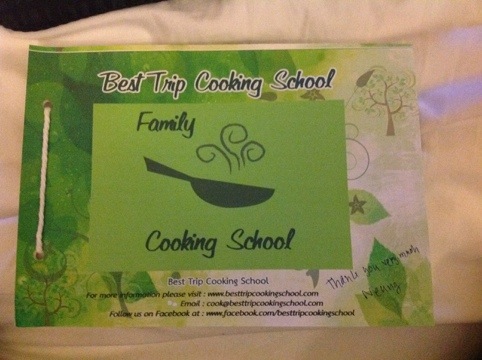 Our cookbook with all 15 recipes she teaches.
I found her through Trip Advisor and she was highly recommended and once I arrived at my guesthouse they were able to book me for today. I loved that it was a small class and there were only 4 of us. The max that Neung usually takes is 6, so she's able to tend to us without being overwhelmed. My class was the Asian women class – LOL. Our ethnicities were Filipino, Korean and Chinese. Claire was from S. Korea but also studied in the states in NY and Austin, TX and the other two were sisters named Koko and Kaka from Macau.
You choose 5 dishes that you want to make; I'll list them below in the order that I made them. I was amazed at how incredibly simple these dishes are to make but the trick for all of us in class is really finding the right ingredients where we live. Neung was really good about telling us what ingredients we could use to substitute for those we might not be able to find.
Our class started by visiting a local market near her home. Neung lives about 25-30 minutes north of Chiang Mai city in the Sansai district where she owns about 2 acres of land that she grows her own fruits, herbs and vegetables but there were some key ingredients she still needed to buy at the market. She also introduced us to some authentic Thai delicacies and we got to see lots of various produce and some stomach turning items too. Heh! I'll do my best to spare you the really gross pics I had to take and I'll leave that for my cousin Malia. LOL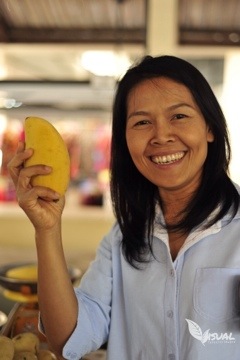 Neung, our teacher 🙂
We tasted fried banana and sweet potato and a dish I kept seeing around town called Khanom Krok, a coconut custard dessert. Inside this cast iron pan is the custard or pancake batter and they add corn or green onions. It was sweet, light and incredibly tasty. I'll be going back for more before I leave. So yummy or as they say here, "Aroy mak ka!"
Next we visited a stand that made fresh coconut milk. They take out the coconut meat and then place it through a big strainer and out comes this sweet and fresh coconut milk. Neung usually gets her coconut milk from here.
At the same stand, we saw fresh curry that we would eventually learn how to make ourselves. Neung then showed us some of the vegetables and herbs that are unique to Thailand, showing us a smaller eggplant, panda leaves, and also the different lemongrasses they use.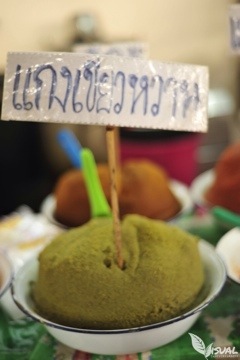 Green curry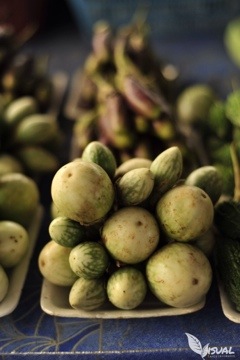 Fresh eggplant – It's smaller than the purple one we usually see and use in the states.
From there we ventured into where the meats are and thankfully I had a solid stomach, not many people would be able to handle some of this but I also had to take photos of some of the meats they sold. Everything from pig, water buffalo, chicken and frogs. Poor guys were alive and placed in a net until they were purchased and just like that they were made into just frog legs. Tofu was also sold in here and in Thailand, the tofu used for pad thai is colored yellow, that is a firm tofu.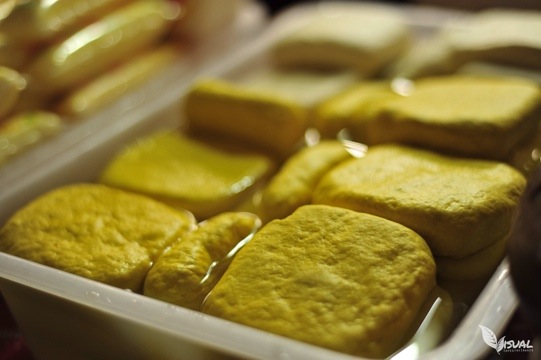 Pad thai tofu – yellow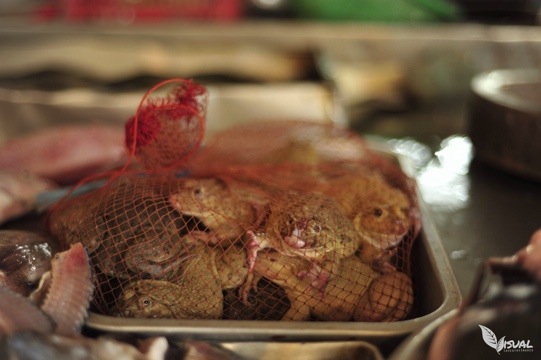 Frogs in a net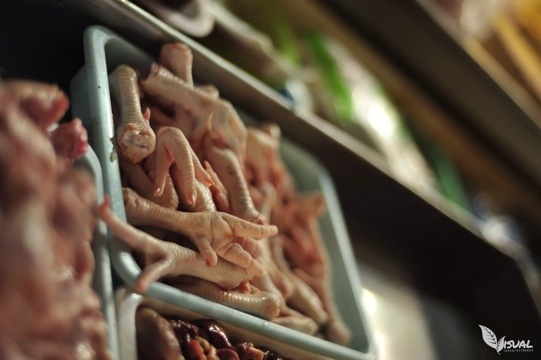 yummy chicken feet!
I spared you some of the more stomach twisting pics 🙂 Lisa B.(NYC) I thought of you with the chicken feet when we ate dim sum in Chinatown and the lady eating the chicken feet just was smiling and laughing at us. Ha!
After we left the market we then headed to Neung's home only 5 minutes away. It's very peaceful and it was a nice escape from the city. Her teaching kitchen is outdoors which is great as we were getting nice breezes while we cooked and during breaks we could hang out in her hammocks under her mango trees.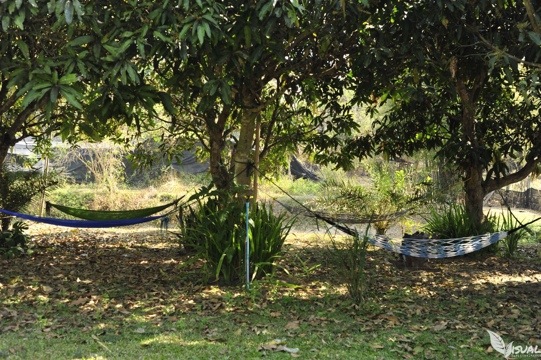 She has an assistant named Joy that helps her prepare the ingredients for us and the dishes we chose to make. Neung is actually from southern Thailand so her dishes reflected that. The main difference is that Northern Thai dishes don't use coconut milk for many and southern does which was something I never knew. As I said, we chose 5 dishes that you wanted to make. I'll just be showing you the finished product to spare you all the other photos I took to just know what some of the ingredients looked liked.
My first dish was Tom Yum Goong, which is a popular Thai soup. It's a sweet and sour dish and spicy depending on how hot you want it. I went for the Thai spicy which cleared out my sinuses well. It contains shrimp, lemongrass, mushrooms, onion, tomato, chicken stock and galangal which is a different type of ginger than the ones we usually use back home. You then season it with chili peppers, chili curry paste, non-diary creamer, lime juice, fish sauce, some sugar and a little salt. The soup was done in a matter of 10 minutes – so simple.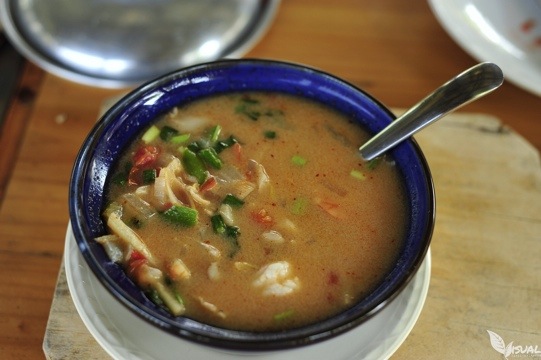 My Tom Yum Goong
After that I made green curry with chicken and fried cashew nut with chicken. I won in making my curry paste in terms of speed and consistency. Mine was the closest to the one I took a pic of in the market. We pounded it with a mortar and pestle. Neung said there's a legend that Thai men pick their wives by how fast they pound the ingredients and how smooth it is, apparently they make the best wives. LOL In this case, the Filipino beat the other Asians. 😉
My green curry paste
While our curry was sitting before we placed our last ingredients, I started on my fried cashew nut with chicken. I liked that she prepared our dishes for one person so we didn't waste our food. The cashew chicken was a simple stirfry dish and it wasn't heavy with oil which is another thing I liked about her teaching. No crazy MSG stuff and your stomach wasn't churning after you consumed it.
We then sat down to eat our finished dishes and had a bit of break before we started on our last two.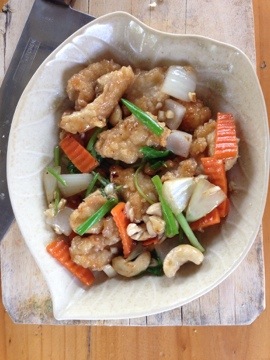 Fried chicken cashew nut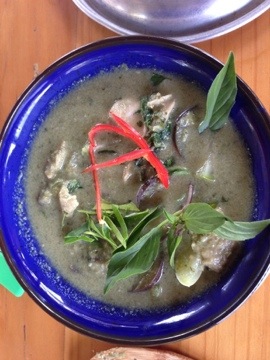 Green Curry with Chicken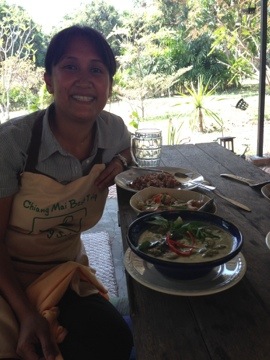 Ready to grub
After eating and resting, we were ready to make our last two dishes. Most of us chose to make pad thai and we all made a well-known dessert here, mango with sticky rice. We were so stuffed from our previous dishes that we made our pad thai to go. Neung and Joy wrapped it up in banana leaves, it sure beats styrofoam and/or recycled containers. 🙂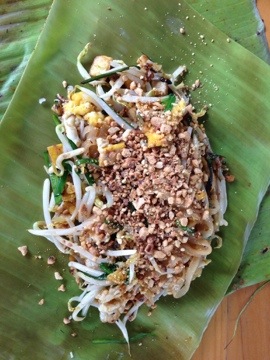 my pad thai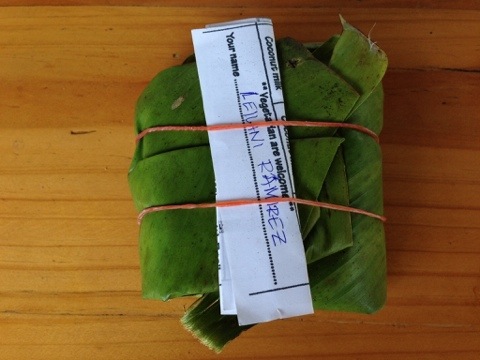 to go box
And the dish that I think will be most challenging for me to make is actually the sticky rice with mango. The rice is something that will probably be a lot of trial and error as you can't exactly use a rice cooker. When I first heard of this dish, I thought the combination of ingredients was a little weird, but I could totally eat this dish every night for dessert. I love the coconut milk and the rice is really sweet. Aroy mak ka!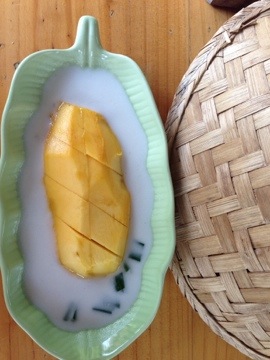 I really enjoyed this class and would definitely take this again and learn new dishes. She'll also personalize it if there's a dish that you want to make that's not on the main list. Neung was awesome and if you come to Chiang Mai, please go to her school. She really does treat you like family and she will also personally pick you up and drop you off. Her smile and personality really does radiate and you leave feeling full and happy. 🙂 Kop kuhn ka, Neung! I look forward to meeting and learning again.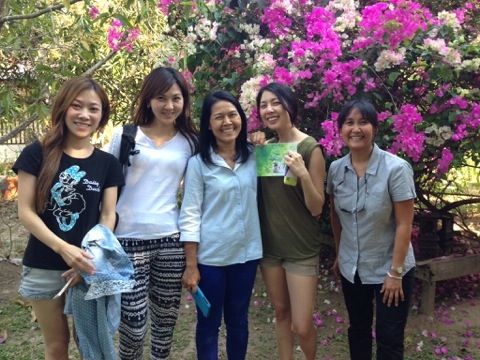 Our class
I'll be laying low tomorrow as I have an early morning flight to Hanoi on Friday to meet up with my best travel buddy, Betty Lin in Hanoi, Vietnam. My next blog will more than likely be from there. Tomorrow I'll be checking out more of the old city and more markets. Also I hope to have another tour in the evening to check out more street food.
So until I land in Vietnam, enjoy my foodie blog! Mahalo and thanks for following!
Good morning to most of you. It's about 9pm here in Chiang Mai, Thailand and I've had a full touring day of temples.
I arrived late afternoon yesterday and I'm staying in a great guesthouse near the Warorot Market, called Rustic Guesthouse. Nan greeted me and gave me the first official impression of the Thai people here. She was extremely gracious with great curiosity and everything with a smile. My room is on the "2nd floor" but be wary it's technically on the 3rd. There's no elevator so prepare to climb. The handy thing about a backpack it fits in narrow staircases. 😉 Beds are comfy and they have AC – yay! Good thing because during the days it's about 96 degrees F or about 35 C, at night it's about 70 F.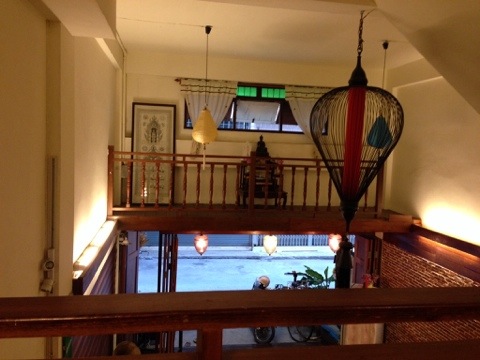 View from the kitchen at Rustic
Nick the owner came in after I settled in and squared away some tours with Nan. He was great, very sweet and took me on a quick tour of the sights nearby. We took a few of the bicycles they had and we rode around the markets and headed into the night bazaar and over the bridges of the Ping River. We crossed both the Iron Bridge and Nawarat bridge before returning to the guesthouse. After the intro tour I ventured out to the market and got some street food. I admit that I was safe this time around as I got some spring rolls, some awesome spicy pad thai and I bought some fruit as well. I hope to get more pics hopefully tomorrow evening but I have to make sure to ask as many vendors don't want pics. I had hoped to arrange a photography tour with a talented photographer here in Chiang Mai. He's an ex-pat that has been living here for some time but when I contacted him, his workshops were closed for the season and won't start up until September. 🙁 Bummer but gives me all the more reason to return.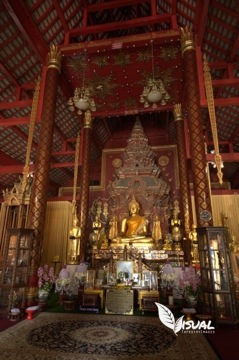 Temple Wat Chiang Man
Today I did a tour of the city temples located in the Old City and then ended the day by seeing one of the biggest attractions here the Wat Phra That Doi Suthep.
In the morning we toured about 4-5 temples, the first being Wat Chiang Man, which is said to be the oldest temple within the city walls built in 1296. All the temples here have been well kept and continue to be. They are all vibrant with color and have ornate designs but it was never gaudy to me. Perhaps the essence of Buddha is what makes it peaceful and calm. We saw many monks who were as young as 10 years old and also saw wax monks for those that have passed. Believe me the wax ones freaked some of us out on the tour because they looked so real, but it is all done so in reverence and respect.
Offerings placed at one of the pagodas
The next we visited was Wat Chedi Luang, which was believed to house the tallest structure in Chiang Mai but according to our guide, an earthquake in 1545 destroyed the top of it and to this day the pagoda still hasn't been reconstructed.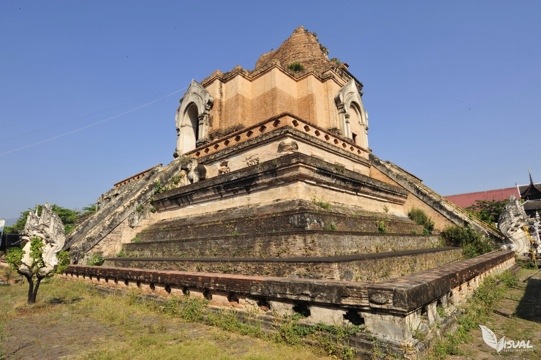 Inside some of the temples you can make an offering and get some of these banners to place inside. They are placed on strings across the interior of the temple and it's supposed to provide you with good luck. These in particular below had the animals just like in the Chinese horoscope.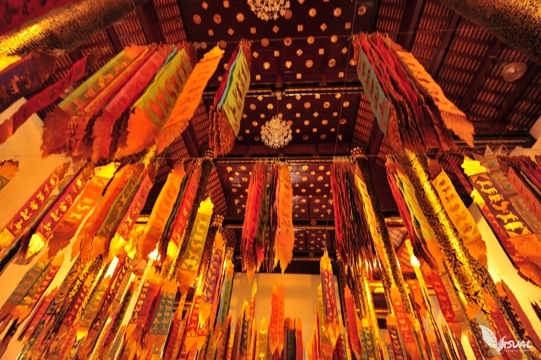 We also visited Wat Phan Tao and ended our 1/2 day tour by visiting Wat Phra Sing. The latter is the highlight with it's tall ceilings and open air temple and of course with a massive Buddha. It is here that the Thai people bring in the New Year (Songkran).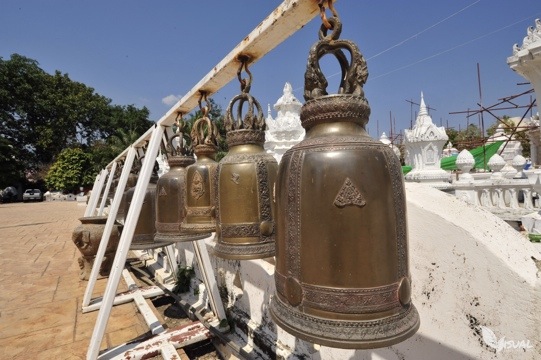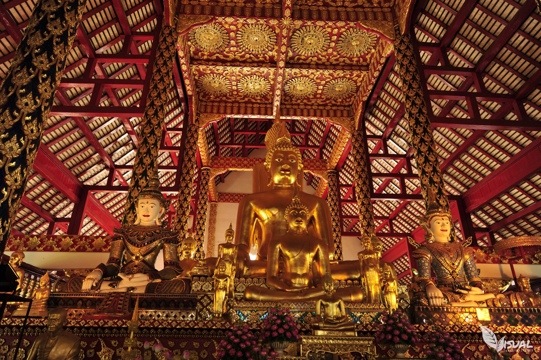 After my morning tour, I took in a quick lunch of shrimp with ginger and veggies and ended it with an ice cream cone from the famous McDonald's 😉 It was here I met my tour group to visit Wat Phra That Doi Suthep.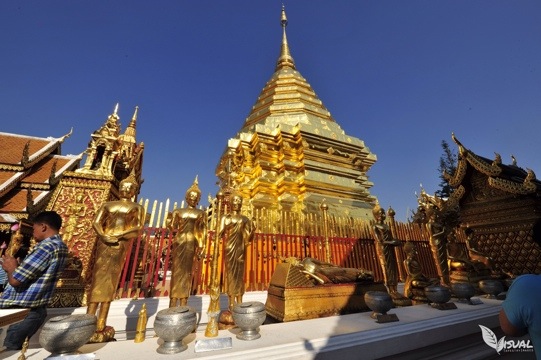 It's located up in the hills about 30-40 min away from Chiang Mai proper. The gold shimmered in the sun once we arrived and it thrived with many tourists and monks giving blessings. I received one earlier from a monk in Wat Chedi Luang and they bless you with holy water and give you a white string on your wrist. It's said that this will bring you luck, you keep the string on your wrist for a minimum of 3 days before you cut it off. We received another blessing at Wat Phra That Doi Suthep.
I've always been intrigued by Buddism and after learning more here in Thailand, I can understand why many convert to it. There's something peaceful and nurturing about this religion and all in all, they seem to have a calmer outlook on life with a lot of simplicity which is what I like about it. I have to have more conversations with Fr. Jim Fredericks when I get back to LA. 🙂
I wrote my name on the orange fabric as they will wrap this around the pagoda. Much of what you do at the temples seem to be all of good luck and fortune. I also kept hearing these shaking sounds and they were sticks in a bamboo cup. You must shake it until 1 comes out, once one does there is a number and you select the proper paper and it gives you a fortune or outlook on your future. Mine said I had enough luck – ha! Should you shake it and 2 come out than you must do it again.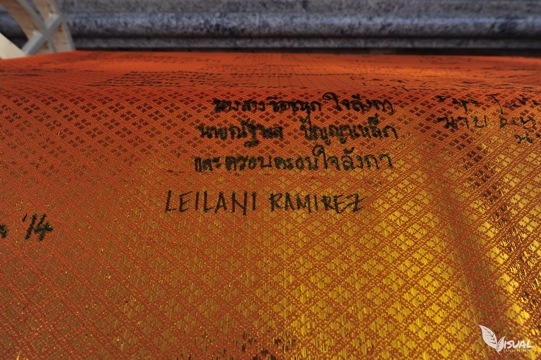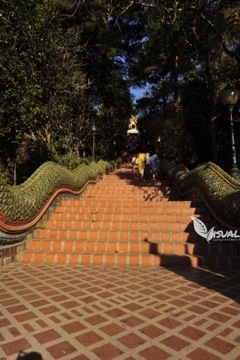 We then walked down the 307 steps. The legend of this temple is that a white elephant climbed up here from Chiang Mai and there was a Buddha relic on its back. The elephant walked up and went around 3 times until it died and therefore it became the the relic's new home. Many people will walk around the pagoda 3x just like the white elephant out of respect and for the sacredness of the temple.
My day then ended with a meal at a place called The Kitchen in the night bazaar with a bean sprout and tofu dish complete with a small Chang beer and rice shaped like a bear. Ha! I also bought some fresh lychee that I'm about to dig into now.
Tomorrow I head to a Thai cooking class and I'm also hoping to join a street food tour on Thursday night. I may end up just browsing the many markets here on Thursday during the day but we'll see what pops up. Till then hope everyone is well and good night!