Hey all,
I'm getting ready to head back tomorrow afternoon to LA. It's been an amazing 7 weeks here in SE Asia and I hope to return sooner rather than later. This part of the world has opened my eyes even further and I can't wait to explore more. I was telling my tour guide Melissa yesterday that I realized that I didn't explore too many beaches here and when I return I have to go and checkout the coastal areas more. But Betty and I talked about this being a highlight tour of SE Asia and it certainly was.
Many people asked me as I was planning my travels why I would go to Malaysia and I say, "Why not?" This country is filled with an eclectic vibe of a vast array of cultures, from the Malays, to Chinese, Indian and even a Western influence. It is a Muslim country but regardless of that, the people, culture and overall feeling here is very modernized and to see the different ethnicities and religions fused together here is quite fascinating.
I started my excursions in Malaysia in Penang. It's an island off the coast of mainland Malaysia specifically known for it's food. Mostly Chinese settled here and it's referred to as the 'Pearl of the Orient.' Though the mixture of cultures are still strongly prevalent especially on the well-known Street of Harmony where it begins or ends with the Anglican Church of St. George, then the Chinese Goddess of Mercy Temple, to the Hindu temple of Mahamariamman, next the Teochew Temple to end or start with the Kapitan Keling Mosque. Quite a site to see all of these places of worship on one street, but what perfectly describes the culture and people of Malaysia.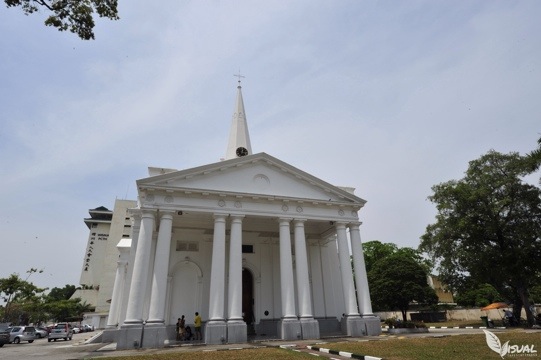 I had the pleasure of doing a food tour in Penang with Mark Ng, who runs Simply Enak in Penang. He and a friend originally began this in Kuala Lumpur but he decided to move back home to Penang and establish his food tour here. I was lucky enough to get a personalized tour with Mark as I was his only guest and so he brought me around to places where he grew up. We started off eating char kway teow which is a noodle dish with egg, veggies, and shrimp – really yummy stuff and he also got us a dish of fried pork and deep fried shrimp. All quite delicious and this was for breakfast. 😉 Mark said what's great about Asia in general is that you basically can eat whatever you want. You want noodle soup? You'll find a stall for that. Pancakes? Yep you find that to or how about some spring rolls. There are no rules when it comes to food here.
Mark if you're reading this, my apologies for not remembering the names of the foods you got me. Ha! Oy!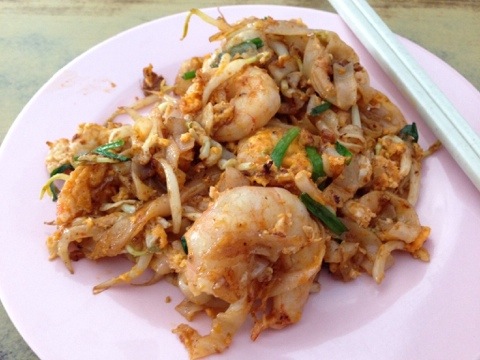 We then walked through Little Armenian street that was filled with some great street art. Reminded me of Banksy in many ways. At times there were queue's of people waiting to take pictures with them.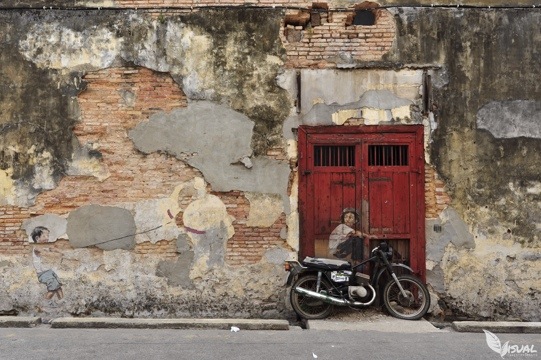 We then walked to a morning market filled with more food, fresh veggies, iphone covers to underwear. Ha! You need it, it was there. As we walked through, Mark got me a few more goodies to try along the way. He bought me a yummy custard pastery, to a pancake filled with peanuts and corn (yes an odd combination but it was really sweet), then another peanut snack like peanut brittle wrapped in a fresh lumpia like wrap, and then I can't forget another bite that reminded me a little bit like malasadas except it was sprinkled with sesame seeds. I was getting full so Mark was holding them in a bag for me as we toured more. Needless to say I had a lot of good snacks for the rest of the day.
Before we went to lunch we walked through the Street of Harmony along with exploring the Clan Jetties, which are homes to families of fisherman, traders and dock workers. The homes are built on stilts and are all connected by wooden walkways.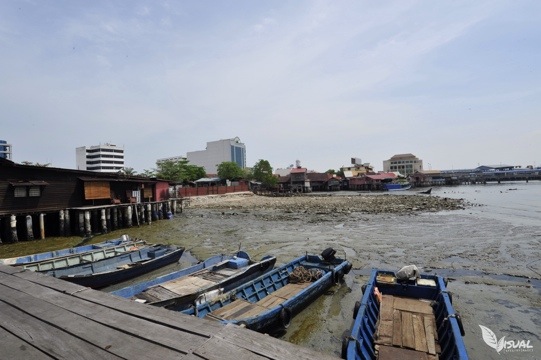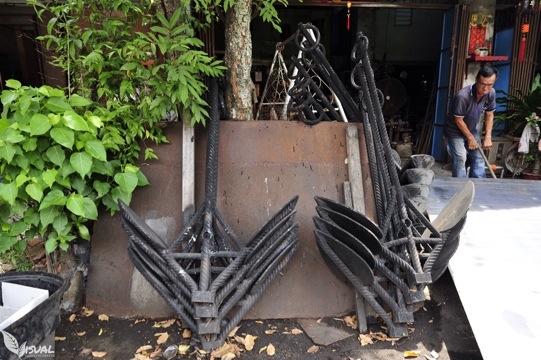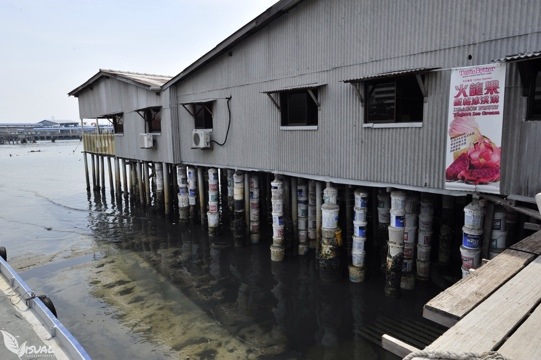 We then finally made our way to Little India for some authentic Indian food. We ended up eating a banana leaf rice meal which was really delicious. It was served on a banana leaf with rice and 3 different types of curries and he also ordered chicken masala. It was accompanied by a thirst quenching lemon tea and I also tried a yummy ginger chai tea.
Mark successfully made me full for the rest of the day that I actually opted to return back to my B&B and take a nap. Ha! It was a great tour and should you find yourself in Penang, please contact Mark for a tour. (www.simplyenak.com) They also do tours in Kuala Lumpur as well.
They next day I ventured back to Georgetown to check out a few of the main sites. I started off by visiting the Pinang Peranakan Mansion. It's been used for film locations but more importantly it's a wonderful showcase of the melding of culture and success that the Chinese obtained in Penang. The details in this home is stunning. Many things painted in gold leaf to intricate carvings, as well as Scottish ironwork.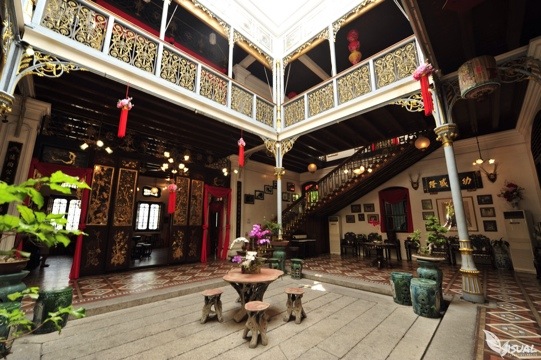 I then walked over to the Khoo (ku) Kongsi, which is the temple that belongs to the Khoo Kongsi clan. This too is very well-detailed in design and it's probably the most well-restored and maintained clan house in Penang.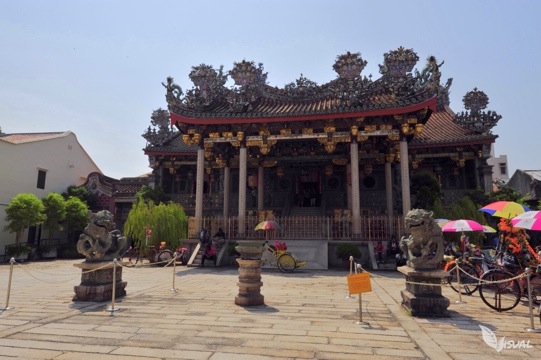 Next on the list was The Blue Mansion, formally known as Cheong Fatt Tze Mansion. He was known as the 'Rockefeller of the East,' and rightly so as he built a prosperous business empire. This was a home that was thankfully saved and restored to it's original grandeur by 2 architects. You're also able to stay here as a guest. On the tour we were able to view the main living areas and even that is quite stunning.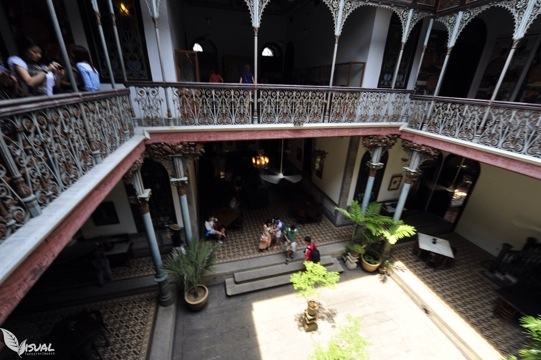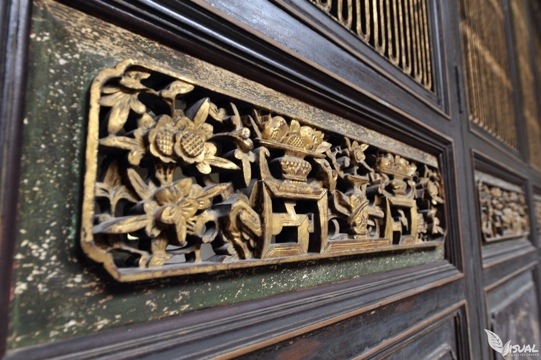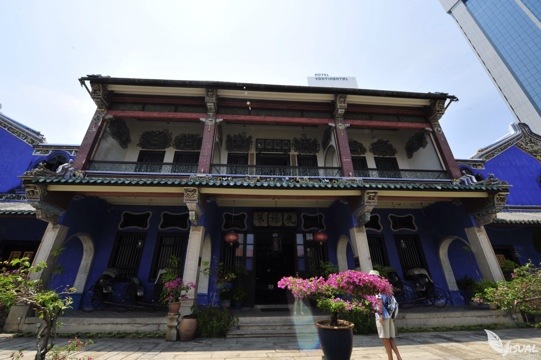 I wasn't done yet for the day as I decided to take a taxi and head up to Kek Lok Si Temple. It's the largest Buddhist temple in Malaysia. There is a 7-story pagoda and a huge bronze statue of Kuan Yin. I decided to climb the 7-stories and was greeted with a great view of Penang.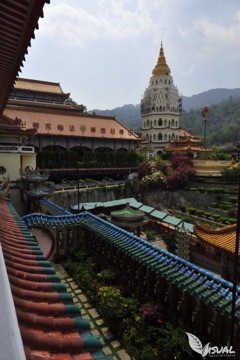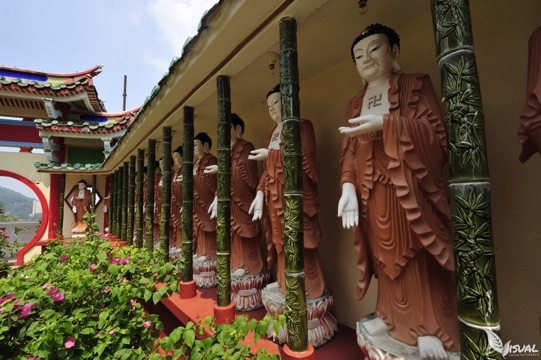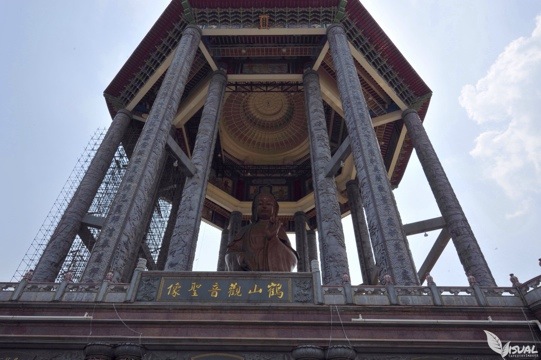 I then ended the day at Penang Hill to catch another view of the city. I think I was spoiled at the temple because even though the view is nice I thought the temple provided the best one. Perhaps I was tired and hot too but the best thing of my time in Penang Hill was the funicular train ride coming down. ha!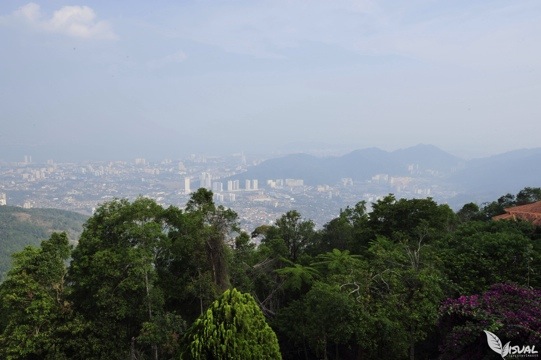 The next day I was heading back to Kuala Lumpur and I decided to stay at Aloft Hotel right next door to KL Sentral Station. It was an easy train ride from the airport KLIA to here, simply take the KLIA Express and it's a direct route to KL Sentral which is a hub for their public transportation.
I scheduled a tour with Melissa Lua through Tours by Locals. We did a heritage walk that covered various religious landmarks, wet markets, Chinatown and Independence square to name a few. Melissa is a great guide with a lot of knowledge of her country and city. She provided me a wonderful background of how Kuala Lumpur came to be and where it's moving now and to the future.
We started our tour by visiting the Hindu temple, Sri Mahamariamman, which is the oldest in Malaysia. I thoroughly enjoyed her description of the history and stories that the Hindu religion is based on. Many things that I never knew and I still would love to learn more. There are many similarities amongst our religions, I just wish we learned to blur the lines amongst one another despite our beliefs.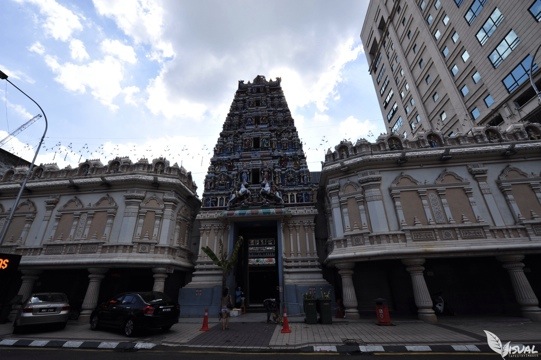 We then walked through a wet market, where chickens and fresh meats are usually sold. It was technically closed for the day but the chickens were in their cages alive ready to be sold fresh the next day. We then walked out to an open market selling all types of goods, the usual souvenirs to local snacks and fruits. Melissa had me try a warm yummy chestnut and a masos teen. It looked like a plum but it had the skin of a thick orange but depending on how you open it it could turn you hands purple. Inside was a sweet, white core.
From there we walked through the Central Market and headed to the Sze Ya Temple which is a Chinese Taoist temple. It was closed so we weren't able to go inside but it's nestled between modern buildings.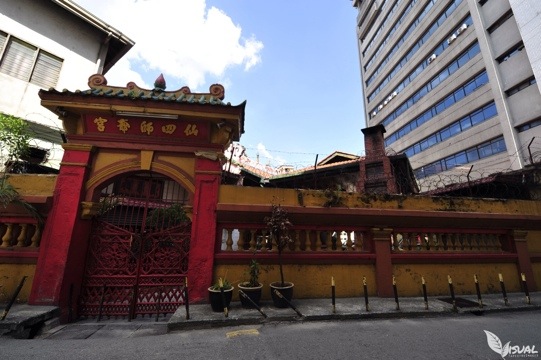 We continued our tour to Independence Square where Malaysia claimed their independence in 1957. It's situated in the side of the river where the British settled and you can clearly see it though the architecture. Though there is a mix of Islamic influence in the buildings.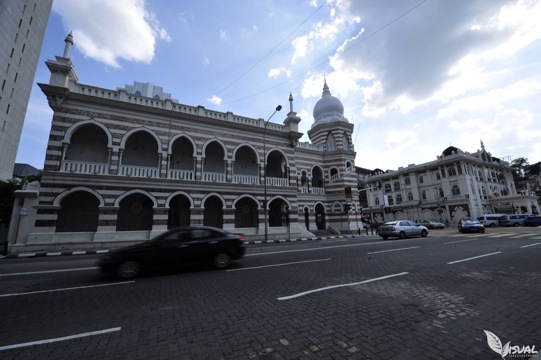 Melissa took me through the gallery and explained and showed me in depth the history and progress of Kuala Lumpur. There are great pictures and maps of the city from the past to present and there is a cool model of the city that they do a fancy light show on. We eventually made our way around into Old Chinatown and to the Old Market Square. In between we stop at the Jamek Mosque.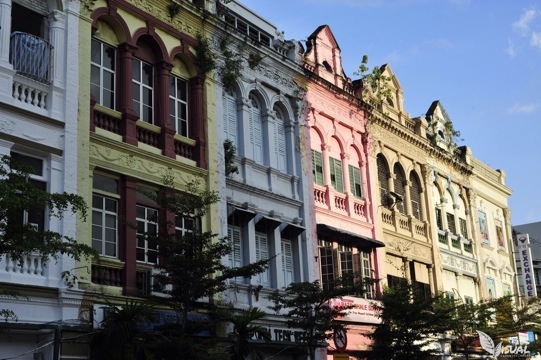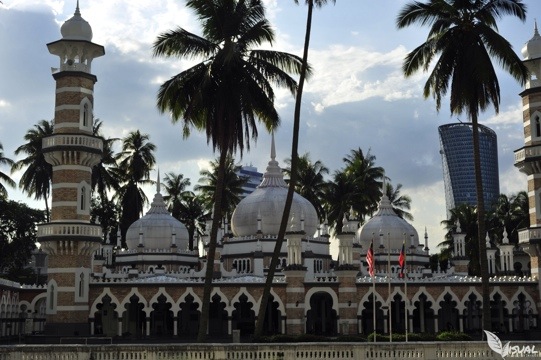 Our tour ended with a stop at a cafe and chatting about our travels. I really enjoyed this tour and hearing an intimate perspective of Malaysia. If you're not in the mood to join a bigger group and having a more personal experience than definitely look into sites like Tours by Locals and Vayable.
Today I relaxed a bit at the pool and then took the LRT to KL Tower and the Petronas towers. The skyline of this city is really beautiful and when lit at night, it's stunning. Their malls here are also massive but I was happy to find a Uniqlo. 🙂
The pictures will give you the inside details but this is my last entry for SE Asia. I fly back tomorrow to LA and as much as I love to travel, it's time to check back in to home. Thanks all for following and reading. It's been another great trip of a lifetime for me. Mahalo!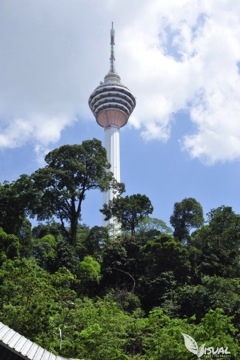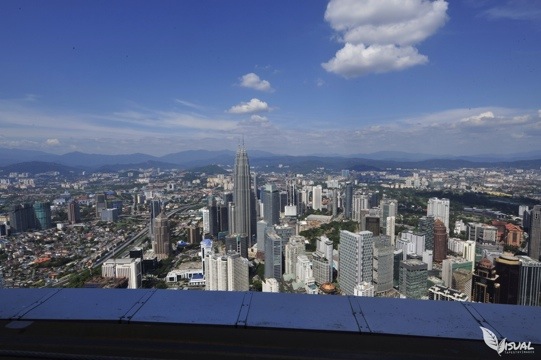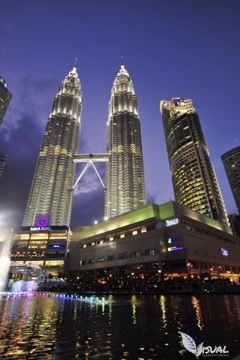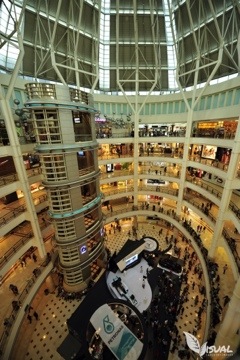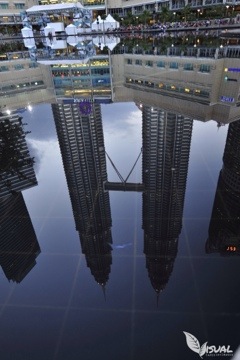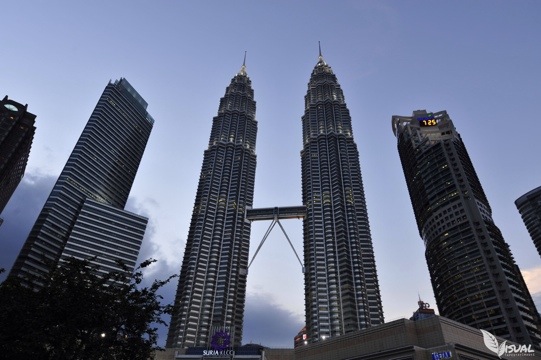 Hey all —
My friend Betty got in safely last Saturday and we had another 2 full days in Hanoi. We spent it walking around the Old Quarter and the French Quarter along with tasting a bunch of delicious food here in Vietnam. Here are a few highlights:
If you are a foodie like me and Betty than definitely go on the Hanoi Street Food Tour (http://www.hanoistreetfoodtour.com) We had two guides, Phuoc and Linh, and we were part of a group of 9. We visited a total of 10 places, 8 food and 2 drink spots. We went through the Old Quarter which is where all the best food seems to reside and right they were. Because Hanoi traffic is so crazy I made sure not to walk and take pictures upon risk of being hit by a motorbike or car. 🙂 Our guide, Phuoc had a great way of keeping us all together by referring to us as "Sticky Rice," so that we would remain close especially when crossing streets.
Off we went on our tour and I'll just write about our favorite dishes. Despite the number of places we visited all the portions were just right. We started off with a delicious noodle soup called Bun Cha – it's comprised of noodles of course, fresh veggies and pork.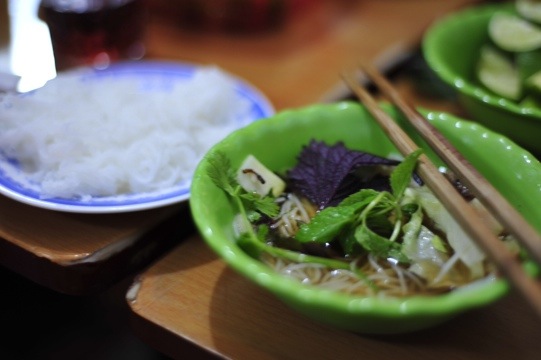 So flavorful and it's something you should add fresh mint to and of course some hot sauce. Next up was some dessert. 🙂 We had seen a line earlier at this place when walking around Hoan Kiem Lake and turns out it was one of our stops. The ice cream company's name is Thuy Ta Kem and they make an ice cream called Sticky Green Rice. It might sound weird but it's really sweet and tasty.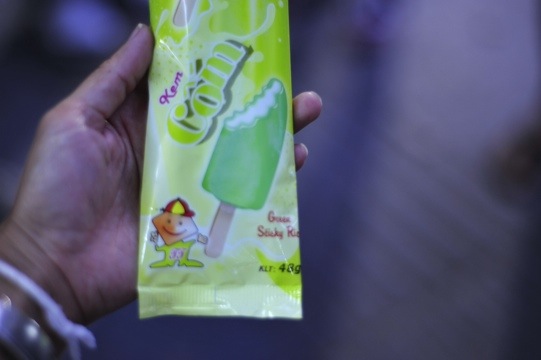 Next was something like a spring roll but the wrap wasn't fried. It's made of rice and the contents inside was chopped up mushroom. The garnish on top was like fried onions. They called this Bahn Coun. This was my favorite dipped in a bit of fish sauce and chili sauce. Ono!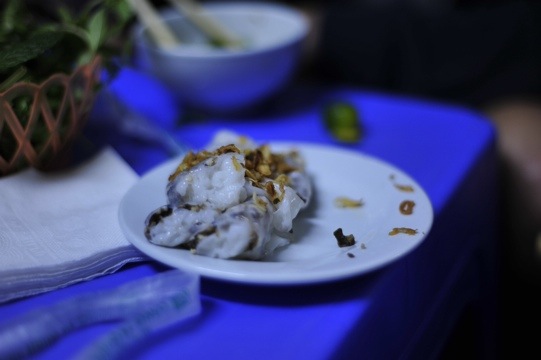 We then visited a place that just made spring rolls and what they called pillow cakes, which were kind of like empenadas.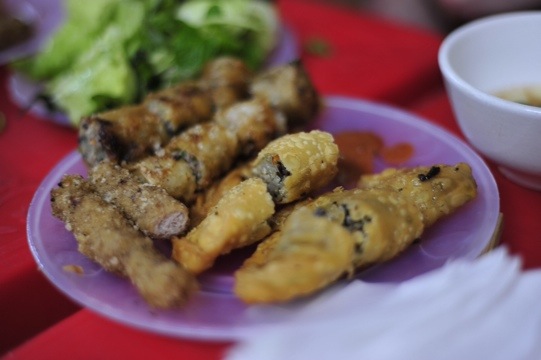 We enjoyed the last few stops at that were just drinks. Hanoi's Old Quarter literally has streets that just sell specific things like a shoe street, fish sauce street and in the evening there is a place called Bia Alley (Beer Alley) This place was packed and people were spilling onto the street even with traffic passing through. Our group literally sat in the street while having a glass of Bia Hoi. By day the place we had our beer is a photolab – ha! We ended the night with some coffee or technically it's egg coffee. It's coffee mixed with an egg custard which when first described to us, they said it's coffee mixed with egg and we all made this funny face and adverse reaction. LOL but when it arrived it was one of the most delicious cups of coffee I had and I'm not a coffee drinker. They also make egg chocolate which is equally good.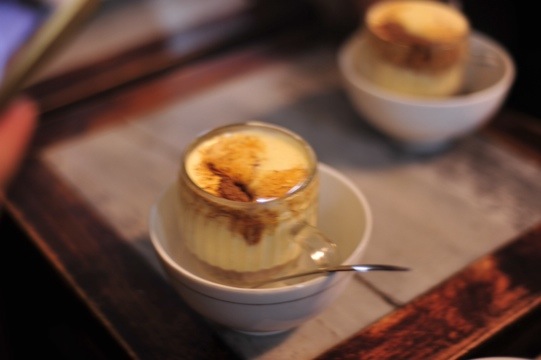 The next day we walked around the French Quarter which has much wider streets and traffic isn't nearly as busy. Nearby is where the Hoa Lo Prison is, the place where many US Pilots that were shot down during the Vietnam War were kept including John McCain. It's usually referred to as the Hanoi Hilton. They've kept part of it as a museum and the other part are now the Hanoi Towers. It was an interesting walkthrough and the prison was used by the French in Vietnam for political prisoners. There were definitely parts that were a bit eerie to go through.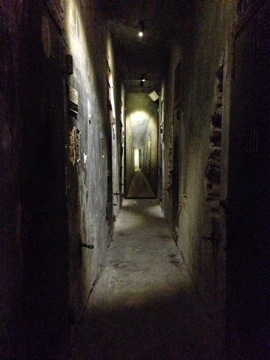 Corridor of cells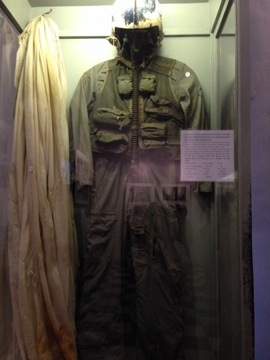 John McCain's Flight Suit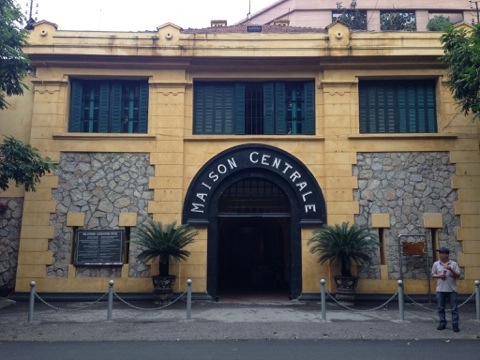 Main Entrance of Hoa Lo Prison
After our walk through we then met our tour guides Rose and Duc from Hanoi Kids (www.hanoikids.org) This is a great organization of kids that want to practice their English. There are fixed itineraries but you can also modify it per your wants and tastes. We did a half day but the kids say that if they are having fun they usually go longer and we had a great time with them both. Also the only costs you have to incur are any transportation or entrance fees for places you visit, along with taking care of meals should that be something you decide to do as well.
We started off our tour at the Ho Chi Minh Mausoleum Complex. This is a very holy place for the Vietnamese as this is the final resting place of Ho Chi Minh. The actual building that holds his body was closed at the time but the complex itself is massive. He was the liberator of the Vietnamese people from colonialism and is often referred to as Uncle Ho. It's quite impressive. Behind the mausoleum is the Presidential Palace and also his stilt house that is beautifully made. He was a modest man that lived very simply for having such a great role.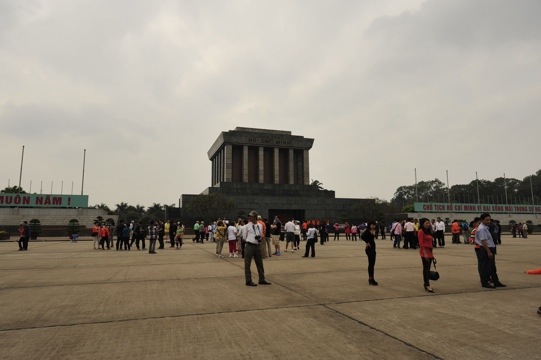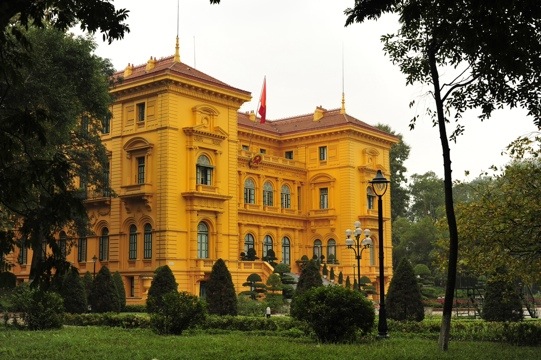 After we toured the complex, Betty and I were pretty hungry so we asked Duc and Rose for a great place to eat. They took us to a restaurant called New Day and we enjoyed a great meal and conversation. Along with discovering that there is something called egg beer, which many of you saw pics of me on FB. We had a fun time with them and I would highly suggest doing a tour with Hanoi Kids whenever you visit here.
The next morning we were off to Bai Tu Long Bay which is a little further north of the famed Halong Bay. It's not as crowded and it's just as beautiful.
That'll be my next entry. Still much to catch up on! Thanks again for following!