Hi all,
I'm writing from Phnom Penh, Cambodia and catching up on my blog. I caught a stomach bug from a lunch stop on our bus ride into Cambodia, so unfortunately I wasn't able to tour the capitol city today. My friend Betty went out to tour while I recovered so hopefully she's having a fun time.
I'm thankfully feeling much better but yesterday afternoon was no fun for sure. Today's blog will cover our visit to My Son and our time in Ho Chi Minh City aka Saigon.
On our second day in Hoi An, we took a tour out to a place called My Son. These are ruins from from the ancient Cham empire and is another Unesco World Heritage Site.
It kind of gave us a glimmer into what Angkor Wat will be like. Unfortunately much of this was heavily bombed by US forces during the war and many craters still remain on this sacred site. The architecture and artwork is amazing and it's so sad to see much of it destroyed. They are doing much to restore some of it to what it once was.
We then left Hoi An flew into Saigon on Sunday night and our hotel was smack dab in the middle of a bustling District 1. When we arrived there were numerous food stands and people sitting on the sidewalk having a beer and grabbing some food. It's a bustling city for sure and we started to really dig the vibe there.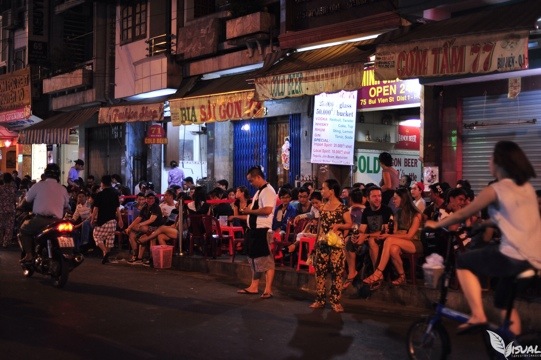 The next day we ventured out in the heat to walk around and see some of the sights. That first day we went to the War Remembrance Museum which focuses on the victims of war, with a strong focus on the American/Vietnam war. They have collections of US military vehicles and artillery used and a very powerful collection of photographs, one in particular that I found very impressive and heart-rendering were those that they featured from war correspondents and photographers. Many of whom were also killed in action during the Vietnam war. It was a heavy experience but I'm glad we visited here to see the affects war had on the country and in which they are still recovering from.
We then walked over to see the Notre Dame Cathedral. It's quite impressive and one of our tour guides said there are about 7 million Catholics here in Vietnam.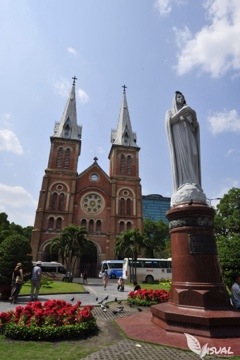 We didn't have the chance to go inside as they were closed during the time we got there but we saw many couples getting photographed for their wedding and even in the middle of the chaotic traffic. I thought Hanoi had a significant amount of motorbikes but try crossing the traffic circles with cars and bikes that are double that amount. Betty and I crossed a traffic circle and purposely followed a local couple as they braved the crossing. We took the idea of sticky rice from our food guide in Hanoi. 🙂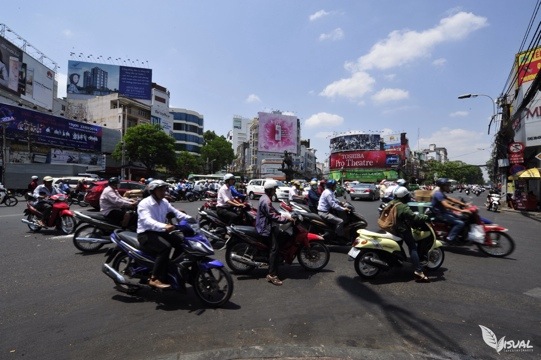 After the cathedral, across the way is the post office which is another impressive piece of architecture. It still had old school phone booths that were filled with phones that didn't work – ha, and the other side were filled with ATMs. It wasn't only a post office but they also had gift shops in there.
We then ended our day by finding a local bahn mi stand and also had a dinner at a great place called Five Oysters near our hotel.
The next day we decided to tour the Cao Dai temple and the Cu Chi Tunnels. It was a long day but it was well worth it. The Cao Dai Temple is quite unique and we got there during their noontime prayer ritual. It's a combination of secular and religious philosophies from both the east and west and they have a weird affinity to Victor Hugo. It's a beautiful temple and I was able to record some of the music and singing. It's was an interesting ritual and they apparently pray 4 times a day. It's a very elaborately decorated building with the left eye being a pinnacle symbol that is represented all around the temple.
We then made our way to the Cu Chi Tunnels after lunch. This was a fascinating place and I'm bummed that I didn't have my GoPro camera with me this day. This is an elaborate tunnel network that the Viet Cong used famously during the American war. Our guide Ne was very good at describing the use of these tunnels and was also very proud of his people in using these networks to try and outsmart the enemy. You gathered a new found respect for those that lived down here. We had the ability to go through 2 of them in which they've been widened. I could only imagine how narrow the actual tunnels were as the widened ones are not that much bigger. I unfortunately don't have pictures of us going through as it was so narrow and points where you needed to be on all fours and use your hands to get through. Again bummed that I didn't have my GoPro as it would have been a perfect way to capture our experience.
There are still a number of secret doors that are in the area and they are extremely small. We had the chance to go into a tourist secret door and that's small enough, they actual ones are smaller than the average man's shoe size. If you're in Ho Chi Minh City, this is definitely a worthy visit if you're into this.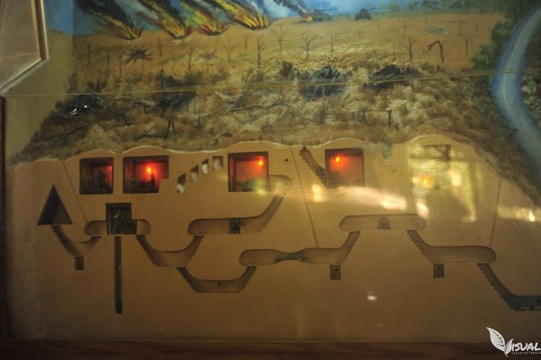 A diagram of what some of the tunnels contained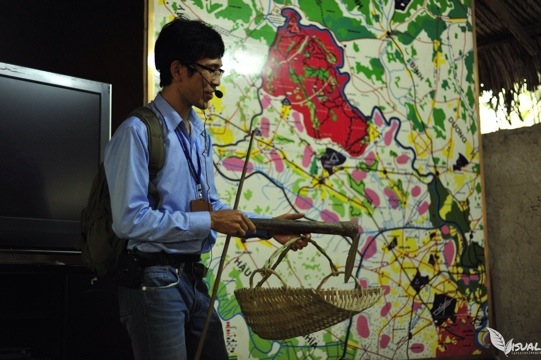 Our guide Ne and him showing us the tools they used to dig the tunnels.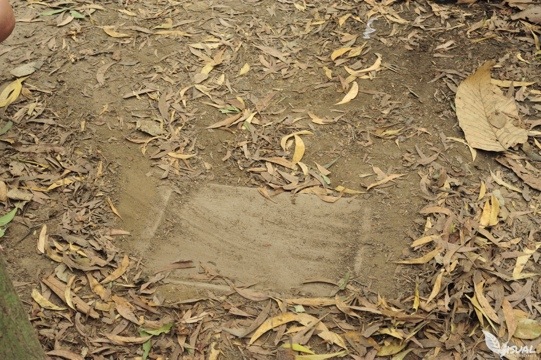 Size of a secret door.
I won't be able to share much of Phnom Penh since it was mostly spent in the room recovering but tomorrow were heading off to Siem Reap to finally explore Angkor Wat. I'll be sticking to bread, crackers and some bananas tomorrow. Thankfully I'm on the mend so that's a good sign. I'll catch you all later and thanks again for reading.
Betty and I didn't realize till too late that we actually could've taken motorbikes down from Hue to Hoi An. 🙁 Guides would have picked us up from our hotel, strapped our backpacks to the bikes and off we would go. Apparently you can customize it to where you're going – bummer! Something to note for the next visit to Vietnam.
Instead of taking the bus or train, we did decide to split a private car with a guide that stopped at various places on our way down south to Hoi An. Our guide and driver's name was Thu that our hotel, Jade Hotel, booked for us. BTW Jade Hotel is awesome, great customer service, really hospitable and also helped me a ton by helping me get proper meds for my sinus infection.
(http://jadehotelhue.com) We worked with Sarah and Lisa. Breakfast was served each morning and everytime we would return to the hotel, they always offered us fresh juices, teas, and fruit. They're located near the part of the city with many restaurants and shops but not in the heart of it which is also nice. I would definitely return here to stay just for their customer service.
Our private car/tour with Thu was $32.50/each and we stopped at Vedana Lagoon which is where I took the fishing boat photo below: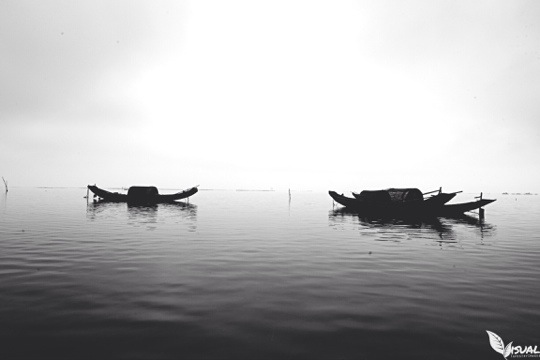 We left about 10:30am and took our time down, which was kind of nice. We then stopped at Lang Co Bay which has a lot of oyster farming. It cost about 50,000 VND for 1kg of fresh oysters, which is about $2.35. Not bad.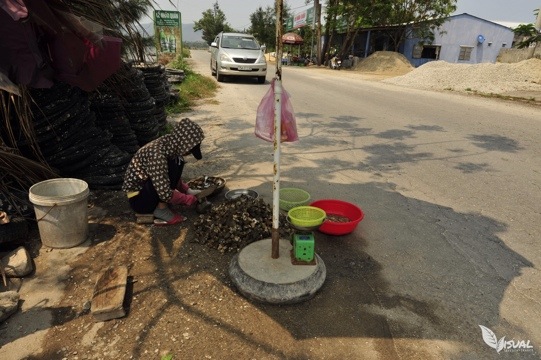 From there, we headed into Denang via the Hai Van Pass, which is also known as the "ocean cloud pass." It was proven true through our drive as we went from sun down in Lang Co Bay to dense thick fog up into the mountains. I'm sure it's very beautiful when the clouds disperse and you can see down into the South China Sea, but unfortunately it was so socked in that we passed the opportunity to check out the American bunkers that still remained at the top. It's a pretty windy road that really only motorbikes and cars can pass through. As we descended down into Denang, we made a small stop onto China Beach, which was a popular hangout for the US troops during the war and it's only a section of a number of beaches that stretches between Denang and Hoi An. And yes China Beach was also the name of the show with Dana Delaney. 🙂
Denang is a growing city that is booming with high-end resorts. The Hyatt and Crowne Plaza already have their footprint here. It seems as though ex-pats are heading here and it's a lot more westernized than some of the other cities we've visited here. Otherwise it's probably filed mostly with rich tourists that just want to golf, beach and relax. 😉 You can buy a decent sized villa for $500k or you can stay a night at one of these resorts for $1000/night. It's amazing how much development is happening on this one particular stretch of road hogging up all the prime beach real estate. We were glad to have just drove through it and not stayed here.
We then made our last main stop at the Marble Mountains, in between Denang and Hoi An. These are 5 marble outcrops that have natural caves that contain small Hindu and Buddhist sanctuaries. We explored this place for about an hour or so. Betty and I didn't know what to expect on our drive down in terms of the types of stops so we both ended up dressing in flat shoes and skirts that day. Well we didn't realize that we probably should have dressed more appropriately after scaling some of the slippery marble outcrops and caves. LOL
For many of you that know me and Betty, we can be a bit klutzy, so it was pretty comical as we climbed up out of the Van Thong cave, but we made it through with flying colors and our shoes and skirts still intact. Kids were actually rappelling down into the caves which looked pretty fun and their laughter and giggles were proof they were having a fun time.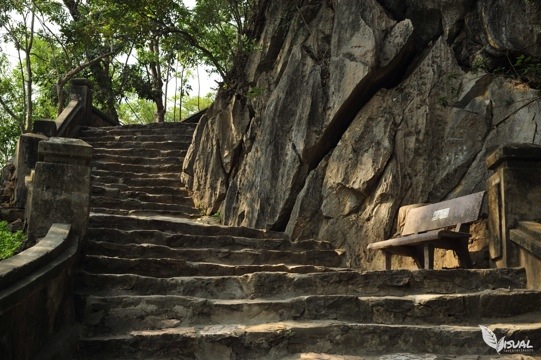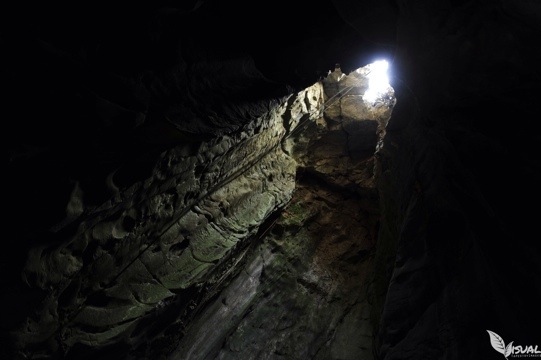 After we scaled marble rock and limestone in skirts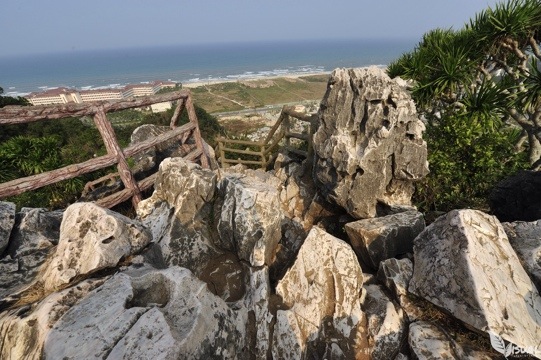 The type of rocks we climbed.
When we took the elevator down we walked through an alley full of merchants selling various marble items. Earlier we stopped at a huge family owned store with great marble sculptures. Quite impressive.
We finally made our way to Hoi An and stayed at a really cute and stylish homestay called Hoi An Greenlife Homestay. Really big rooms and it's situated just outside of the Old City of Hoi An that is easily accessible by bike and walking. (http://www.hoiangreenlife.com) Great staff, delicious breakfast and comfy beds. They provide bikes free of charge and even when we "lost" a bike they were so relaxed and calm about the situation. Thank goodness it was found. Phew!
Our first night there, we just walked around the Old City. It's a really quaint, relaxed and charming city. It grew on me for sure and I would love coming back. The Old Town is a mixture of Japanese merchant houses and Chinese temples that have now been converted to boutique shops and restaurants. It's certainly not short of tailor shops and restaurants that offer cooking classes. Hoi An is the only place you can get a certain type of noodle used in their Cao Lau dish. It's thicker and they're topped with crispy croutons mixed with pork slices, a broth and many herbs.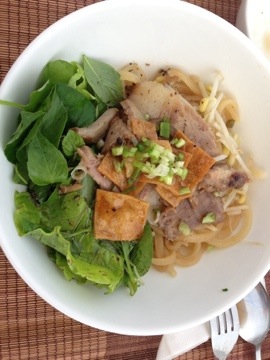 On our evening walk we came across a bustling nightlife with locals and tourists. Many of the locals were trying to sell you candles to place in the river. I had the chance to capture these two brothers that I'm so happy it came out.
After a filling dinner with more Hoi An specialties we headed back to our homestay to crash and get ready for a relaxing day at the beach. We rode bikes down to An Bang beach and after being hassled to relax under an umbrella and chair, we were able to haggle a good deal without having to buy lunch. While we chilled with a few beers on the beach there were some unexpected visitors. LOL
Yes that is a herd of goats passing the european dude basking in the sun. 🙂 Gotta love it.
My next blog will cover our visit to My Son (pronounced mi-son) which were ruins of the ancient Cham empire and is also another UNESCO site. It was a nice intro to what we'll see in Angkor Wat.
Well, off to grab some dinner here in Ho Chi Minh City. Mahalo and aloha!
On our second day in Hue, we decided to venture out of the main city and head northeast to Phong Nha-Ke Bang National Park. It's another UNESCO World Heritage site and when you first enter these caves you can see why.
It was an early start for us at a 6:45am pickup time. After a few stops, our tour guide got on. There were about 5-6 of us that were non-Vietnamese tourists, but this guide just starting speaking Vietnamese for about 15-20 minutes into our journey. Those of us that didn't understand were looking at each other wondering if the travel company forgot to tell him that many of us didn't speak the native language. LOL There was a tourist from Belarus that put up his hand while our guide was speaking and said, "Excuse me," to let him take a small break to inform us that he could at least speak English. Well that didn't work as the guide just stared at him and kept on talking. Ha!
After another 10 minutes, he finally broke into English and introduced himself and gave us a breakdown of our tour. We were grateful to know that we were at least going to the same national park. The ride to the Phong Nha is a 3-4 hour journey but we made a few toilet stops and a lunch break before we finally arrived.
We did actually stop at a Catholic Church named Our Lady of La Vang. This too unfortunately was destroyed by US bombing and what stands today is just the steeple. The rest of the church is literally just simple steel framing and glass windows. At one end is the shrine and reverence to the Holy Mother.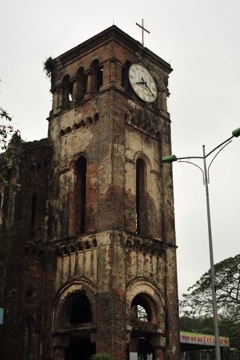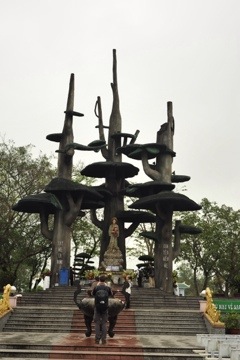 After our visit we continued on for another 2-3 hours. We ate at a local restaurant once we arrived in the central city of the park. Already I could tell this was a place I'd want to return to and trek around further. As we drove through, I saw various places to stay upon my return. We finally arrived and boarded a boat that had two drivers and we slowly went down the Son River. On the sides were these beautiful, lush mountains peppered with small villages of the locals.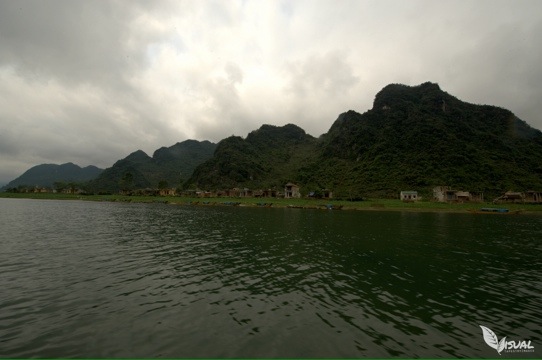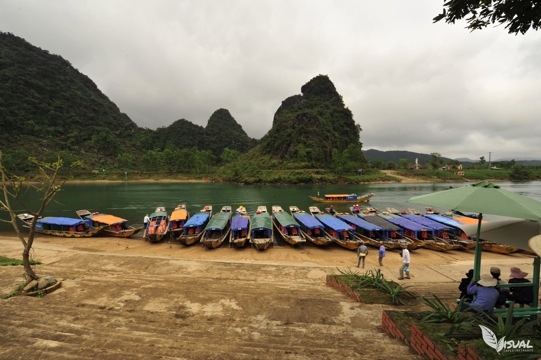 It was a 30-minute boat ride until we reached the mouth of the cave. Many of you have seen the photo I posted on FB or Instagram.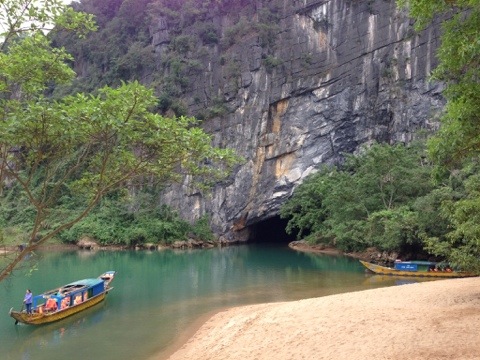 They then took the tarp off the top of the boat and we entered this amazing marvel of natural beauty. My photos posted here can't really describe how wide and big this cave is. I have a few GoPro videos that I need to edit that kind of gives you the scope of this one cave but this is something I've only seen in shows on National Geographic or Discovery; to see it in person is priceless. This cave, the Phong Nha is only one of 150 that have been discovered here in this park. Some people in our group visited the Paradise Cave, which is another one to come back to and there's another visitors can now visit that was recently discovered called Son Doong which was founded by the British in 2009 but it apparently costs about $1000-$3000/US dollars to visit this cave as it has been marked as the world's largest and you can camp here.
Phong Nha Cave is 7,729km long but tourists are only allowed to view 1500km. Regardless we were transported into a different world and yes Betty and I being the dorks we are felt like we were in Lord of the Rings. 🙂 Once we were in the cave, they shut the engine of the boat off and paddled us into and around the various grottos in this karst. The gravity and size of the stalagmites and stalactites were obvious indicators of how old this natural wonder was. These karsts were created 465 to 250 million years ago and entering this cave through the underground river is absolutely captivating. It's beautifully lit and each time you turn around your mouth just drops.
Towards the end, we were able to get out of the boat and walk around to the mouth of the cave that we entered. I can't wait to come back here and discover the other amazing caves out here. I think it's a must see for anyone that visits Vietnam.
Till then enjoy some of the pics I was able to capture. I'm so glad I brought a wide-angle lens and I hope that it gives you some insight to the size of this amazing place.
We safely arrived in Hoi An today after a cool drive down from Hue. I'll post another entry hopefully in the morning, if not definitely in the evening.
Till then, "Good night from Hoi An, Vietnam!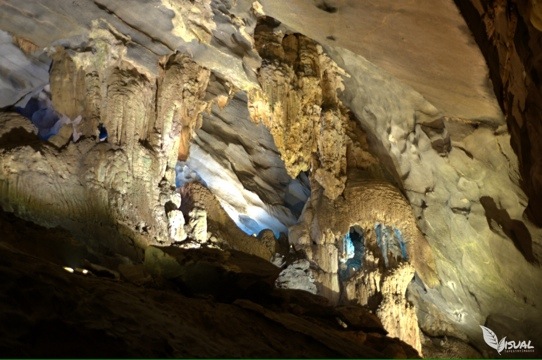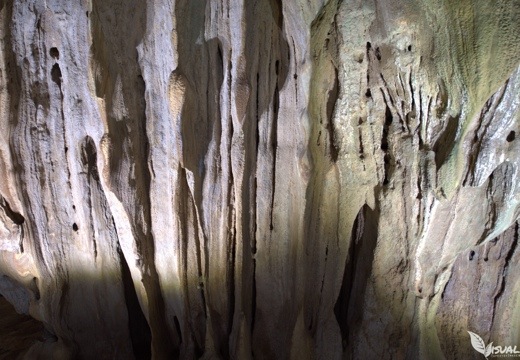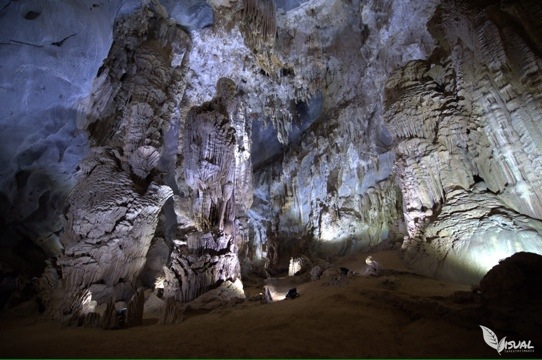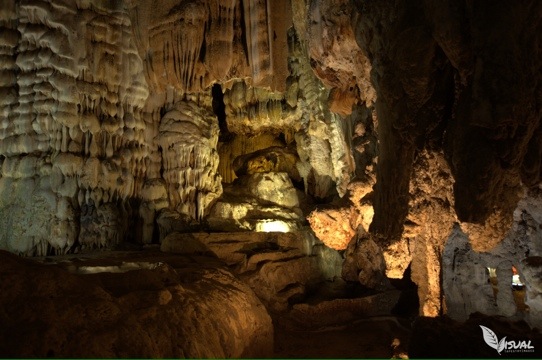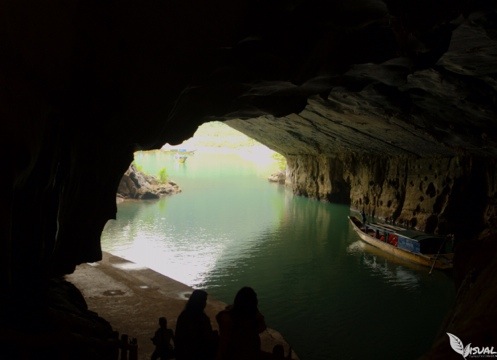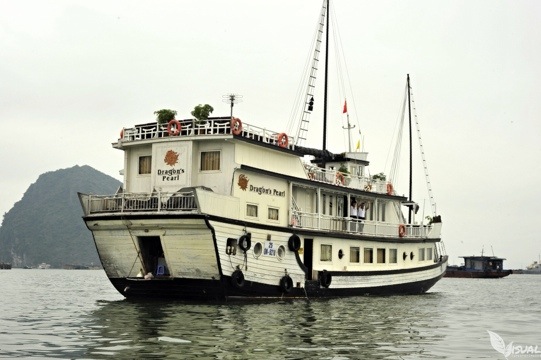 Hi Friends and Family,
It's my last night in Hue before we head down to Hoi An tomorrow. Here's a post of our time in Halong Bay, particularly Bai Tu Long Bay or Baby Dragon to the locals. It's located northeast of the famed Halong Bay. Betty and I decided to head up here as it's not as crowded with other tourist junks (boats) that Halong is and I'm glad we did.
Since we've arrived in Vietnam we've had overcast and rainy weather and when we looked at the forecast we thought it was going to be sunny, turns out it was overcast – ha! But regardless this part of the world is breathtaking.
Betty squared away the arrangements with a company called Indochina Junk (http://www.indochina-junk.com/?page_id=1763) , who are one of the few companies that can travel through this bay.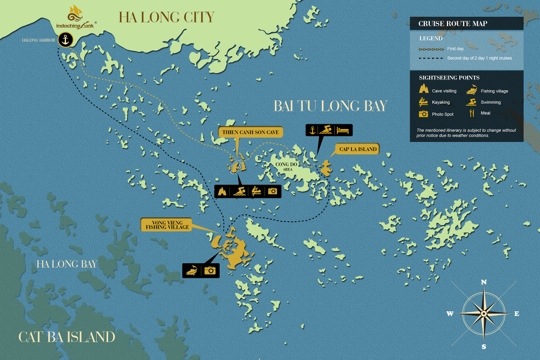 Bai Tu Long Bay is definitely more laid back and we heard from our guide, Happy that in Halong as many as 100 boats can be near each other and it can be loud and even more touristy. We were blessed with absolute peacefulness and serenity and I would return here in a heartbeat especially when the sun is shining. Our boat the Dragon Pearl III could bring 20 passengers and the funny thing is that me and Betty were the only English-speaking tourists, everyone else was French. LOL They were a nice group and our guide spoke Vietnamese, French and English well. Though we got stuck on the French senior citizen boat. Ha!
We had great accommodations and the food served was delicious. They served really yummy seafood and had good service. Our first day we stopped at one of the karsts that had a cave with stalagmites and stalagtites, called Thien Cahn Son Cave. Since this bay is younger the formations within the cave aren't as dramatic yet but it's still impressive, plus it was nice not having to fight another 200-300 people in the few caves of Halong Bay.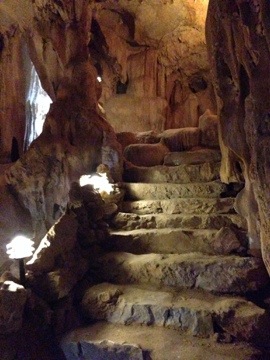 Betty and I then kayaked around the bay that I have GoPro footage of which I'll try to post later on. It was awesome and the echoes were really cool too. 🙂 Pictures are hard to describe the magnitude of these karsts as you see them from the boat and up-close. I was definitely bummed that it was so overcast but it gives me all the more reason to return here. Below are a few pics to share. For the night, we were docked in an area where we were completely surrounded and it was quite amazing to wake up to.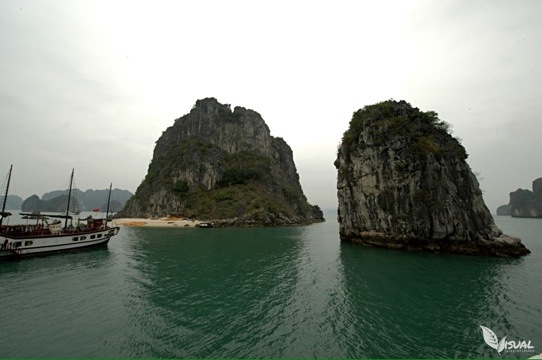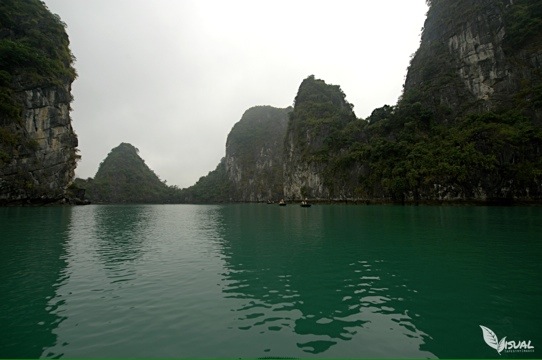 The next morning started early with breakfast and a visit to a fishing village named Vong Vieng. Not only do they fish but the people here in particular also are employed by a private company in Japan to grow pearls. We visited a few of the schools and it's awesome because this whole village is floating on the emerald green water of the bay and the kids that go to school have their little boats to row themselves to class. Sweet! 😉 It's a simple life and the surroundings are so peaceful. I could sleep in this bay for many nights, with the constantly calm waters and sounds of peace.
Sooner rather than later, it was time for us to return and head back to Hanoi for us to catch our flight out to Hue in Central Vietnam.
We arrived in the evening and Wednesday was our day of touring Hue City. Hue is known for being the heart of Vietnam, spiritually, culturally and intellectually. Hue is filled with royal tombs and the Citadel.
The latter was once the former Imperial City on the Perfume River (Song Huong) and it's expanse is huge. Unfortunately, the US heavily bombed it during the war and there is much to be restored. Betty and I ventured here last after touring the tombs and we were a bit disappointed because there was still much to be fixed and it was a lot of empty space. It could've been too that we were getting tired and it was starting to drizzle more and more. We began looking like the stupid American tourists who didn't bother taking the umbrellas offered us. 😉 But it's one of those places that you have to return to because you know that in 5 years there will be more improvements made here. I think we were both expecting too much.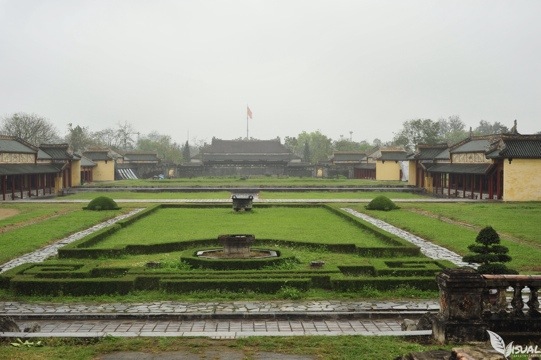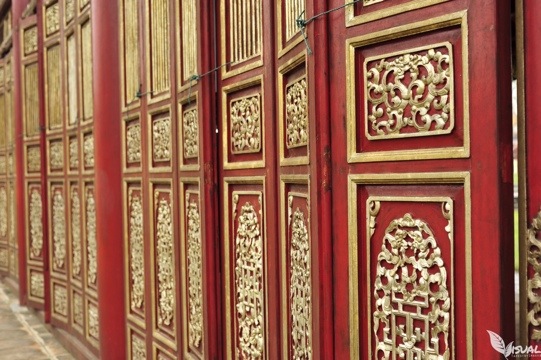 Prior to the Citadel, we visited 3 Royal Tombs, Tomb of Tu Doc, the Tomb of Minh Mang, and our favorite was the Tomb of Khai Dinh. It's situated on a hilltop with a wonderful view and it has a more elaborate design. It's also the most recent and the last of the tombs ever made for an emperor here in Vietnam.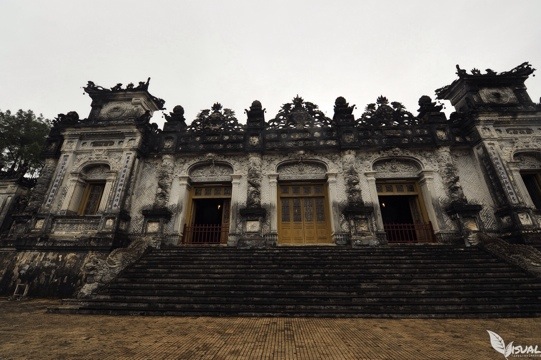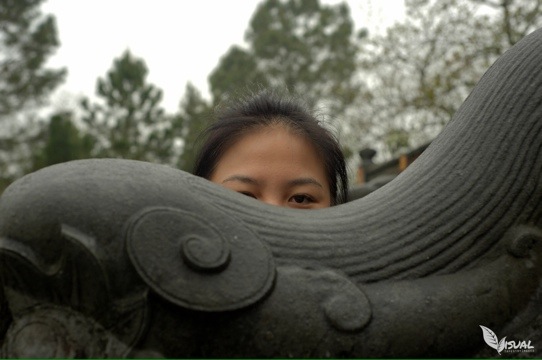 You should definitely visit Hue for at least 1-2 days. The traffic isn't nearly as hectic as Hanoi and the food here is also a bit different. We continue to eat great food and the hospitality of the people here continues to be wonderful. Though I think we're confusing the Asian's here because they ask me and Betty where we're from and when we say, California USA they all give us this funny look. LOL
My next post will be about our visit to Phong Nha-Ke Bang National Park, another UNESCO World Heritage site. This is just another place I have to return to to explore longer as there are lush landscapes and amazing caves, with more stalagmites and stalactites.
We're off to Hoi An tomorrow and we're hoping we'll finally get some sun. Till then good night from Hue!
Hey all —
My friend Betty got in safely last Saturday and we had another 2 full days in Hanoi. We spent it walking around the Old Quarter and the French Quarter along with tasting a bunch of delicious food here in Vietnam. Here are a few highlights:
If you are a foodie like me and Betty than definitely go on the Hanoi Street Food Tour (http://www.hanoistreetfoodtour.com) We had two guides, Phuoc and Linh, and we were part of a group of 9. We visited a total of 10 places, 8 food and 2 drink spots. We went through the Old Quarter which is where all the best food seems to reside and right they were. Because Hanoi traffic is so crazy I made sure not to walk and take pictures upon risk of being hit by a motorbike or car. 🙂 Our guide, Phuoc had a great way of keeping us all together by referring to us as "Sticky Rice," so that we would remain close especially when crossing streets.
Off we went on our tour and I'll just write about our favorite dishes. Despite the number of places we visited all the portions were just right. We started off with a delicious noodle soup called Bun Cha – it's comprised of noodles of course, fresh veggies and pork.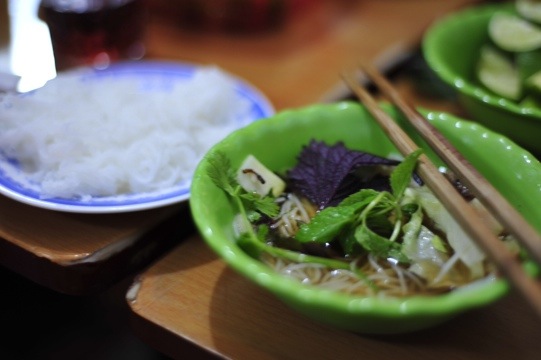 So flavorful and it's something you should add fresh mint to and of course some hot sauce. Next up was some dessert. 🙂 We had seen a line earlier at this place when walking around Hoan Kiem Lake and turns out it was one of our stops. The ice cream company's name is Thuy Ta Kem and they make an ice cream called Sticky Green Rice. It might sound weird but it's really sweet and tasty.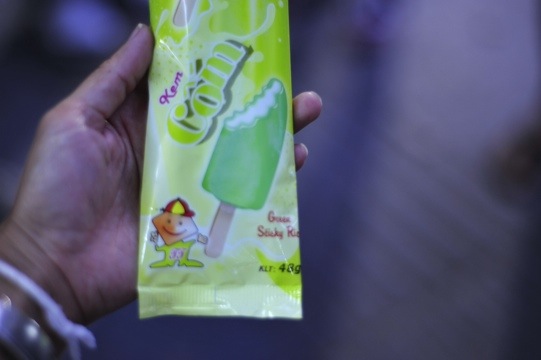 Next was something like a spring roll but the wrap wasn't fried. It's made of rice and the contents inside was chopped up mushroom. The garnish on top was like fried onions. They called this Bahn Coun. This was my favorite dipped in a bit of fish sauce and chili sauce. Ono!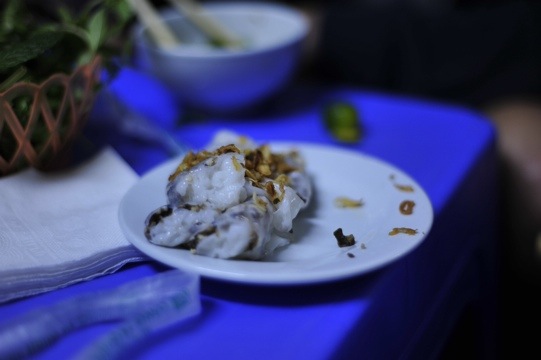 We then visited a place that just made spring rolls and what they called pillow cakes, which were kind of like empenadas.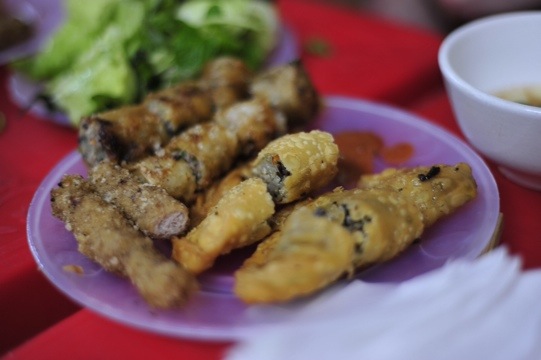 We enjoyed the last few stops at that were just drinks. Hanoi's Old Quarter literally has streets that just sell specific things like a shoe street, fish sauce street and in the evening there is a place called Bia Alley (Beer Alley) This place was packed and people were spilling onto the street even with traffic passing through. Our group literally sat in the street while having a glass of Bia Hoi. By day the place we had our beer is a photolab – ha! We ended the night with some coffee or technically it's egg coffee. It's coffee mixed with an egg custard which when first described to us, they said it's coffee mixed with egg and we all made this funny face and adverse reaction. LOL but when it arrived it was one of the most delicious cups of coffee I had and I'm not a coffee drinker. They also make egg chocolate which is equally good.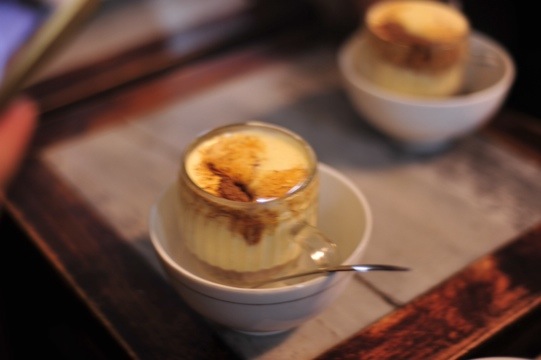 The next day we walked around the French Quarter which has much wider streets and traffic isn't nearly as busy. Nearby is where the Hoa Lo Prison is, the place where many US Pilots that were shot down during the Vietnam War were kept including John McCain. It's usually referred to as the Hanoi Hilton. They've kept part of it as a museum and the other part are now the Hanoi Towers. It was an interesting walkthrough and the prison was used by the French in Vietnam for political prisoners. There were definitely parts that were a bit eerie to go through.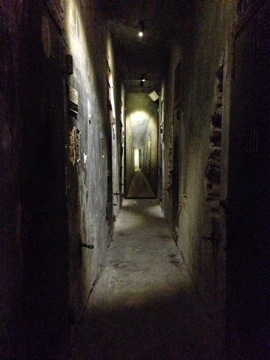 Corridor of cells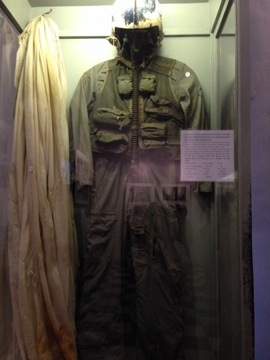 John McCain's Flight Suit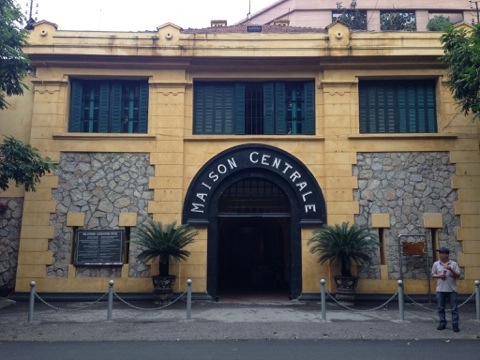 Main Entrance of Hoa Lo Prison
After our walk through we then met our tour guides Rose and Duc from Hanoi Kids (www.hanoikids.org) This is a great organization of kids that want to practice their English. There are fixed itineraries but you can also modify it per your wants and tastes. We did a half day but the kids say that if they are having fun they usually go longer and we had a great time with them both. Also the only costs you have to incur are any transportation or entrance fees for places you visit, along with taking care of meals should that be something you decide to do as well.
We started off our tour at the Ho Chi Minh Mausoleum Complex. This is a very holy place for the Vietnamese as this is the final resting place of Ho Chi Minh. The actual building that holds his body was closed at the time but the complex itself is massive. He was the liberator of the Vietnamese people from colonialism and is often referred to as Uncle Ho. It's quite impressive. Behind the mausoleum is the Presidential Palace and also his stilt house that is beautifully made. He was a modest man that lived very simply for having such a great role.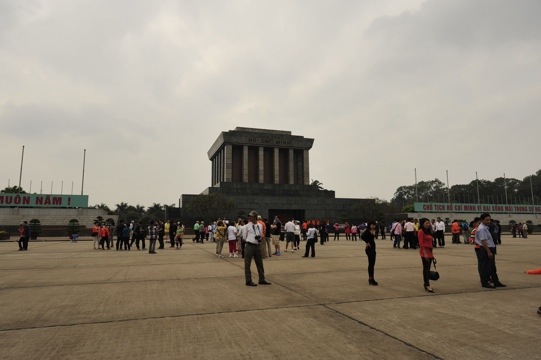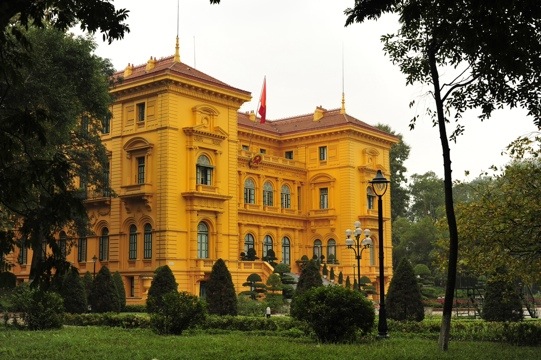 After we toured the complex, Betty and I were pretty hungry so we asked Duc and Rose for a great place to eat. They took us to a restaurant called New Day and we enjoyed a great meal and conversation. Along with discovering that there is something called egg beer, which many of you saw pics of me on FB. We had a fun time with them and I would highly suggest doing a tour with Hanoi Kids whenever you visit here.
The next morning we were off to Bai Tu Long Bay which is a little further north of the famed Halong Bay. It's not as crowded and it's just as beautiful.
That'll be my next entry. Still much to catch up on! Thanks again for following!
Xin-chao! (Hello!)
While I'm waiting for Betty to arrive, I'm sitting on the steps in my cozy homestay (Hanoi Family Homestay) run by Huong and her family. She also goes by Perfume. 🙂 It's smack dab in the middle of the Old Quarter here and the sounds are a cacophony of horns, motorbikes, people gathering around at the corner shop or eatery, cars, and yells from vendors. I love it!
I arrived in the afternoon yesterday and got to my homestay in a funny way. I had arranged for someone to pick me up but there was a mix-up from Huong. While I was waiting many of the guys at the arrival area were asking if I needed a taxi, I kept telling them no that I had a ride. Well, after about 30 minutes after getting out, I see a sign for a "Melanie," knowing that my name gets misspelled many times I tried to ask him if he was picking up for Huong from Family Homestay. Yep that was a funny conversation. I was definitely not the Melanie he was looking for but another guy approached and I think he was a taxi dispatcher. He asked where I was staying I gave him the number to my homestay and he "apparently" called her. I had to "trust" this guy and asked him many questions. He spoke better English and I kept telling him, "I'm not paying you for your service." LOL He replied, "Ok, don't worry I will get you to where you need to go." I followed him out and he told me to wait a few minutes. He then ventured to a foreign couple I saw in the visa line and turns out we were going to share a taxi.
The awesome thing about traveling are the situations that you land in. As a traveler, you just need to roll with it. I met Michael and Jana from Australia and they didn't realize that they needed a visa before landing in Vietnam, because of that they ended up paying a substantial amount of money for just 24 hours. So remember, get your visa prior to flying here or what Betty and I did, we got a formal letter from a travel agency and when you arrive you can pay then. (Thanks for the tip Jeff Wilson) Though the process in Hanoi can be a bit slow. Once you turn your papers in, you have to wait for your picture to show up on the other side and your name is announced by a funky computer voice. It pronounced my name pretty well.
We were finally in the taxi and driving into the center of Hanoi. I've never seen such a high concentration of motorbikes in one city. We were laughing and also freaking out together at the driving with the near misses and the amount of passengers they would fit on one bike. We saw a guy driving with a live chicken in one hand and because it was raining, they had special covers they would place on their bike while driving. The guy driving with the chicken was pretty good but in my travels here, there have been 2 things on motorbikes I was most amazed at: 1) In Manila, I saw a dog on the back of a bike sitting on the regular seat totally balancing himself on it like it was a normal thing. I laughed with the driver and said,"That is one talented dog!" There is no way Koa boy would have been able to do that. 2) Yesterday while recording sounds in front of our homestay, there is a vendor that sells bamboo sticks and ladders. A couple was on their bike picking up two bamboo trunks that were literally 2 to 3x the size of them and they rode off with me fearing that someone was gonna get decapitated. Amazing!
It was about a 40 minute ride in and I finally arrived safely and at the proper homestay. I wasn't dropped off randomly, we'll see how Betty fares out today. I think she'll be fine as I guaranteed that someone will be there… I hope. LOL
I've met a great amount of people here at Hanoi Family Homestay. Last night I shared dinner made by Huong with 5 other travelers, 3 from Canada and 2 from France. We had homemade spring rolls, tofu with tomato and vegetables along with some beer. It was delicious. They have a saying painted on their wall, "You are a family friend, not just a tourist." Last night proved to be true along with making new travel friends. The best part of traveling for sure.
This morning I went around and was able to snap a few pictures of the life here in the Old Quarter of Hanoi. I'll walk around more once Betty arrives and tonight we'll be doing a street food tour. Yummy!
Till then here are a few pics from my morning walk here: